Participants in the horticulture business of Ukraine found Polish frozen raspberries on the shelves of Ukrainian supermarkets. Before the start of a full-scale war of Russian aggressors against Ukraine, this did not cause much surprise, but in the context of the devaluation of the hryvnia and the massive export of Ukrainian frozen raspberries at extremely low prices in 2022, we could not ignore this fact now.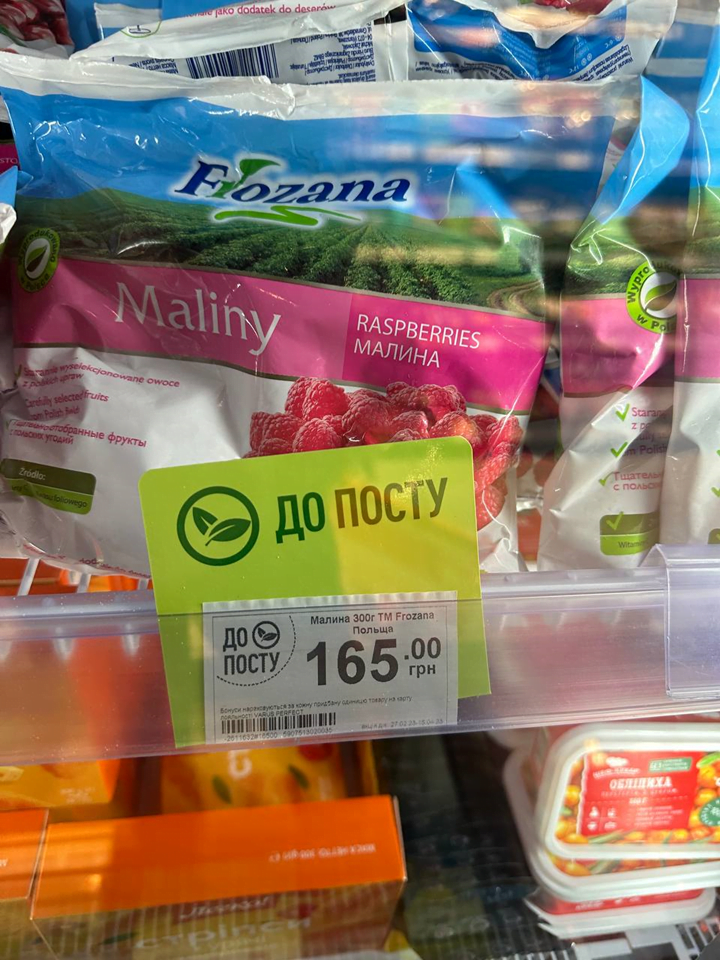 Background: According to EastFruit analysts, Ukraine ranks third in the world in terms of frozen raspberry exports. However, even without being a global leader, Ukraine has been the main player in this market over the past 5 years, periodically shocking the global market with ultra-low prices for frozen raspberries.
However, Serbia and Poland, the global leaders in the export of frozen raspberries, which seem to suffer the most from competition from Ukraine, should be grateful to Ukraine. Indeed, it is thanks to these price "swings" that the global market for frozen raspberries has grown faster than the market for other frozen fruits and berries over the past 5 years. We wrote about this in more detail in the articles "Raspberry price cycles" and "Profitability of freezing raspberries".
Moreover, Polish traders continue to increase the volume of exports only thanks to Ukraine, while Poland reduces the production of frozen raspberries. After all, it is Poland that is the main sales market for Ukrainian frozen raspberries, earning from its repackaging and re-export.
Three years ago, during the largest berry conference in Ukraine, FAO expert Andriy Yarmak spoke about how much money Ukraine "gives" Poland when exporting berries. Since then, exports of Ukrainian berries have almost doubled, but Poland continues to be the main market for Ukrainian berries, both fresh and frozen.
Thus, at least some of the Polish-made frozen raspberries sold under the Polish brand in Ukrainian supermarkets are very likely to have been grown in Ukraine, exported to Poland, sorted, packaged, and sold back to Ukraine mixed with other frozen vegetables and fruits.
The price for Polish frozen raspberries on the shelf of a Ukrainian supermarket is 550 UAH/kg, which is equivalent to $13.7 US dollars per kg. For comparison, the average export price of raspberries exported from Ukraine to Poland this season was about $3.5/kg. At the moment, prices for frozen raspberries are even lower. Accordingly, the retail price of Polish raspberries in a Ukrainian supermarket turned out to be on average 4 times higher than the average export price of Ukrainian raspberries sold to Poland.
Why should a Ukrainian supermarket buy frozen raspberries from Poland?
"Poland does not just make money on the re-export of Ukrainian berries. Polish traders perform the most important function, which Ukrainian producers cannot yet take on. The Ukrainian market of frozen berries, fruits, and vegetables has not yet gone through the path of consolidation, therefore, Ukrainian freezers are either international companies that work on the procurement of raw materials for contracts for their parent companies, or small local companies that do not yet have the resources to invest in modern processing, sorting, and packaging plants for frozen fruits, berries, and vegetables. Small suppliers are not of interest to large buyers who are willing to pay a premium price for the systematic supply of quality products. An even more expensive process is the creation of your own brand. Moreover, the Ukrainian market of frozen fruits and vegetables is relatively small, and it will not be easy to recoup the investments since a lot of money must also be invested in expanding domestic consumption of frozen fruits and vegetables," Andriy Yarmak explains.
"However, given the constant decrease in freezing margins, which we described in our recent study, we expect the Ukrainian freezing business to consolidate quickly in the coming years. It will become more difficult for small companies to compete in the procurement of raw materials and in the market for finished products. Consolidation will create opportunities and resources for direct trading and systematic work on exporting directly to large buyers. Of course, it will become possible only if Ukraine wins the war against the aggressor," the expert adds.
By the way, it cannot be ruled out that it is Polish companies that will become the main contenders for the assets of Ukrainian freezing enterprises in the post-war period, given their advantages in understanding the local market and experience in working with Ukrainian products.
Recall that we recently held an interesting online conference on freezing berries, vegetables, and fruits, the recording of which is available here.
EastFruit
---
The use of the site materials is free if there is a direct and open for search engines hyperlink to a specific publication of the East-Fruit.com website.