The first cherries of the 2021 harvest appeared in supermarkets of Uzbekistan almost a week earlier than last year. Obviously, this is due to the abnormally warm weather in February, which provoked early blooming of stone fruits, but later led to the loss of a significant part of the crop due to frost.
Cherries are sold in the Makro supermarket chain at 19,999 sum per 100 grams, i.e. 199,990 sum/kg ($ 19.05/kg). There is a tradition in Uzbekistan to sell the first cherries in bundles tied by hand. However, Makro probably decided to position the new product differently this season.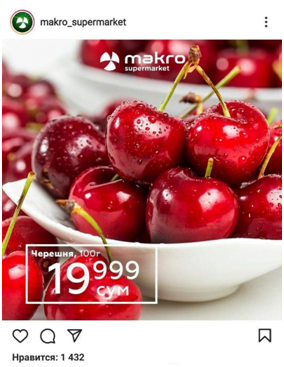 Last year cherries arrived in the Makro supermarkets in the expected time frame. East Fruit wrote about it on 21 April 2020. The c sold it in bunches following the tradition, each bunch contains about 25 cherries, their average weight is 200-250 grams, and thus, based on the cost of one bunch of 14,990 sum, the price was $ 6-7 US dollars per kg.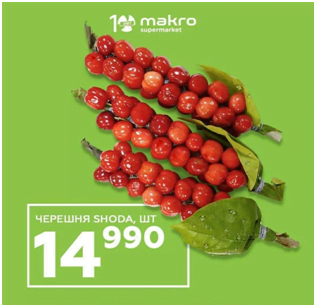 It is not surprising that this year the first cherries are about three times (!) more expensive than last year ($ 19.05 compared to $ 6-7). This high price is the consequence of frosts in late February and mid-March. According to EastFruit analysts, the loss of this year's cherry crop can reach 30-50% in the Samarkand and Bukhara regions and up to 90% in the Tashkent region. The situation in the Fergana Valley is better, with losses estimated at 5-30%. However, the main part of the losses is in the early varieties of cherries, which bloomed by the time of the frost.
Considering such losses, Uzbek cherries are likely to be quite expensive this season, as we predicted.
The main season for harvesting and exporting cherries from Uzbekistan usually begins around May 10 and lasts until mid-June. The first batches of early varieties of cherries are exported at the end of April or the first ten days of May, depending on weather conditions.
The main export markets for Uzbekistan cherries are Russia and Kazakhstan. In recent years, more and more Uzbek cherries have been supplied to China and South Korea, but it was difficult for Uzbek exporters to ensure the required quality, cooling, sorting and packaging, which limits the export potential. We wrote about growing large caliber cherries that are suitable for export to the Chinese market in this material (a presentation video is also available here).
We also note that cherry is one of the most "trendy" fruit of recent years – global demand for it is growing at a high pace, faster than the production. Therefore, global prices are also growing. This is partly due to the Chinese cherry phenomenon, explained  here.
EastFruit
---
The use of the site materials is free if there is a direct and open for search engines hyperlink to a specific publication of the East-Fruit.com website.