EastFruit price monitoring shows that the average wholesale price for Idared apples increased slightly in the first week of 2023 in Moldova – from 6 to 6.5 MDL/kg ($1.67/kg). Meanwhile, the prices for apples of premium varieties have not been changing for almost a month.
Specialists of the Federation of Agricultural Producers of Moldova FARM believe that the price rise is due to several reasons. One of them is the increase in the trading activity of the Moldovan chain retail. As it gets colder in the country, an increasing number of consumers prefer to make regular purchases of food products not at the bazaars, but in stores and switch from festive citrus and exotic fruits to apples. From this point of view, it is natural that, along with high-quality apples in small consumer packaging, apples of low and average quality in plastic and wooden boxes take up more and more space in stores. The difference in prices between these two categories can be 30-40% or more, and in both cases, these are apples of local production.
Read also: The exports of Moldovan apples in December were lower than it was forecasted
However, apples have been and remain the cheapest fruits on the Moldovan fruit market. In chain retail, apples of the highest quality in premium packaging are 1.5-2 times cheaper than, for example, bananas of standard quality.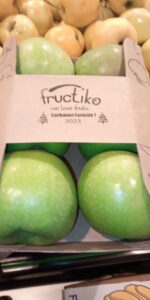 Noteworthy, some Moldovan traders hope for an increase in the supply of "economy" apples, namely, the "Idared" variety, to the Belarusian and Russian markets in the second half of January (when winter holidays end and it gets colder). Also, Moldovan fruit market operators expect to intensify exports of average and high-quality apples to Romania due to a reduction in the supply of local Romanian and, possibly, Balkan (Macedonian) apples there. Probably, hopes for future exports are also starting to excite the internal wholesale market of Moldova.
EastFruit
---
The use of the site materials is free if there is a direct and open for search engines hyperlink to a specific publication of the East-Fruit.com website.