Italy is one of the biggest players in the global fruit and vegetable market. In 2022, the volume of just external trade in fruits and vegetables (fresh, dried, and frozen) in Italy totaled $11.6 bln (exports of $5.9 bln and imports of $5.7 bln).
Italy is one of the biggest players in the global fruit and vegetable market. In 2022, the volume of just external trade in fruits and vegetables (fresh, dried, and frozen) in Italy totaled $11.6 bln (exports of $5.9 bln and imports of $5.7 bln).
For comparison, Ukraine had a turnover of $1.5 bln in external trade ($400 mln of exports and $1.1 bln of imports) a year before the russian invasion. Uzbekistan and Georgia have even less significant trade: in 2022, their turnover in fruits and vegetables amounted to $840 mln and $350 mln, respectively. The comparison is even more impressive when adding the internal trade turnover, which is as well much higher in Italy!
Centro Agroalimentare Roma is one of the centers of fruit and vegetable trade in Italy, provides the largest platform for wholesale trade in the country, and is the third-largest wholesale market for agricultural produce in the EU in terms of trade turnover and space.
On July 10, 2023, one of EastFruit team members, together with the participants of the FAO Investment Days, took part in the business tour to the wholesale market in Rome. Below you will find a short photo report, which allows having a look at the center of the fruit and vegetable trade in Italy during one of the hottest periods of the year. The first part can be viewed at the link.
Seasonal and specialty vegetables: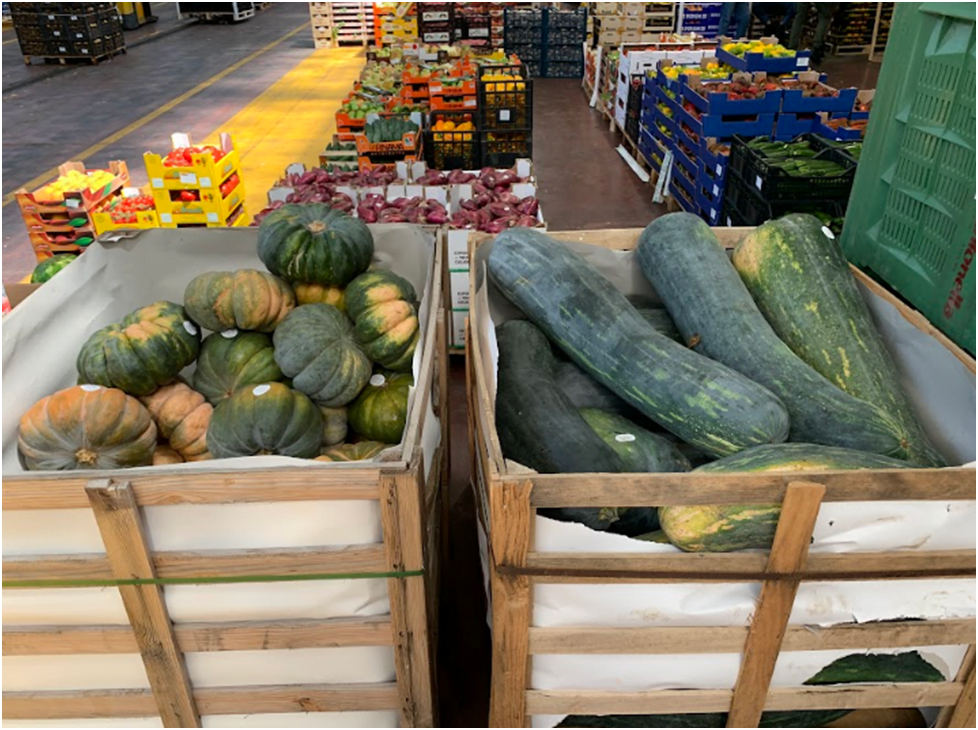 Melons and watermelons intended for sale directly to consumers (quite small and easily fit in a palm):
Much larger watermelons used for further processing and sales in the fresh-cut segment:
The range of berries is quite small, and such offers are not widely present despite the peak of the season of many berries in Italy:
The supply of apples is quite low. Pears are indeed offered, but in limited quantities and of small size:
Meanwhile, the quality of potatoes could make a lot of Ukrainian consumers happy:
An innovative approach to sales from one of the wholesale market's operators:
This touchscreen display of about human height allows a buyer to learn more about a wholesale company's available volumes of products, prices, and other additional details with no need for direct contact. The same advantages are available on the company's website, which allows one to buy products staying at home or in the office.
The territory of Centro Agroalimentare Roma also includes separate buildings that are leased to larger trading operators. For example, one of such buildings is rented by a cooperative, which unites several thousand small growers of organic fruits and vegetables:
The company is engaged in post-harvest and pre-sale handling, packing, and sale of fruits and vegetables, grown by members of the cooperative.
The company uses different types of packaging in its work. Regular non-branded cardboard boxes are used for sales to small market operators or, for example, for food supplies to schools. Working with larger buyers involves cardboard boxes of higher quality or returnable plastic packaging. The latter is owned by the operating company, rather than fruit sellers or buyers:
Centro Agroalimentare Roma also leases separate areas for logistics centers. For example, there is a logistics center of one of the Italian supermarket chains (several hundred retail stores).
The warehouse logistics process is automized as much as possible. Trucks of supplying companies approach the logistics center from one side. Pallets with products are unloaded onto automatic mechanisms, which deliver them to the central sorting system.
Then, pallets are either delivered either to another side of the logistics center for loading into trucks of the retail chain or sent to the warehouse for short-term storage, or for re-sorting to set up mixed shipments. Mixed pallets are still assembled manually.
Some storage facilities are as well automized:
This logistics center handles 60 mln boxes of food and non-food products annually. It can also load/unload about 130 trucks daily.
Unfortunately, the timeframe of the business tour to Centro Agroalimentare Roma did not include a visit to the fish pavilion and several other locations. Nevertheless, the hot outdoor day in Rome in mid-July has already been as informative as possible. Therefore, we would like to express our thanks once again to the organizational team of FAO Investment Days and Centro Agroalimentare Roma for the interesting and information-rich business tour!
EastFruit
---
The use of the site materials is free if there is a direct and open for search engines hyperlink to a specific publication of the East-Fruit.com website.