What have you heard about Morocco? Google gives a huge list of answers, including Sahara Desert, which sand dunes flow into the azure coast of the Atlantic Ocean, the Atlas Mountains with their snowy peaks and ski resorts, old cities that have kept their narrow alleyways, artisan workshops and ancient monuments, unique local culture and cuisine. Let's admit it, it sounds quite exciting and mysterious!
And what about Moroccan agriculture? Please let us cite what Google answers to this question: "Agriculture in Morocco employs about 40% of the nation's workforce. Thus, it is the largest employer in the country. In the rainy sections of the northwest, barley, wheat, and other cereals can be raised without irrigation. On the Atlantic coast, where there are extensive plains, olives, citrus fruits, and wine grapes are grown, largely with water supplied by artesian wells. Livestock are raised and forests yield cork, cabinet wood, and building materials".
And again, let's admit that it sounds too boring and not exciting at all. And for us as fruit and vegetable business representatives, it is almost uninformative! Meanwhile, Morocco indeed has a lot to be proud of in the fruit and vegetable business and a lot to be set as an example to other agricultural countries. Moreover, not only global fruit and vegetable business participants, but even Moroccan farmers and traders can be unaware of such facts, unless, of course, they are reading our portal.
That is exactly why EastFruit has decided to take the liberty to fill this gap and brings to your attention the top ten amazing facts about fruit and vegetable business in Morocco, which you might have never heard about and never guessed they could be real.
Did you know that North American avocados have become both an ingredient of Moroccan cuisine and an important category of Moroccan fruit and vegetable export?
The history of the commercial avocado growing industry in Morocco dates back to the 1950s. And since then, avocados, native to North America, have gained an important role in local cuisine, and later – in fruit and vegetable export.
Smoothies made of avocados with bananas or dates, almonds or other nuts, sugar and milk enjoy wide popularity among Moroccans and tourists. Avocados can also be an ingredient of salads and other Moroccan dishes.
In terms of fruit and vegetable export, avocados are one of the most important goods for Morocco. In 2021, they ranked eighth in the Moroccan fruit and vegetable exports in the value terms and were the fourth product with the most rapid export growth rates in the previous five years! In the value terms, there were just three fruit and vegetable products with faster export growth rates in 2017-2021: blueberries, raspberries, and watermelons!
In the MY 2022/23 (July-June) the Moroccan avocado exports are expected to reach their all-time high, and their volumes for the first time ever may exceed 50,000 tonnes! By the way, in the calendar year 2022 Morocco has already exported more avocados than the USA, a homeland for Hass avocados, which now are one of the most popular avocado varieties in the world.
Besides increasing avocado exports, Morocco has also been extending its export season. In the MY 2017/18, avocado exports peaked in November-March, but now Morocco successfully exports avocado from October to May!
The UK and the EU countries, such as Spain, France, the Netherlands, Germany etc., are the key importers of Moroccan avocados. For those countries, Morocco is also an important supplier. In 2022, Morocco was the third biggest exporter of avocados to Germany and Spain and ranked fourth in the ranking of France's avocado suppliers.
Did you know that Morocco is one of the biggest growers and exporters of greenhouse vegetables in the world?
The history of growing agricultural crops in protected ground in Morocco dates back to the 1970s, but the greenhouse construction boom occurred in the 2000s.
According to Rabobank, in 2018, areas under greenhouses in Morocco were the largest in Africa, and the country was also one of the global leaders in that regard. Then, Rabobank experts estimated total areas under greenhouses in Morocco at 20,000 ha. However, five years later, just one Moroccan region Sous-Massa had 21,000 ha under greenhouse production!
As a result, Morocco has literally broken into the list of global leaders in exports of several greenhouse vegetables. In 2022, Morocco became the third biggest exporter of tomatoes in the world and ranked sixth in the global ranking of bell pepper exporters.
Greenhouse tomatoes are the most important category of Morocco's fruit and vegetable export, as, in 2021, tomato exports have generated the revenue of $770 mln, more than twice as high as exports of mandarins, the second product in the list.
In 2018-2022, Morocco managed to increase its tomato export volumes by 40% to 740,000 tonnes, and bell pepper exports grew by 20% to 170,000 tonnes. Exports of Moroccan cucumbers are not yet so high, but have already grown two and a half times since 2018 and exceeded 20,000 tonnes.
As with many other products, Moroccan exports of greenhouse vegetables are focused on the EU and the UK. By the way, in 2022, Morocco became the biggest supplier of tomatoes to the UK. Moroccan tomatoes also play an important role in the markets of Spain and France, and Morocco is respectively the second and the fourth biggest exporter of these vegetables to Portugal and the Netherlands.
Did you know that Morocco became the fourth biggest exporter of cultivated blueberries in the world in 2022?
Moroccan blueberry export development can be considered one of the brightest examples to follow! A trendy domesticated berry with homeland in North America became a wonderful niche for Moroccan business development, which had turned out to be so rapid that in 2022 Morocco exported more cultivated blueberries than the USA or Canada.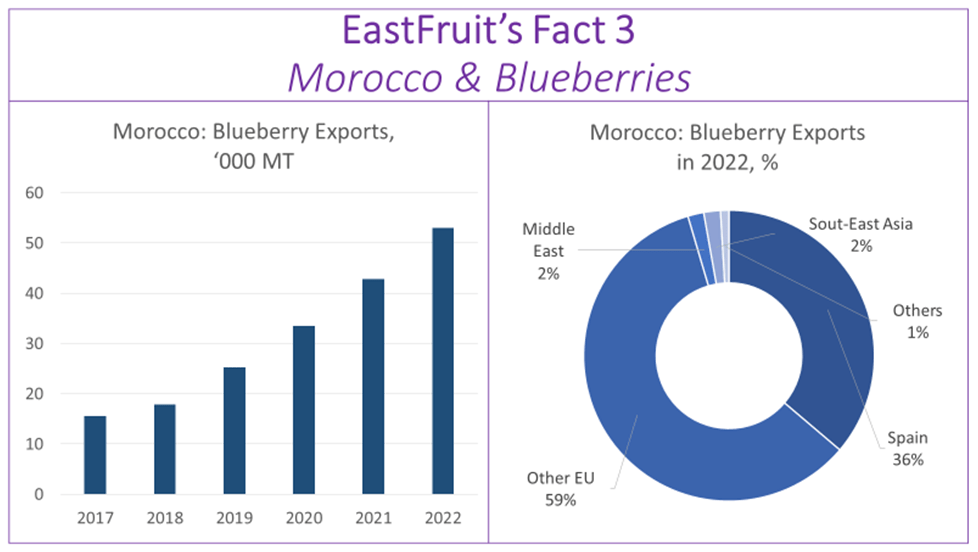 In 2022, the Moroccan blueberry exports totaled 53,000 tonnes, with only three countries in the world exporting more: Peru (277,000 tonnes), Chile (105,000 tonnes), and Spain (87,000 tonnes). Meanwhile, exports of cultivated blueberries in the countries, which are their homeland, were quite lower. In 2022, the USA exported just 45,000 tonnes of cultivated blueberries, and Canadian exports stood at just 19,000 tonnes.
It is quite more impressive that Morocco was just the seventh largest exporter of cultivated blueberries in the world in 2017, with not only all the above-mentioned countries exporting more, but also, for example, Argentina. In 2017, Morocco exported just 15,600 tonnes of blueberries, and it means that Moroccan exporters managed to more than triple their sales in the past five years!
Gradual diversification of the Moroccan blueberry export can also be an illustrative example. Initially, about 90% of total Moroccan blueberry exports were focused on Spain, which acted as a re-exporter and extended its own export season. By 2022, Spain's share in Moroccan blueberry exports has fallen to 36%, and nowadays Morocco exports blueberries to those countries that are their direct consumers. Now Moroccan blueberry exports are focused on other EU countries, the UK and Norway.
In addition to developing the EU market, Morocco has also bet on opening non-European directions for its blueberries. Since 2017, the Moroccan blueberry exports to the Middle East and South-East Asia have increased almost tenfold and reached 2,000 tonnes. And the most unexpected destinations for Moroccan blueberries include test shipments to North America, the continent that is the homeland for these berries. In 2022, Canada imported about 100 tonnes of blueberries from Morocco. A year before, Morocco also shipped 130 tonnes of blueberries to the USA.
Did you know that Morocco also became the third biggest exporter of fresh raspberries in the world in 2022?
In 2017, Moroccan fresh raspberry exports were lower than 15,000 tonnes, and Morocco was the sixth biggest exporter of fresh raspberries in the world. However, in 2018-2022, Morocco showed stunning export growth rates in the segment of fresh raspberries: exports were growing averagely by a third year by year, and in 2022 they reached 56,000 tonnes, four times as high as five years ago!
None of the global fresh raspberry market leaders can boast such rapid growth rates. For example, Spanish and Portuguese exports were growing by 7-9% annually in the same period, Mexico was even decreasing its shipments in the past three years, and Polish exports were quite stable.
In 2022, almost 99% of Morocco's total fresh raspberry exports were focused on the EU and the UK, with the latter accounting for the share of about a quarter. Another quarter of Moroccan volumes had Spain as a destination, even though Spain itself was the second biggest exporter of fresh raspberries in the world.
Thanks to its climatic and seasonal advantages, Morocco has been gradually closing the gap with Spain. In 2017, Spanish exports of fresh raspberries were three times as high as Moroccan ones. Five years later, Spain exported just 28% more fresh raspberries than Morocco.
Germany, the Netherlands, and France are also among other important destinations for the Moroccan fresh raspberry exports. As regards the Middle East or South-East Asia, Morocco has only started exploring these markets. In 2022, Morocco exported 248 tonnes of fresh raspberries to the Gulf countries, and another 7 tonnes had Singapore as their destination.
In raspberries, Morocco does not stop at fresh market development and has been continuously increasing its presence in the global market for frozen raspberries, which will be covered in the next part of the article.
Did you know that Morocco was one of the key reasons for frozen raspberry price collapse in the world in 2023?
Although Morocco was just the eighth biggest exporter of frozen raspberries in the world in 2022, it became one of the key reasons for the global fresh raspberry price collapse at the beginning of 2023!
In July 2022, the marketing year of frozen raspberries started in Europe with rather high price of $5,00/kg, but Ukrainian suppliers brought the price down to $3,30-3,50/kg by late autumn. Nevertheless, the real shock was in January 2023, when the price collapsed to $2,50-2,60/kg due to active shipments of frozen raspberries from Morocco. In the end, the market stalled, leaving suppliers from Poland, Serbia, Moldova, Ukraine, and some other countries with record high transit stocks and probability of further price collapse in the following season.
As in the segment of fresh berries, Morocco has been demonstrating the most active export growth rates among the global leaders of the market for frozen raspberries. In 2017-2022, Poland and Serbia lowered their exports despite remaining the two global leaders. Chile also was reducing its presence in the global market annually, and exports from Germany and Belgium remained stable.
As a result, in 2017-2022, just Ukraine, Mexico and Morocco were increasing their frozen raspberry exports year by year. Ukraine has tripled its export volumes, Mexico has increased them four and a half times, while Moroccan exports of frozen raspberries have grown almost nine-fold!
In 2022, Morocco exported 17,000 tonnes of frozen raspberries, with the EU as the main destination. By the way, the EU is the key market for Polish, Serbian and Ukrainian suppliers as well, and it seems that this market has become too cramped at the beginning of 2023.
As regards other export destinations for Moroccan frozen raspberries, they are still rather insignificant. In 2022, non-European countries accounted for just 2% of Morocco's total exports, with the largest volumes exported to Canada (111 tonnes).
Did you know that Morocco had been increasing sweet potato exports so fast that they grew 50 times since 2018?
Morocco is the fourth biggest potato exporter in Africa after Egypt, South Africa, and Ethiopia. Nevertheless, this part of the article will not focus on this, but on a completely different product of sweet potatoes, which has nothing to do with regular potatoes usual for most consumers in Europe, for example.
The history of production of sweet potatoes in Morocco started much later than that of regular ones, and their commercial opportunities opened to Moroccan farmers just a few years ago. Nowadays, exports of regular potatoes from Morocco are many times as high as sweet potato ones, but, in terms of export growth rates, a few of products can compare to sweet potatoes.
In 2018, Moroccan exporters shipped just 23 tonnes of sweet potatoes. In 2022, sweet potato exports totaled 1,200 tonnes, marking 50-fold increase over just five years! Moreover, the year 2022 was the first in the history when Morocco had exported sweet potatoes without interruption, each month in a row. Besides, Morocco managed to extend its export peak for a long period of time, while previously it had been registered in June-July.
In 2022, the list of the top three biggest buyers of Moroccan sweet potatoes included the Netherlands (500 tonnes), Portugal (450 tonnes), and the UK (190 tonnes), with the latter importing those products for the first time ever. The Netherlands also increased imports of sweet potatoes from Morocco significantly, almost nine-fold year over year.
The shares of other regions in Moroccan sweet potato exports are still rather low, and they also appeared in the list of importing countries in 2022 for the first time ever. For example, the Middle East (Qatar, Bahrain etc.) imported about 9 tonnes of Moroccan sweet potatoes last year.
Did you know that Morocco successfully grows apples but hardly exports them?
It may be a discovery for many traders even with longstanding history of collaboration with Morocco that the country successfully grows apples, which are not quite traditional for Africa. In 2022, Morocco was the second after South Africa biggest African grower of apples. However, in contrast to their South African colleagues, Moroccan farmers hardly export apples and utilize them mostly in the domestic market.
The history of apple production in Morocco dates back to the 1920s, when it turned out that foothills of the Atlas Mountains are almost ideal for growing apples. Nowadays, Fez-Meknès with the Middle Atlas mountain range is the main apple producing region in Morocco. By the way, apples produced in Midelt, a region between the Middle Atlas and the High Atlas mountain ranges, have the PGI status and can be grown only by members of the Midelt Apple Growers Association.
Expansion of apple orchards was one of the key programs of the Green Morocco Plan, which had been launched in 2008. As a result, the sector attracted massive investment, and Moroccan apple production grew by 83% in 2012-2021, reaching almost 900,000 tonnes. If these estimates are correct, it turns out that in 2021 Morocco produced more apples than, for example, Spain or the UK and had bigger apple harvest than cumulative production in the Netherlands and Belgium!
It is also interesting that Moroccan farmers now more often prefer global apple varieties and their clones, such as Gala Royal, Golden Delicious, Fuji, Golden Smoothie, Ozark Gold, Anna, Starking Delicious etc. Nevertheless, the share of local varieties is still rather large, and this is one of the key reasons for almost no apple exports from Morocco. Another important factor is lack of apple storage and post-harvest handling infrastructure, as apple imports in Morocco usually peak in spring and summer, the period of especially strong shortage of domestically grown apples.
Morocco imports apples mostly from the European countries, such as Italy, Spain, Portugal, Poland, France etc., while small exports are focused on the Sahel countries (Mauritania, Mali, Burkina Faso, Niger etc.) and do not exceed 1,000 tonnes annually.
Did you know that Morocco is the biggest exporter of watermelons to the EU?
In 2022, Morocco was the fourth biggest exporter of watermelons in the world and the most important supplier of the EU, one of the most premium markets in the world!
Last year, 27 countries of the EU imported 510,000 tonnes of watermelons from non-EU countries, with Morocco standing for more than a half of those volumes (271,000 tonnes). Thus, the Moroccan watermelon exports to the EU were four times as high as Turkish ones and almost eight times as high as Brazilian or Costa Rican ones!
For Morocco itself, the EU is also an important export destination, with other markets actively developing but still lagging. In 2022, Morocco exported 16,000 tonnes of watermelons to the UK, 4,800 tonnes to other African countries, 1,400 tonnes to Switzerland, and 790 tonnes to the Gulf countries. The most remote and rather exotic destination for Moroccan watermelons was Australia, which imported 70 tonnes of them in 2022.
Watermelons are also one of the key categories of the Moroccan fruit and vegetable exports. In 2022, they ranked third after tomatoes and mandarins in Morocco's total fruit and vegetable export volumes. Watermelon exports usually peak in April-June, but their season has been recently extending until August.
The Moroccan watermelon exports reached their all-time high in 2022 despite the severe drought that had hit Morocco in summer last year and which aftermaths could be catastrophic for the industry. In September 2022, Morocco's Ministry of Agriculture cancelled the irrigation subsidizing program for new plantations under several crops, including citrus fruits, watermelons, and avocados, in order to save water resources in the country.
As a result, further expansion of plantations under watermelons or avocados (another important category of Moroccan fruit and vegetable export) is at high risk, as their growing projects are simply senseless with no access to water.
Did you know that Morocco has to import dates and dried grapes despite rather high domestic production?
Dates, raisins, and other dried fruits are important ingredients of the Moroccan cuisine, and Morocco is their big producer on its own. Nevertheless, Morocco has to import them in rather large quantities, and imports of some categories have been growing rapidly.
Morocco is one of a few African countries that successfully grows grapes for fresh consumption, as well as production of wines and other products, including dried grapes. Morocco is also one of the biggest producer of dates in Africa, but it is dates that have become the most important category of the total fruit and vegetable imports in Morocco. Moreover, Morocco is the third biggest importer of dates in the world!
Morocco imports 80,000-110,000 tonnes of dates annually, and its per capita consumption of dates is about 7 times as high as the global average! Each October, the country even hosts the festival dedicated to the start of the season of dates (Festival des Dattes or Festival de la Datte).
Nevertheless, Moroccan domestic production of dates is insufficient, and their imports peak in December-April. There are just four countries that account for the largest part of imports of dates in Morocco: the UAE, Tunisia, Egypt, and Algeria. By the way, in 2023 Morocco can set a record in imports of dates, as imports in just the first three months of this year have already been historically high.
As regards raisins, their imports are lower than the import volumes of dates. Nevertheless, the import growth rates of dried grapes are quite high. In 2018, Morocco imported just 6,000 tonnes of raisins. By 2022, their imports have more than doubled! By the way, in 2017, imports totaled just 520 tonnes, and this makes their import growth even more impressive.
Imports of raisins peak in summer, when the number of tourists increase, and domestic produce is in short supply. Uzbekistan and Iran, the global leaders in production of dried grapes, are the biggest suppliers of raisins to Morocco. India, Turkey, South Africa, and Chile also export rather large amounts of dried grapes to the Moroccan market.
Did you know that Morocco is the fifth biggest exporter of mandarins in the world, and Nadorcott clementines, one of Morocco's fruit symbols, are worth to go through longstanding legal battles?
In 2022, Morocco was the fifth biggest exporter of mandarins in the world, with only Spain, Turkey, China, and South Africa exporting more. Moroccan exports totaled 495,000 tonnes in 2022, and Morocco lacked just 25,000 tonnes of exports to beat South Africa!
In contrast to many other products, export of Moroccan mandarins is focused on the EU market to a lesser extent. In 2022, the EU accounted for just 21% of Morocco's total mandarin exports, and the UK – for another 9%. Meanwhile, just three non-EU countries imported more than a half of all mandarins exported from Morocco last year.
Russia accounted for a fifth of Morocco's total mandarin exports, while Canada and the USA – for another third. Russia has also been annually reducing imports of Moroccan mandarins due to economic problems and switching to suppliers of products of lower quality from other countries. In contrast to Russia, the two North American countries have been increasing imports from Morocco.
Sub-Saharan Africa and the Middle East are another actively developing destinations for Moroccan mandarins, with their shares in Morocco's total exports respectively amounting to 10% and 4% in 2022. Moroccan exporters also consider some more remote destinations for their sales, but volumes are not so large in those cases. For example, in 2022, Bangladesh imported 1,500 tonnes of Moroccan mandarins, India – 1,200 tonnes, and Kazakhstan – 360 tonnes.
Nadorcott clementines are one of the most important categories of Morocco's fruit exports and are considered a real symbol of its fruit business and its national pride. This almost seedless easy peeling variety with balanced sour and sweet flavor was developed in Morocco and marketed under Afourer brand since late 1980s.
Les Domaines Agricoles, the developer of Afourer, is the first company to bring Afourer to market and the holder of its licensing rights. Over time, licensed production of Afourer clementines became available for other growers in Morocco, as well as other countries, from Spain to Peru. However, according to the agreement with the license holder, they could use a label of Nadorcott for their produce.
Nowadays, global promotion of these mandarins is headed by the Association of Nadorcott Producers in Morocco, and Nadorcott clementines are marketed under the new label of Nadorine. Naturally Low Seed. For reference, Nadorine is an acronym, which combines the beginning of the Nadorcott and the end of the mandarin words.
Owner of Nadorcott variety treats its licensing rights quite scrupulously, and the fruit and vegetable business is periodically shaken by scandals related to its unauthorized use. In 2021, Nadorcott owners won legal battle against a Spanish farmer over the unlicensed exploitation of the variety dated back to 2007. Early this year, the Board of Appeal of the European Union's Community Plant Variety Office (CPVO) has confirmed the Community Plant Variety Right for the Nadorcott mandarin variety. The decision allowed the Protected Plant Varieties Club (CVVP), which manages the variety in Spain and Portugal, to continue its fight against its illegal propagation. This case is related to the arrival of Tango mandarins, which were developed by the University of California Riverside and were quite similar to Nadorcott clementines.
Short afterword
Unfortunately, the article's top-10 format did not let us to include other interesting facts about the fruit and vegetable business in Morocco, which indeed has a lot to be proud of! In that case, the list could also include the following titles:
Did you know that Morocco is one of the biggest producers of grape wines among the countries with overwhelming majority of adherents of Islam?
Did you know that Morocco is one of the biggest suppliers of onions, carrots and other vegetables to Sahel, a long-suffering African region?
Did you know that prickly pears, a fruit of Opuntia, are very popular fruits, picked literally along the roads in Morocco?
Did you know that Morocco is a homeland for argan trees, which fruits, intended for processing into the world-famous oil, literally drive local goats crazy and allow tourists to take mind-blowing pictures?
And such a list could be continued and continued, but we hope that we have given enough interesting and unexpected facts about the fruit and vegetable business in Morocco, a wonderful country with amazing people and rapidly developing fruit and vegetable sector, which indeed has a lot to be proud of and a lot to be set as a bright example!