Tomatoes are the main export category for Morocco, and the country has been steadily increasing the volume of tomato exports for several years, EastFruit reports.
Morocco became the 5th in the global ranking of tomato exporters in 2021, and in 2022, it came out in the 3rd place, overtaking Iran and Spain and showing the largest increase in exports in a year (more than 17%) among all countries.
Such rates provide a very real opportunity for Moroccan producers to securely gain a foothold in the Top-3. Only the Netherlands, where a significant part of the supply is re-exported, and Mexico, which focuses on only one market (the United States), overcome Morocco in the ranking of the world's largest exporters.
It should be noted that the export volume of Moroccan tomatoes is increasing gradually, while exports to the UK show the most rapid growth.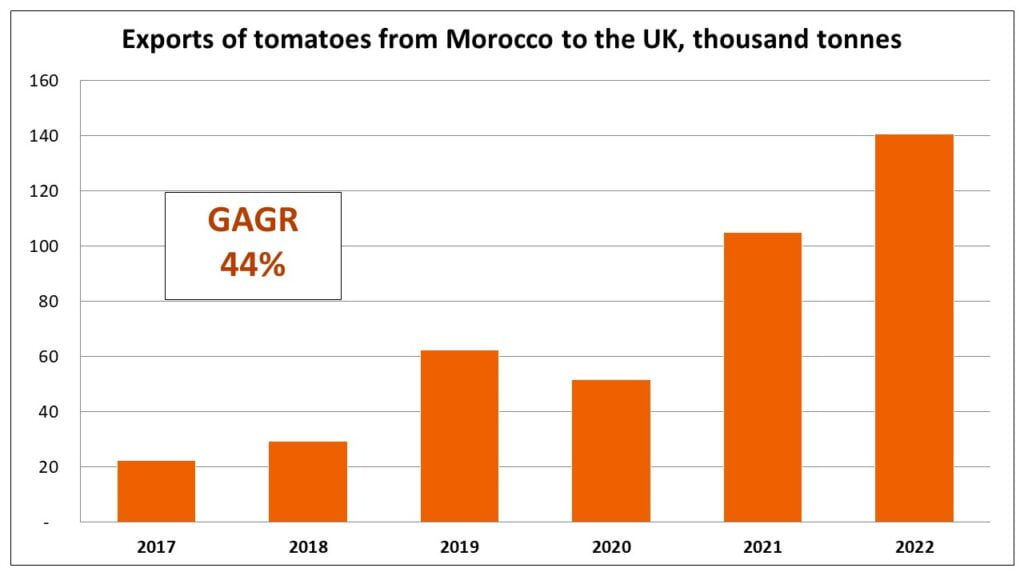 Over the past five years, local tomato producers have been increasing their supply to the UK markets every year, and by the end of 2022, sales volumes have increased to a record 140 000 tonnes.
Supplies from Morocco to the UK peak during the winter months. In the spring of 2021, there was a decrease in exports, however, in 2022, Moroccan tomato exporters managed to expand the vegetable sales season, which reflected in the overall annual increase in supplies.
Read also: Moroccan cucumber exports have more than tripled in five years!
EastFruit wrote that due to the energy crisis, which led to an increase in energy costs, the UK was forced to sharply increase the import of vegetables, including tomatoes.
Besides Morocco, the main countries supplying vegetables to Britain in winter used to be the Netherlands and Spain, but after Brexit, trade with the EU countries became much more complicated. At the same time, Morocco showed its competitiveness thanks to improved logistics, which made it possible to quickly fill the shortage of tomatoes in the UK market, and importers began to rely more on Moroccan suppliers.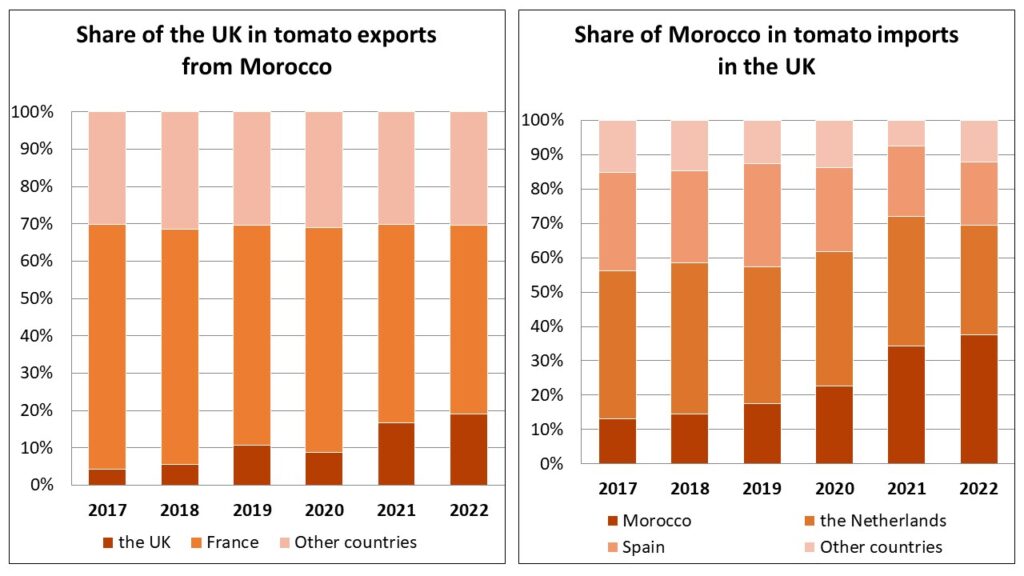 As a result, the share of Moroccan tomato imports to the UK has tripled over the past 5 years. As can be seen from the graph above, Morocco is confidently pushing out competitors such as Spain and the Netherlands and, despite the relative complexity of the market, is taking its niche.
The share of Great Britain in the total export of tomatoes from Morocco is also growing. Of course, as before, the main consumer of Moroccan tomatoes is France, although supplies to the French markets are gradually decreasing from year to year, while sales to British consumers are steadily growing.
EastFruit
---
The use of the site materials is free if there is a direct and open for search engines hyperlink to a specific publication of the East-Fruit.com website.