Morocco, as one of the world's leading exporters of high-quality fresh fruits and vegetables, remains the focus of EastFruit. Over the past three years, the country has been annually updating the record for greenhouse cucumber exports.
As can be seen from the graph, greenhouse cucumber exports from Morocco have been increasing since 2017, and in the last 3 years, local exporters have managed to break the record every year. As a result, Moroccan producers supplied 20 000 tonnes of greenhouse cucumbers to foreign markets in 2022, three times more than just five years ago.
Moreover, the country is not slowing down the growth rate of foreign trade in greenhouse cucumbers, but rather the opposite. The export volume of Moroccan greenhouse cucumbers only in January 2023 amounted to 3 450 tonnes.
Of course, it should be noted that January (as well as November and December) is the "peak" month for the exports of greenhouse cucumbers from Morocco. However, the export volume in the first month of 2023 is the largest compared to the same periods over the past seven years. Thus, Moroccan exporters have every chance to break their record this year as well.
Read also: Morocco keeps increasing carrot exports, but not to the EU
With the growth of greenhouse cucumber exports from Morocco, their geography also changed. In 2017, 60% of sales were made to European countries, and the rest was exported to African countries. Subsequently, foreign trade in vegetables with African countries developed slowly. For example, in 2022, only 15% more cucumbers were supplied to African markets than in 2017.
As for exports to European countries, it is different. The record growth in greenhouse cucumber exports from Morocco was reflected precisely in European markets. The sales volume has steadily increased from year to year. If 3 800 tonnes were imported to the EU markets in 2017, last year Moroccan producers supplied 17 100 tonnes of greenhouse cucumbers to the EU and the UK.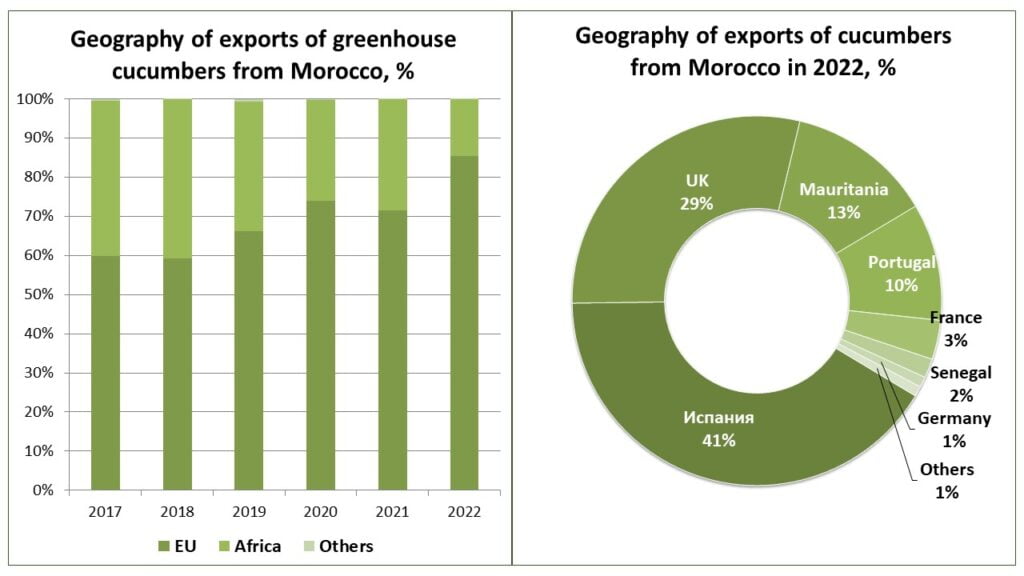 The key importer of Moroccan greenhouse cucumbers is Spain, with more than half of the export volume to European markets coming to this country. Export growth was influenced by the energy crisis and energy costs increasing in European countries. For example, electricity issues in the UK have affected the production of local cucumbers, and the country is forced to sharply increase imports. The deficit of 5 800 tonnes was made up with Moroccan greenhouse cucumbers.
EastFruit
---
The use of the site materials is free if there is a direct and open for search engines hyperlink to a specific publication of the East-Fruit.com website.