Blueberry harvest continues in Georgia, with almost two weeks left until the end of the 2021 season. The season started a week later this year, in the first days of June despite this fact producers had positive expectations at the beginning. How has changed their expectations now, when almost half of the harvest is sold and new regulations on plant products imports came into force in Russia starting from June 29?
This week blueberry producers and exporters panicked after they heard that the Russian market may be closed for Georgian blueberries as Russia is the main export market for Georgian blueberries. Following this, National Food Agency of Georgia (NFA) has published an announcement regarding this subject. According to the announcement, plant produce export to Russia continues without any difficulties. At the same time, NFA confirms that Russia has tightened regulations on imported plant produce, including fresh fruits and vegetables, and if necessary Rosselkhoznadzor is entitled to request additional documentation on pesticide use or conduct a laboratory test.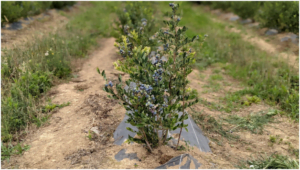 The official announcement does not seem convincing for producers as they have not experienced yet how new regulation works in practice. The last batches of blueberry arrived in Russia before the new regulation and the new ones have not crossed the border yet. The uncertainty has already affected the local market. Large producers who were buying blueberries from smaller farmers either stopped buying or offering lower prices. Although, producers note that prices were getting lower anyway because the Russian market is supplied by Serbian blueberry now and the quality of Georgian blueberry is getting lower as the season comes to an end.
FCO is among the largest producers of blueberry in Georgia with 36 hectares of bearing blueberry plantation in the Guria region. Company representative Rati Morchiladze told EastFruit that from the beginning of the season until 28 June the company was buying blueberry from other growers, as it has the full post-harvesting chain and can handle the colling, sorting, and packaging process. Starting from current week the company stopped buying blueberry because of the uncertainty regarding the new regulations on the Russian market.
"As we know the new regulation gives Russian side the right to request additional documentation on pesticide use and test the product in the laboratory, if necessary. As we do not control what kind of pesticides are used by other producers it is risky for us to buy and sell their product on the Russian market."
According to Morchiladze company has already sold 20 tons of blueberry for exports and plans to send another batch of 30 tons at the end of this week. 11 tons out of 30 will be sent to Germany for the first time. Morchiladze states that potential problems on the Russian market will not affect their business in the future as the company has a Global G.A.P. certificate and plans to increase exports to European markets. Overall Morchiladze evaluates the current season positively as company reached new markets this year. Blueberry season will last for another two weeks in Guria.
Another large blueberry producer is Green Valley (Mtsvane Mdelo in Georgian) with 15 hectares in Imereti region. Company has already harvested and exported over 25 tons of blueberry to Russia which is more than 2/3 of the harvest this year as this is their second year of getting a harvest. Company representative Zura Tsereteli tells EastFruit that situation on Russian market is uncertain for them too, but as company sells only its own blueberry and season ends in 10 days, they are less concerned. For Green Valley current season is good, despite recent developments as at the beginning export price was quite high and remained at the relatively high level for long period. Tsereteli thinks that high prices at the beginning was connected to the late harvesting this year and that Imereti region started selling first. Another positive development for the company this year was to receive Global G.A.P. certificate.
According to producers at the beginning of the season blueberry exports prices on Russian market started from $6-$8 per kg, but now prices are about $5.5-$6 per kg.
Ministry of Environmental Protection and Agriculture of Georgia has published newest data on blueberry exports in social media, from 1 May to 29 June 2021 Georgia has exported 376 tons of blueberry of which 363 tons were exported to Russia. Country received 2,429 thousand USD of export revenues.
EastFruit
---
The use of the site materials is free if there is a direct and open for search engines hyperlink to a specific publication of the East-Fruit.com website.