Open field red tomato prices have doubled this week in Georgia. The average wholesale price on August 5 was 1.6 GEL ($0.52) compared to 0.8 GEL ($0.26) one week earlier. What has affected the market?
Tomato grower from Shida Kartli have talked about expected high prices with EastFruit yet at the beginning of July.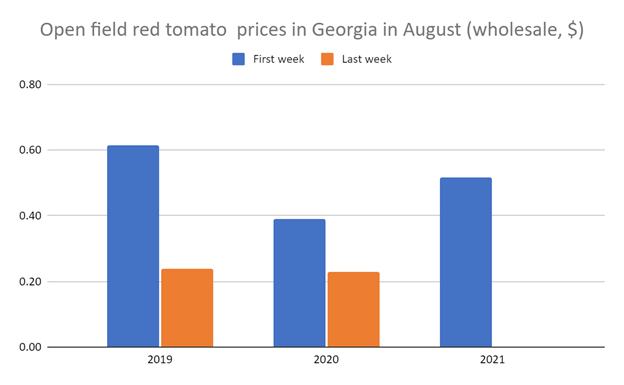 Source: EastFruit
According to EastFrut monitoring results, open field red tomato prices at the beginning of August, during the last three years, were higher than at the end of the month. This happens because the tomato supply at this period generally is low. In August, tomato harvest ends in Kvemo Kartli and Kakheti regions and the Shida Kartli region becomes the main growers of open field red tomatoes. The season in Shida Kartli has just started, but supply is yet low.
Growers expect that after the tomato season reaches its peak, at the end of August, prices will fall again, but still will be higher than the previous year because fewer tomatoes were planted this year.
Ioseb Parekhelashvili is one of the tomato grower from Shida Kartli. This year he has only a pink variety of tomatoes on 2.2 ha. In 2020 he had 10 ha of red tomatoes, but farmgate prices were very low and the year ended with losses. After failing last year, he decided not to plant red tomatoes at all this year.
Another grower from the Shida Kartli region, Levan Guraspashvili, also planted fewer tomatoes this year. In an earlier conversation with EastFruit, he talked about possible high prices for the same reason. He started selling tomatoes several days ago and is paid 1.3 GEL per kg ($0.42)  in the field. He also expects that prices will go down at the end of August, but not as much as it was last year.
Another reason that was mentioned by the farmers and that might adversely affect tomato harvest this year is the low temperatureat th e beginning of May.
EastFruit
---
The use of the site materials is free if there is a direct and open for search engines hyperlink to a specific publication of the East-Fruit.com website.