The EastFruit analysts team discovered while preparing for the first online conference on the market of frozen fruits, berries, and vegetables, that an important event happened in 2021 – raspberries overtook strawberries in terms of international trade volume.
In 2021, the volume of global exports of frozen raspberries increased to $1.63 billion, while sales of frozen strawberries amounted to $1.37 billion. Note that raspberry export statistics also include data on frozen blackberries, however, the proportion of blackberries in this volume remains low.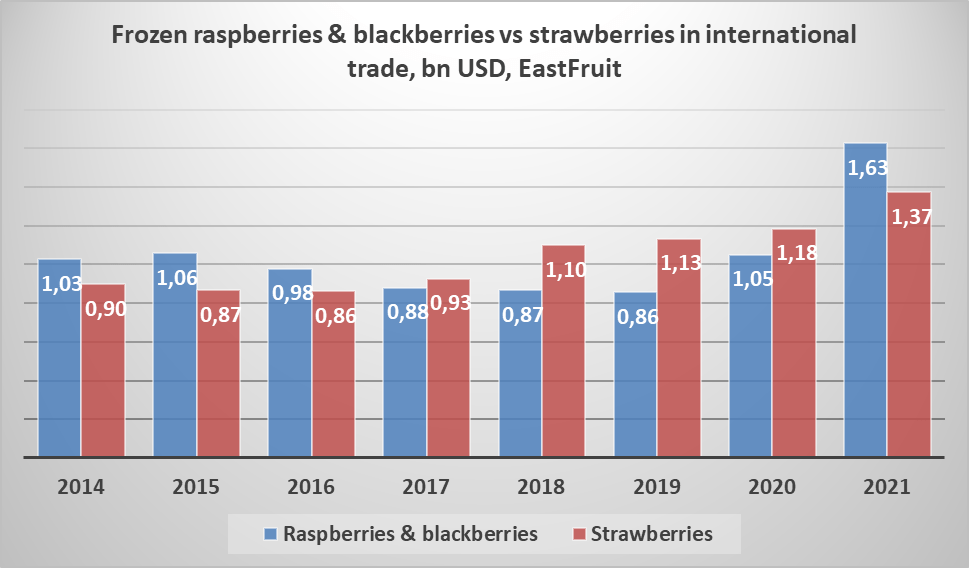 "There is no doubt that frozen raspberries are a much less stable commodity than strawberries. Price fluctuations in the segment of frozen raspberries lead to sharp drops in the market. Therefore, in 2016-2019, we observed a decrease in the value of trade in frozen raspberries, although the physical volumes of exports grew rapidly. During this period, frozen raspberry producers from Ukraine entered the global market quite aggressively, putting enormous pressure on prices. In 2020-2021, there was a sharp increase in prices for raspberries, which led to an increase in trade value. At the same time, the global market for frozen strawberries remained more or less stable in terms of price, and its growth rates were smoother," Andriy Yarmak, economist at the Investment Center of the Food and Agriculture Organization of the United Nations (FAO), explains the trends.
The expert does not rule out that the volume of global trade in frozen raspberries in 2022 may have decreased again, however, it is most likely to have remained higher than the volume of exports of frozen strawberries.
Read also: Profitability of freezing raspberries and how the margin changed in 2016-2022
"Obviously, frozen raspberries will need to find a new price balance in order to maintain their leadership position in terms of global trade. In 2018-2019 raspberry sales volumes grew primarily because the prices for raspberries were almost comparable to those for strawberries. However, when raspberry prices jumped to $5/kg or more in 2021, their demand began to decline rapidly. Current prices are at the level of about $2.5 per kg, and many do not exclude that raspberries may become cheaper again in the new season since during the period of high prices, new plantations of berries in vast areas were planted not only in Ukraine and other countries of Eastern Europe but also in Central Asia. This means that supply in 2023 will continue to grow by inertia," says Andriy Yarmak.
You can watch the video of the conference on fruit and vegetable freezing and the presentations of the participants here (in Russian).
EastFruit
---
The use of the site materials is free if there is a direct and open for search engines hyperlink to a specific publication of the East-Fruit.com website.