Table grapes are the second most popular fruit in the world in terms of global trade after bananas, and global table grape trade continues to grow dynamically, by an average of 3.6% or $ 336 million each year.
However, this success story is not applicable to Uzbekistan, one of the largest producers and exporters of table grapes in the world. After all, while all the other countries are increasing exports, Uzbekistan reduces them. Moreover, not only the volumes of export of fresh table grapes, but even those of dried grapes (raisins) are decreasing.
What are the reasons? Why is Uzbekistan losing markets for one of the most important traditional export item in the fruit and vegetable segment?
To answer this question, EastFruit experts compared industry development trends in leading exporting countries with what is happening in Uzbekistan.
To begin with, we conducted a survey of leading experts in the table grapes production industry in Uzbekistan in order to determine the most popular table grapes varieties and trends. And while it was clear even before the survey that the industry was based on traditional, outdated varieties, it was surprising to learn that there was absolutely no attempt to make a change.
When communicating with respondents, there was little interest in foreign varieties, not to mention the interest in the trends in the global market. The industry's focus has been on improving local varieties. It would seem that there is nothing wrong with Uzbekistan's excellent local varieties that local consumers like. After all, this reduces dependence on foreign varieties and dramatically reduces the cost of investment in planting vineyards.
The only problem is that very few people, even experts in the grape industry of Uzbekistan, understand that consumers are changing. The younger generation even in the traditional market for table grapes in Uzbekistan, such as Russia, prefers completely different grape varieties that Uzbekistan does not produce. Regarding the development of the industry and increasing the export of table grapes, we need to go beyond exports to Russia, but how can we do this with varieties that are unknown to consumers in the world?
Let's look at the most popular table grape varieties grown in Uzbekistan in terms of the number of references by our respondents.
As you can see, the most popular varieties are the seedless varieties Kishmish Kora Black and Khusaine White, which were mentioned by all respondents without exception as the most common in the country. However, in fact, varieties number 2 (Lady's finger or Kelin barmoқ, which literally means "Bride 's fingers") and number 3 (Ketmonsopy) in our rating are also varieties or clones of Husayne variety.
Husayne is the most widespread variety, cultivated for a long time in Uzbekistan. It is still popular because it is easy to manage, and it can be stored long. For the same reason, in Uzbekistan, there are quite a lot of areas of the old Toifi variety, which is going out of fashion, as it is sold at the lowest price, according to winegrowers.
Kishmish Bark (black) is widespread because this seedless variety is universal: there is always a good demand for it in the fresh market, both in the domestic and export markets, and black raisins are made from it, which are also well sold in the domestic and external markets.
According to our estimates, about 71% of table grape varieties are with seeds. There are only a few seedless varieties of table grapes in Uzbekistan.
The rating of table grape varieties made by EastFruit based on experts' survey is presented below: the varieties with expanding area of cultivation are shown on the left and those with decreasing area of cultivation are on the right.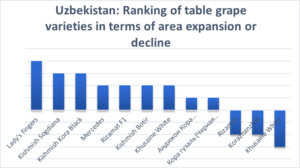 It is interesting that the areas cultivated with "Lady's finger", Khusayne variety, which has a more elongated shape and a more delicate skin, grow the fastest in Uzbekistan – this is a seeded variety. But the classic Husayne took the first place in terms of the rate of area reduction.
The seedless variety Sogdiana (Pobeda, Kishmish black), bred in Uzbekistan, took a second place. It is a notable variety – it is larger than Kishmish Kora Black (which is third in terms of expansion rates). In addition, it is suitable for both fresh market and raisins. Raisins from it are also large, thus they are sold at a high price. This reduces the risk of non-sale of products, as table grapes can be dried if they cannot be sold.
The third place was taken by the table grapes variety Mercedes with seeds. It is believed to be a traditional selection grape, bred in Tajikistan, therefore it is usually called "Tajikistan". However, in Uzbekistan they prefer to call it "Mercedes". The Mercedes variety is gaining popularity because it is large. In addition, it recently started to be used for making seedless raisins. Since expensive large raisins are made from it, the labor required to squeeze the seeds seems to be worth it.
The areas of Rizamat F1, variety of pink table grapes with seeds, are expanding almost as quickly. According to farmers, it is good for the fresh market, because the price is high and it is sold well from August to October. Its disadvantage is that it is not suitable for storage, i.e. it is not yet possible to sell it in winter.
At the same time, on the US and Chilean markets, all the leading varieties are seedless: Scarlet Royal, Autumn King, Flame Seedless, Pristine, etc. By the way, seed varieties are also grown there, but their prices are much lower, therefore, producers of all table grape exporting countries are getting rid of varieties with seeds. Even those seedless varieties that were mentioned by some of the respondents in Uzbekistan as promising, which in some cases are imported and grown without licenses in Uzbekistan, such as Thomson Sidles, are now also becoming not popular.
There is a growing interest in large seedless table grapes in the world, and there are no such varieties in Uzbekistan. In addition, bunches of local varieties weigh at least 1 kg, while smaller bunches of 0.3 – 0.5 kg, more convenient for consumers, are popular on the global market. That is, the bunches of Uzbek grapes are too large for the global market. Although some producers say that small bunches can also be obtained from local grape varieties through appropriate care and treatment of bushes during ripening but no one is working on it.
At the same time, almost all of our respondents agreed that seedless varieties will expand in the future, because demand for them will grow. One of the farmers even noted that he did not see a single table grape variety with seeds during 10 days in India.
Why does Uzbekistan remain far from global trends and is in no hurry to follow them? The most common explanation is that the official imports of foreign grape nursery plants is almost impossible, that there are lengthy plant quarantine procedures (about six months), which so far no one wants to deal with, and there is a serious risk of bringing various grape diseases from abroad, that can quickly spread throughout the country and be a threat to the entire viticulture sector.
In addition, the knowledge vacuum about global market trends is also an important point. Most of the publications available to producers, as well as the vast majority of Uzbek scientists and consultants are all about growing traditional varieties. And if someone is interested in other varieties, there is neither opportunities to import them, nor information on how to grow them in local conditions, not to mention the higher cost of nursery plants, which means that the risk of failure is too high.
The state allocates land for farmers to engage in viticulture, but since all recommendations relate to local Uzbek varieties, only these varieties are planted.
Will Uzbek exporters be able to convince the whole world to consume Bride's Fingers, Mercedes and other varieties, or will they eventually have to start producing more modern varieties popular in other countries of the world? Or will Uzbekistan focus on the domestic market and the production of dried grapes, since it is easier to export dried grapes than fresh ones?
We cannot answer these, but we believe that every year it will be more and more difficult for Uzbekistan to export fresh table grapes to the markets of Russia and Kazakhstan without renewing grape varieties and approaches to their cultivation, processing and storage
According to Andriy Yarmak, Economist of the Investment Centre of the UN Food Organization (FAO), the next generation of consumers will value not only taste and convenience, but also the sustainability of the entire system of growing and supplying table grapes. "The next generation of consumers, who will become more and more influential in the coming years, will prefer large seedless grapes, organically grown, preserved, packaged and delivered in an environmentally friendly way in ecological biodegradable packaging, which they will order online using only a voice assistant. I know that this sounds too futuristic, especially for Uzbekistan, but it is better to be ready for this, because vineyards are a business for years to come. No one would have thought that online delivery of vegetables and fruits would develop so rapidly in Uzbekistan, but now it is real!", – Andriy Yarmak said.
It may well turn out that table grape varieties popular in other countries, will grow even more delicious in Uzbekistan, given many sunny days and favorable weather in the country. Also, according to EastFruit, Uzbekistan does not fully use its geographical advantages – early grapes of advanced varieties in the southern regions can be produced earlier than in other countries and exported at a very high price. To do this, you can experiment with growing grapes indoors. In addition, many popular varieties in the world can be stored till spring, and storage technologies have long been developed. This would make it possible not only to reverse the downward trend in the export of Uzbek grapes, but also to saturate the country's domestic market with affordable and healthy products all year round. Now, oddly enough, retail prices for vegetables and fruits, and even table grapes in Uzbekistan, are higher than in other countries of the region.
Accordingly, joint efforts of both the government and representatives of the sector are needed for further development of viticulture in Uzbekistan. Moreover, changes in approaches have been long- overdue and these changes have to start with an analysis of the table grape market.
EastFruit
---
The use of the site materials is free if there is a direct and open for search engines hyperlink to a specific publication of the East-Fruit.com website.