On November 17, 2022, the British fruit importer Growers Direct Ltd announced the safe arrival of the company's first batch of Ukrainian apples.
24 tonnes of apples from the Nemyriv district (Vinnitsya region, Ukraine) were delivered with a month delay due to Russian shelling of Ukrainian cities, EastFruit writes with reference to FruitNet.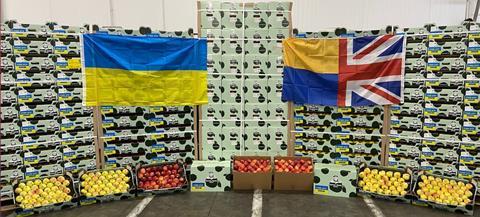 According to Growers Direct managing director Patrick Broadhurst, fruits were "looking very nice" when they finally arrived at the company's storage.
Patrick Broadhurst himself contacted Green Farm's Volodymyr Glus in July after reading an article detailing a Ukrainian horticulturist's efforts to export apples after the Russian attack on Ukraine and his ambition of supplying the UK market.
"We have been in contact ever since," says Broadhurst. "The idea is to help Ukraine by doing business with them."
Growers Direct has initially planned to receive 24 tonnes of apples from Green Farm – specifically Golden Delicious, Blush Delicious and Royal Gala varieties – per week until the end of the apple season in Ukraine in May 2023. Broadhurst expects the collaboration to continue in the long term.
"The majority of the first consignment was pre-sold to our valued wholesale customers and we are seeing repeating orders, particularly for the Blush Golden [Delicious]," Broadhurst explained.
Commenting on the arrival of his apples in the UK, Volodymyr Glus notes that he is very happy to find a partner in the UK who to help him bring Ukrainian apples to the UK market in these difficult times for Ukraine. From the very first conversation with Growers Direct, the producer felt empathy and readiness to support Ukrainian business.
Read also: Unstoppable! Ukraine continues opening new markets for apples in Africa, despite Russian aggression
"Having a reliable partner in the UK is very important to us as we are experiencing serious turbulence with local sales, while sea logistics to our traditional export markets is rather challenging," adds Volodymyr.
According to him, the company's orchard is in a relatively safe area, but because of the Russian missile terror, it is difficult to feel safe anywhere.
Glus expressed confidence that British consumers would appreciate the taste and quality of Ukrainian apples. "I am very grateful to the Growers Direct team for their trust in my company," he says. "Taking this opportunity I would also like to thank for the enormous support we have received from the people of UK in the darkest hours for my fellow citizens."
EastFruit
---
The use of the site materials is free if there is a direct and open for search engines hyperlink to a specific publication of the East-Fruit.com website.