From the beginning of January to the end of October 2021, the volume of fresh watermelon exports from Uzbekistan in physical terms amounted to 43.6 thousand tonnes, which is 11% less than in the same period in 2020. Since the exports season for Uzbek watermelon has already ended, this volume will be close to the final for 2021.
However, despite a slight decrease in the export of watermelon in 2021, it was abnormally high for the second year in a row, namely 14 times higher than the average annual export in 2017-2019. EastFruit analysts figured out whether the export growth in 2020-2021 was accidental, or it was the beginning of a trend and new opportunities for increasing the country's exports in the fruit and vegetable segment.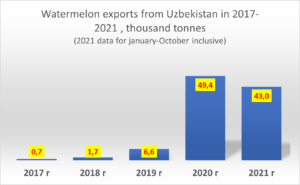 Let's analyze the geography of watermelon exports before and after the sharp increase in volumes. It turns out that the main importing countries in 2020-2021 and their share in supplies have changed significantly, as can be seen from the two diagrams below.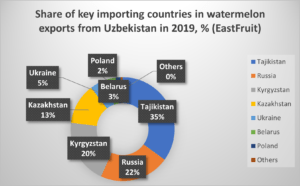 Before the sharp increase in exports, Tajikistan was the main buyer of watermelons from Uzbekistan. More than a third of all products were supplied there. Three countries: Tajikistan, Russia and Kyrgyzstan accounted for 77% of all watermelon exports.
However, the situation has changed significantly in 2020-2021. The share of Kazakhstan in supplies rose to 55%, and of Russia – up to 33%. Thus, more than 88% of all watermelon exports of Uzbekistan accounted for two countries, one of which was not previously among the main sales markets!
It is even more interesting to look at the changes in the volume of supplies that may help us find out whether the growth of Uzbek exports was accidental or temporary.
In terms of growth in supply volumes, attention is drawn to, first of all, two countries – Kazakhstan and Russia. In 2021, 36 thousand tonnes of watermelon more were exported to these two countries than in 2019. In 2020, their share in the Uzbek exports of watermelon was even higher. We need to understand why the demand for Uzbek watermelon in these countries has dramatically increased to assume whether they will buy watermelon in Uzbekistan in 2022.
By the way, we cannot discount Kyrgyzstan, Belarus and Moldova that also increased purchases.
Let's look at the statistics of international trade in watermelons of the Russian Federation and Kazakhstan. It turns out that both countries sharply increased the volume of watermelon imports in 2020 and 2021. Russia, which was itself a major exporter of watermelon until 2020, sharply reduced its exports and increased imports.
Given the different ripening periods of watermelon in Uzbekistan, as well as in the key importing countries, Russia and Kazakhstan, it seems that the demand for the earlier watermelon has increased there. Traditionally, Russian consumers preferred to buy watermelon no earlier than August, because of fears of the high nitrate content in early watermelons, and their low taste.
However, the situation has recently started to change, in our opinion, partly due to the supply of watermelon from Uzbekistan. Uzbek watermelons ripen much earlier and have a high sugar content, which could not but be noted by Russian and Kazakh consumers. In 2021, Uzbekistan exported more than 2.4 thousand tonnes of watermelon in May, and more than 40 thousand tonnes in June-July!
It can be concluded that the sharp increase in watermelon exports from Uzbekistan is most likely not an accident, but a new market opportunity. It is no accident that watermelon has become one of the country's key export positions in the summer, along with cherries and apricots, over the past two years. It should still be borne in mind that in order to further expand watermelon exports and their geography, Uzbek producers should also pay attention to trend seedless varieties of watermelon of smaller size.
EastFruit
---
The use of the site materials is free if there is a direct and open for search engines hyperlink to a specific publication of the East-Fruit.com website.