According to EastFruit project analysts, this weekend, wholesale prices for Ukrainian sweet cherries have more than halved.
At the end of last working week, wholesale prices for good quality cherries in the Kyiv markets "Stolichny" and "Troyeshchina" kept in the range of 75-80 UAH / kg, and high-quality products were offered at a price of about 100 UAH / kg in small wholesale.
However, according to market operators, already on Friday the price of sweet cherries at the "Stolichny" market fell to UAH 60, and on Saturday and Sunday fell to the level of 35-40 UAH / kg. On the market "Troyeshchina" the price of cherries fell even lower – up to 25 UAH / kg. In the southern regions of Ukraine, cherries could be bought at wholesale markets at 20 UAH / kg.
The main reason for the collapse of the sweet cherry market, manufacturers call the oversupply amid a significant decrease in consumer demand. In addition, sellers of low-quality cherries seek to get rid of products as soon as possible, knocking down prices, including for high-quality, calibrated, and varietal goods.
Thus, this weekend, cherries were traded on the "Stolichny" market with more than a hundred cars selling cherries, mostly of poor quality. Producers tried to sell their products for several days, as a result, high-quality fruits were forced to sell at 30-50 UAH / kg.
Small producers do not have access to the sale of their products through retail chains and large buyers, they can not afford equipment for cooling and temporary storage of cherries, because they sell goods to intermediaries at the lowest price in order to prevent its damage. Intermediaries who buy goods from manufacturers, subsequently sell them at market points and in retail chains with their mark-up, however, they take on many risks and additional costs, because this sweet cherry is not cooled in a necessary way, and its implementation period is very short. Also, when selling cherries to shops, the intermediary pays VAT and other taxes and fees for the farmer, which sharply increases the cost of production. As a result, cherries can reach the end consumer already at a price three times higher than the purchase price from the gardener.
In the absence of modern effective cooperative legislation in Ukraine, despite the fact that the corresponding bill has been waiting for its turn for approval in government for several years, Ukrainian gardeners have no choice but to sell products to intermediaries.
Also, another reason for the fall in prices for cherries at the weekend is Ukrainian producers call the closure of small markets, in connection with quarantine, where a significant part of fruits and vegetables was previously sold. Many of the small markets in Ukraine have not opened.
It is possible to note that the minimum wholesale price for cherries on the "Stolichny" market website as of June 21 is indicated in the amount of 60 UAH / kg, the average is 65 UAH / kg, and the maximum is 70 UAH / kg (see photo). According to manufacturers, these prices are not true.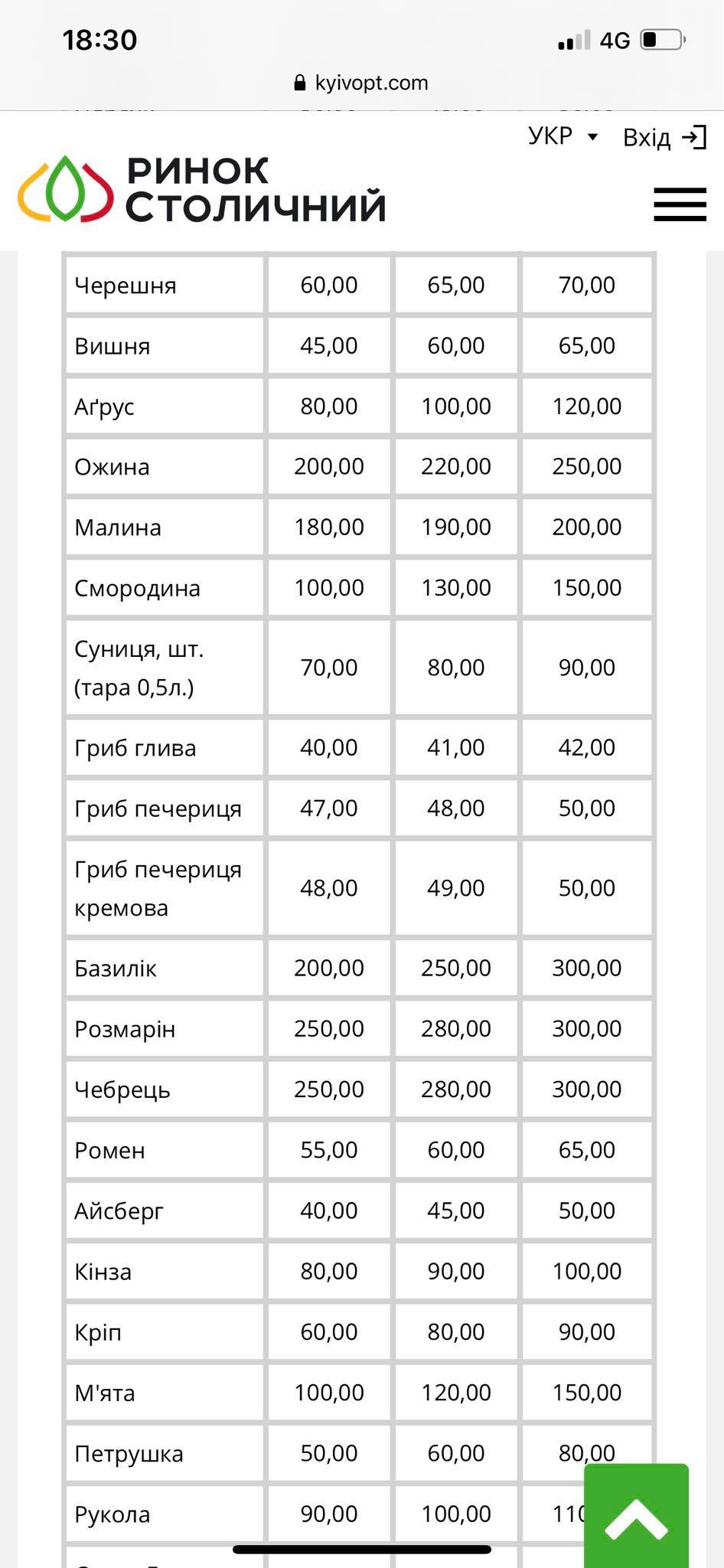 Most likely, the reason for posting false information is either in the absence of a professional approach to price monitoring by the market administration or in the desire to attract more people who want to sell their products. Therefore, we advise gardeners to carefully treat the information on the "Stolichniy" market website and check it with those located in the market.
Farmers also fear that a reduction in the price of cherries will lead to a chain reaction in the market for products of the food group and will provoke a decrease in the price of berries such as strawberries, honeysuckle, blueberries, raspberries, etc.
EastFruit
---
The use of the site materials is free if there is a direct and open for search engines hyperlink to a specific publication of the East-Fruit.com website.