As a result of a series of earthquakes in Turkey on February 6, 2023, the port of Iskenderun in the southeast of the country was severely damaged, as the General Directorate of Maritime Affairs under the Ministry of Transport and Infrastructure of Turkey reported in social media, EastFruit experts note, citing open sources on international logistics.
Some of the containers were thrown on top of each other, and containers that were at the very bottom were deformed, and fruits spilled out of them – oranges and lemons. Some overturned containers caught fire; they tried to extinguish the fire from the water with the help of fireships.
Iskenderun Port is one of the largest Turkish ports. Its total cargo turnover amounted to 67.6 million tonnes in 2022.
According to the General Directorate of Maritime Affairs under the Ministry of Transport and Infrastructure of Turkey, other seaports of the country were not affected by earthquakes.
There is also significant damage on the railway – railway tracks in the Gaziantep region in southern Turkey were seriously damaged. Part of the road was damaged, too, and freight gondola cars were turned over. Railway service in the south and southeast of the country has been suspended.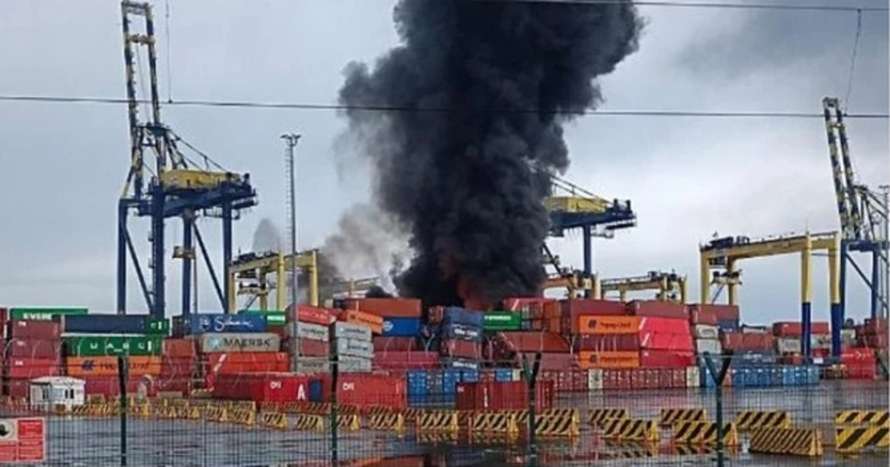 In addition, logistics within the country and in international traffic are complicated by heavy snowfalls in Turkey, said Georgy Vlastopulo, head of the Optimalog company: "As for maritime transport, it is worth saying that due to difficult weather conditions since last week, ferries have been unable to land on the Turkish coast."
The strongest earthquake in Turkey in decades
According to the US Geological Survey (USGS), a magnitude 7.8 earthquake struck early on February 6, 2023, at 04:17 local time near the city of Gaziantep, a key industrial center on Turkey's border with Syria. The tremors were also felt in Lebanon, Iraq, Egypt, Greece, Cyprus, and Israel.
Later, there was a second earthquake of magnitude 7.5 and dozens of weaker aftershocks. Tremors were felt in different regions, including the capital Ankara, Adana, Nevsehir, Gaziantep, Kayseri, Mersin, and Hatay.
The number of victims of the strongest earthquake in decades continues to grow rapidly. A day later, according to official figures, the death toll in Turkey rose to almost 3 500 people, with more than 20 500 injured. President Recep Tayyip Erdogan has declared a week of mourning in the country.
The death toll in Syria exceeded 1 400, and more than 3 500 people were injured, media reported.
Thousands are under the rubble. In some areas, rescue work is hampered by heavy snowfall, roads are covered with ice and snow. Search and rescue operations are coordinated by the Turkish Presidium of Disaster and Emergency Management (AFAD). Turkey has declared the highest level of alert – the fourth degree.
EastFruit
---
The use of the site materials is free if there is a direct and open for search engines hyperlink to a specific publication of the East-Fruit.com website.