Several weeks ago we wrote about Georgian potato growers having difficulties selling their produce and the need to modernize the logistics chain and marketing. There is now a surge in potato exports, but it is not an achievement of the Georgian side. It may seem that the country has started using an export window on Russian potato market that appears in second quarter, when Russian potato imports are the largest. We found that this is just a temporary opportunity, which may not last long if Georgia does not form strong connections.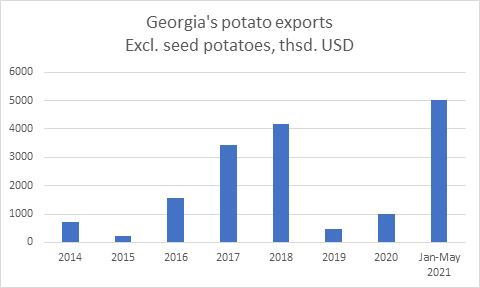 Data source: Ministry of Finance of Georgia
In January-May 2021 Georgia exported potatoes worth $5 million (excluding seed potatoes), which is at least 21% higher than potato export value in any full year. 85% of this revenue came in April-May and Russia with 93% share was a top exporting destination. Exports in April-May amounted 11 thousand tons – 5 times more than average exports in same period of last 5 years, and 79% (9,5 thousand tons) of this volume was exported to Russia. Newly harvested potatoes were exported to Russia at $0.40-0.45 per kg (FOB), farmers got around $0.27-0.35 and were quite pleased with the prices.
As our respondents note, little has changed in Georgian post-harvest processing. Logistics chain remains very passive to this day: trucks from Russia buy potatoes on farms and leave. This is a very rare occasion, as usually Azerbaijani traders buy Georgian potatoes. Annual exports to Russia never exceeded $650 thousand before, yet now April-May exports exceed $4 million. Overall, export surge still comes from foreigners' activities, rather than from Georgian potato sector pushing their own produce.
Russian imports of potatoes are usually large in second quarter every year as stocks from last harvest start to run low, however Russian demand for foreign potatoes seems very strong this year. This demand mainly comes from very low stocks of potatoes in the country and the Government's need to put downwards pressure on prices. On the other hand, very low potato stocks result from weak last harvest due to unfavourable weather conditions. Prices for new harvest potato were in the range 32-38 RUB per kg ($0.45-0.53) in May 2020, and this year prices are around 50 RUB per kg ($0.67-0.68).
On average for the last 7 years, Russia imports about 322 thousand tons of potatoes (excluding seed potatoes) in second quarter each year. Second quarter seems like a major window – 70% of potato imports happen in second quarter every year. Georgia's neighbour, Azerbaijan, usually exports 52 thousand tons of potatoes to Russia in this period, which is about the same quantity as Georgia's total exports from 2017 to 2020. It can be said that Georgia itself does not take advantage of this window and it is likely to remain so.
Most of Georgian potato producers view current situation as temporary opportunity, which will not last long. They are right to some extent – Russia usually imports from Azerbaijan and is not widely familiar with Georgian potatoes. However, Georgian potato industry should view this sudden opportunity as a chance to form connections, coordinate and come up with competitive offers to international buyers in the future. Georgia should become active. If Georgian market becomes more export-oriented, it may get its own share on Russian market.
EastFruit
---
The use of the site materials is free if there is a direct and open for search engines hyperlink to a specific publication of the East-Fruit.com website.