After being unable to sell all the potatoes produced in 2020/21, many Georgian potato producers may face yet another disappointing season in 2021/22. Sounds strange as one would think that farmers usually decrease the cultivated area after a bad year but that's where our analysis gets interesting and could only happen to potato producers.
Since October 2020 most Georgian potato producers have been selling their potatoes at 0.50-0.60 GEL (0.15-0.18$) per kg. Moreover, prices have hit the lowest levels in in March/April 2021 when they usually rise due to low stocks.
As producers were suffering due to very low prices, some of them chose to plant their own potato stock rather than sell them hoping that next year the prices will recover. Thus, assuming weather allows September's potato harvest in Georgian might be a high one again.
Meantime, the situation in Turkey seems to be similar with significant surplus of potatoes on the market, which could provide even more pressure for the Georgian potato market. Despite all of these factors, Georgia still imported a significant amount of seed potatoes from the EU. Georgian potato producers seem to think that better quality of potatoes will be the point of difference when market is oversupplied and could help them get a decent price.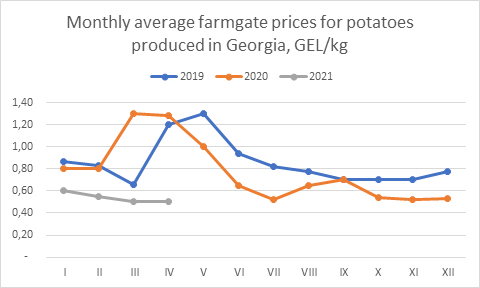 Source: EastFruit survey
Average farmgate price for Georgian potato in January 2021 was about 28% lower than in 2019 & 2020 and the difference increased to 60% in April. Price difference would have been less drastic if not for the sharp price hike in March 2020 when Covid pandemic uncertainty and lockdowns caused panic buying in Georgia and worldwide.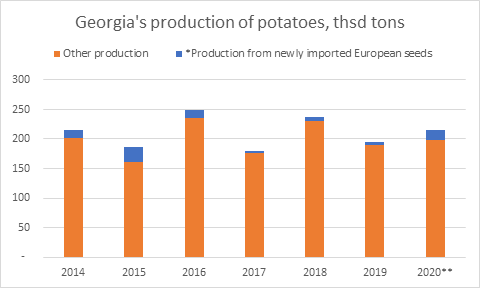 Data sources: Geostat.ge; Ministry of finance of Georgia.
*production from seeds imported in particular year – estimated by EF
**preliminary data
The main driver for the later drop in prices is a relatively good harvest coupled with weak local demand due to pandemic's impact on the drop in tourism and HoReCa. As stocks started to pile up, some farmers even requested support from local governmental bodies and threatened to dump their potatos. Overall, farmers found two main ways out of the situation: exporting or using them as seed potatoes. Second option seemed easier, if you still had cash.
Primary export destination for Georgian fresh potatoes is usually Azerbaijan. As a rule, Azerbaijani traders come to Georgia with trucks, buy potatoes and return home. Given there was not much demand from Azerbaijan in the first half of 2021, Georgians found it hard to export – mainly due to lack of experience, underdeveloped post-harvest infrastructure, logistics and marketing.
Many of the unsold table potatoes were planted back into the ground in spring in hopes of better economic prospects for the next harvest. Georgia's neighbour, Turkey is seeing that early potato harvest is starting good. Weather and soil conditions in the country are said to be favourable, yet there is some caution: potato consumption in touristic regions of Turkey is usually very high, and now Covid pandemic is threatening Turkey's tourism sector. With fewer international visitors, translated into lower consumption and higher stocks compared to pre-pandemic levels, Turkey will try to aggressively export its potatoes. Part of it may be shipped to neighboring Georgia.
Much fewer of the Georgian potato farmers found another way to compete – focusing on higher quality.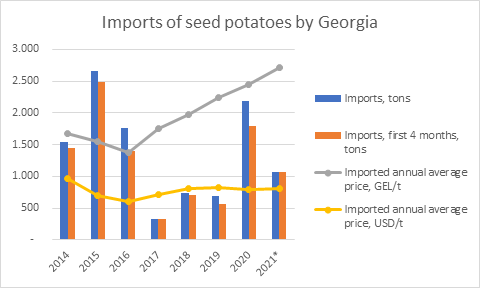 Source: Ministry of Finance of Georgia
*all data for 2021 include first four months only
In the first four months of 2021 Georgia's import volumes of seed potatoes (1072 tons) were second highest in the last five years – more than imported quantities in 2017 and 2018 altogether. This is even more impressive when we observe a very steep increase in seed potato prices in the local currency. Prices for imported seed potatoes in Jan-Apr 2021 were 46% higher compared to the average price of 2014-2020 (in Georgian lari).
Significant imports of seed potatoes when prices for seed potatoes are high, is not accidental: Georgian market values high quality locally grown potatoes.
Sources: Ministry of Finance (Turkish imports), EastFruit survey
Through January-April 2021, Georgian farmers, who mainly used imported European seed potatoes and focused on getting higher quality product, got on average 27% more than an average Georgian farmer. More impressively, Georgian market seemed to be ready to pay twice as much for such potatoes compared to what it was ready to pay for the Turkish potatoes.
Of course, the price received by farmers with high quality potatoes have also dropped compared to the past year, but they experienced no problems selling their produce. Moreover, high quality product was sold at a much higher pace and farmers did not have to use the potato stock as seed potatoes at the end of the season, like many others.
To summarize, the Georgia's potato harvest in 2021/22 may end up being very high one  again. Despite such concerns, farmers hope for improved economic situation, economic revival from pandemic and higher demand. Hopefully, these expectations will come true, but if tourism sector does not grow quickly in the region, there will be a fierce competition with potato imports from Turkey again.
While this season was not easy for Georgian potato producers due to low prices and low demand, farmers who focused on quality ended up in much better situation. It may be the right time for Georgian potato growers to draw more attention to potato quality. We estimate that usually only less than 10% of Georgia's total annual production comes from newly imported high quality seed potatoes, so the high quality segment of the potato market is likely to have a large margin for growth.
EastFruit
---
The use of the site materials is free if there is a direct and open for search engines hyperlink to a specific publication of the East-Fruit.com website.