Irrigation is critical for the development of horticultural production. Despite rich Georgia's water resources, with 14 000 m3 of surface water per capita compared to the European average of 9 300 m3 [1], available water resources are unevenly distributed in Georgia and mainly accumulated in the western parts of the country. Thus, Georgian farmers face serious challenges due to the risks of climate change.
Since the Georgian irrigation infrastructure was adapted to large land plots due to Soviet agricultural practices, irrigation canals are currently inaccessible to many of the smallholders who entered the sector after privatization in the 1990s. In addition, remote lands often lack access to electricity, which also limits the use of groundwater resources. At the same time, Georgia has an average European level of solar radiation, which is lower than in Spain and Italy, but higher than in Germany and the Netherlands. This opens up opportunities for the use of solar-powered irrigation in orchards, EastFruit experts believe.
Task
There is an almond intensive orchard of 120 ha between Sabatlo and the village of Pirosmani, on the Georgian border of the municipality of Dedoplitskaro and Azerbaijan. The municipality is known for its lack of irrigated agricultural land. Horticultural production (mainly grapes) in the municipality has declined by 89% since the collapse of the Soviet Union due to the degradation of irrigation canals. Because of the lack of irrigation water, farmers plant only small orchards, mainly for local consumption [2].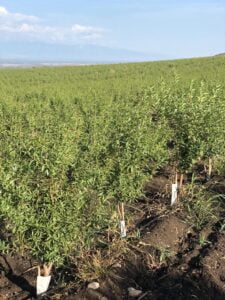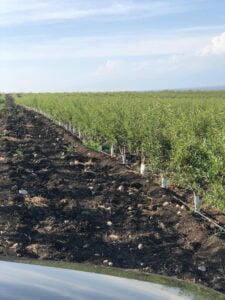 The selected growing area is in the subtropical climate zone (Cfa) characterized by hot and humid summers and cool to mild winters. The hottest month is July with an average temperature of 26.2°C.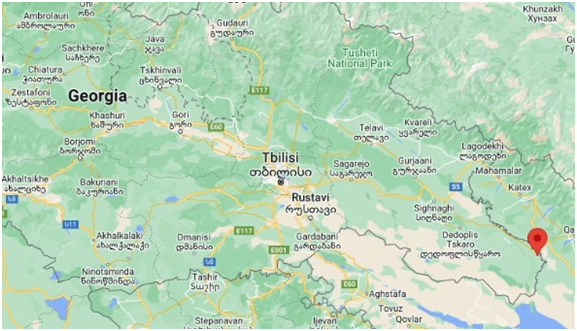 The site is located just three kilometers from the Alazani River, which serves as the border between Georgia and Azerbaijan. The orchards were laid out in 2021 and, despite being close to a water source, in the first season, the owners were forced to supply irrigation water to the drip irrigation system using a 2 000-tonne tank, where the water was pumped and distributed through the system using two diesel pumps with a capacity of 90kW/hour since there is no electricity source in the area. The operation of diesel engines of such power cost the owners a little more than $400 per day, which resulted in $41 500 for 100 days of irrigation.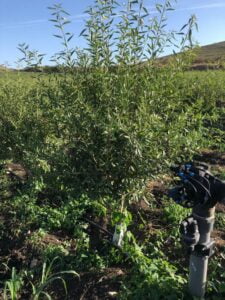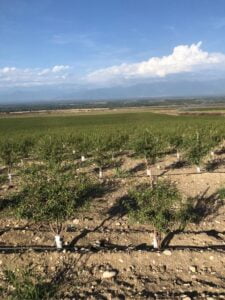 How to reduce irrigation costs?
An autonomous submersible pumping system Lorentz – PSk2-100, powered by solar panels, was chosen. The submersible pumping system is designed to take water from a well located directly by the river and pump it into an irrigation reservoir three kilometers away, from where the water is distributed by gravity through the system. The irrigation system is divided into sectors so that each tree is watered every three days and requires a system pressure of 4 bar. The pump is connected to solar modules with a capacity of 108 kW through the controller. Solar panels are located on an area of about 500 m2 near the orchard. Thanks to the system, the water was raised by a total of 130 m at a distance of 3 km.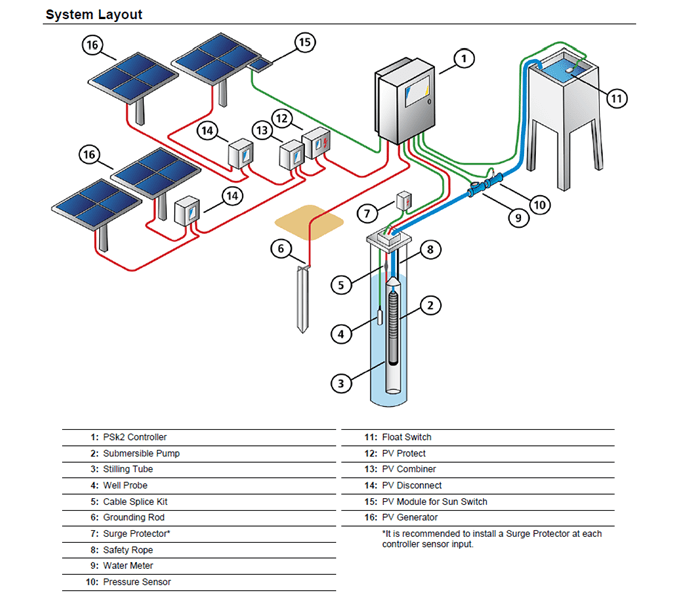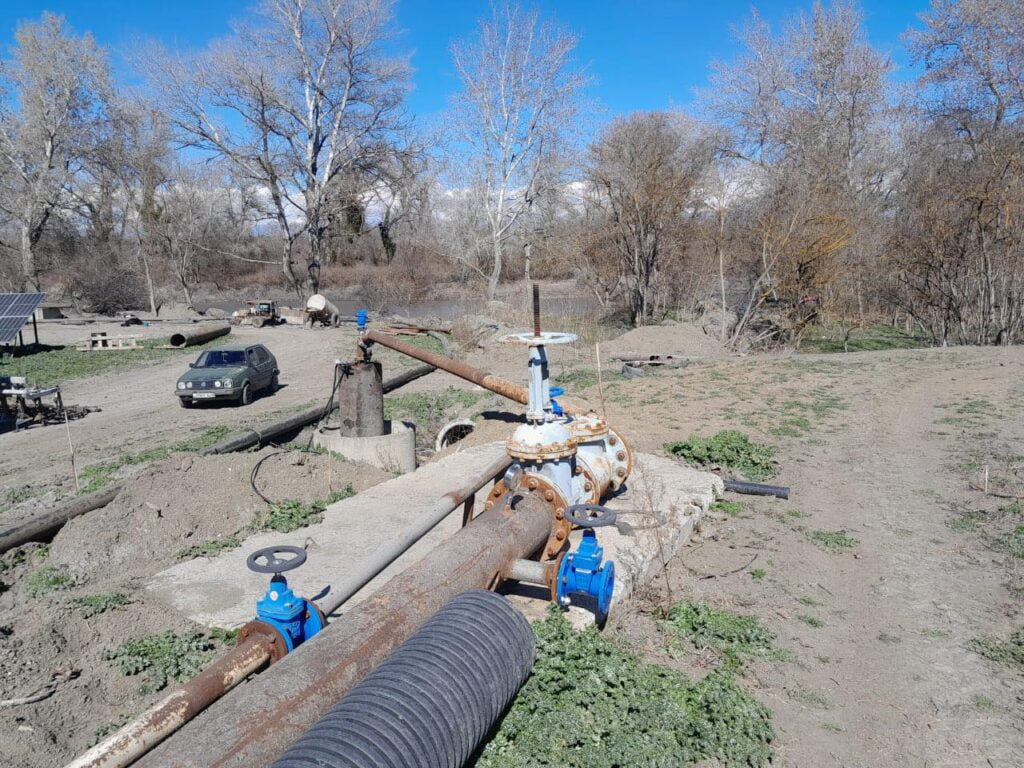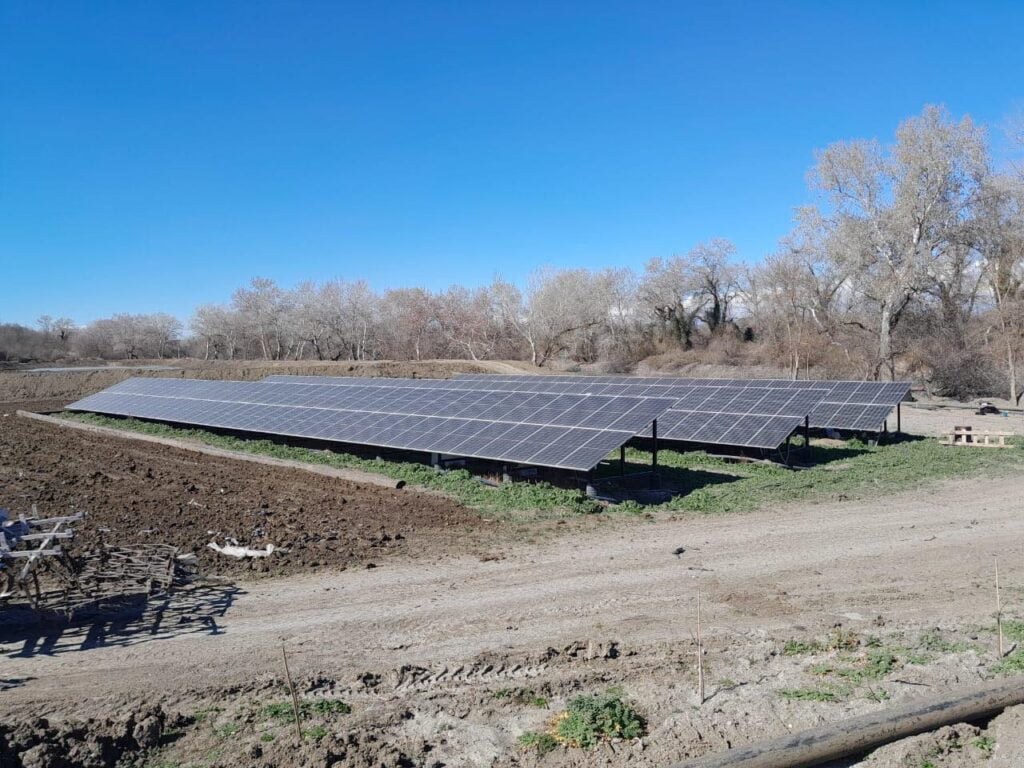 Conclusion
Although the investment in solar panels and the purchase of a pump was almost three times more expensive than buying two new diesel pumps, by choosing a solar-powered system, owners avoided the annual cost of $41 500 on diesel (not including the cost of its delivery and equipment maintenance). In the long term (10 years) it was made possible to reduce the cost of 1 m3 of water from $0.7 to $0.17, the cost of 1 kg of almond kernels by $0.20 and made the project CO2-neutral and even CO2-negative, due to absorption carbon dioxide by perennial plantings.
| | | | |
| --- | --- | --- | --- |
| | | Diesel | Lorentz – PSk2-100 |
| Diesel pump | USD |          40,000.00 | |
| Autonomous submersible pumping system Lorentz – PSk2-100, powered by solar panels | USD | |          37,000.00 |
| Solar panels, 108 кВт | USD | |          75,000.00 |
| Diesel costs over 10 years | USD |        414,720.00 | |
| | | | |
| Total | USD |        454,720.00 |        112,000.00 |
| | | | |
| --- | --- | --- | --- |
|   |   | Diesel | Lorentz – PSk2-100 |
| The internal rate of return of the almond project over 10 years | | 28% | 31% |
| Average price per m3 of water |  USD |                     0.70 |                     0.17 |
| Average price of almonds, kg |  USD | 2.41 | 2.21 |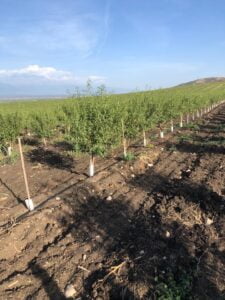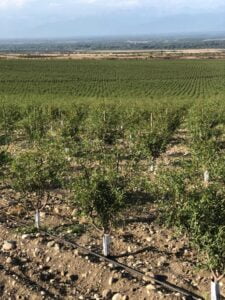 Project benefits
Solar pumping systems do not require fuel. This eliminates the cost of electricity or fuel, as well as the time and cost of refilling fuel tanks and delivering fuel.
Solar pump systems have few moving parts, making maintenance unnecessary and extending their lifespan. These elements provide the solution with a good return on investment and a better investment/benefit ratio than conventional pumping systems, especially in remote areas.
Solar energy is a clean, inexhaustible source of energy. It provides a long-term reliable supply of energy without pollution.
Kateryna Poberezhna, FAO International Consultant
[1] Georgia, MEPA 2019
[2] Local Development Strategy of Dedoplitskaro municipality
EastFruit
---
The use of the site materials is free if there is a direct and open for search engines hyperlink to a specific publication of the East-Fruit.com website.