Solar energy generation is on top, and the crops are under it – agrivoltaics, namely, growing crops under solar panels, is developing worldwide.
Mixes of herbs and edible flowers in Greece, artichokes, and broccoli in Spain are grown under solar panels. In Belgium, solar panels have been installed over pear trees and over table beet fields.
These are examples of agrivoltaics, a new sustainable solution that is being piloted across Europe to enable farmers to increase their yields while using less energy and water.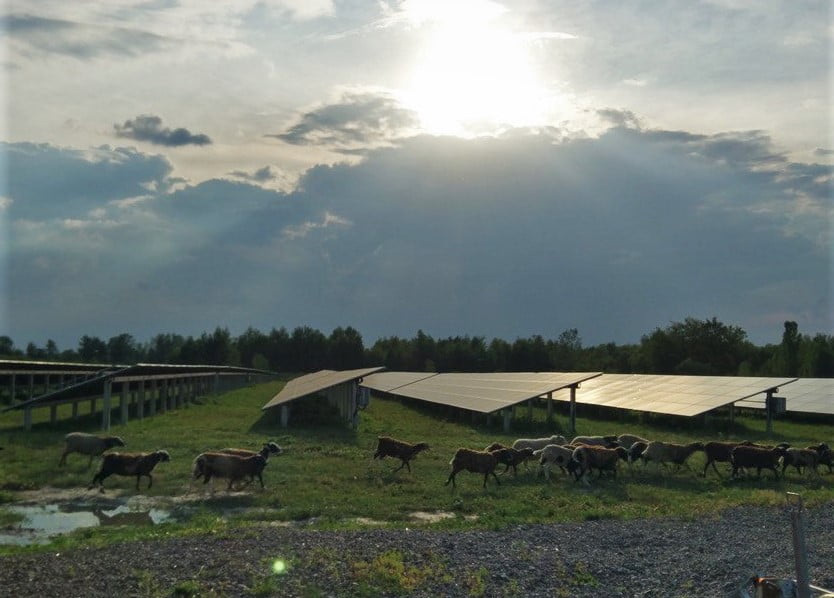 "Agribusiness has the biggest potential for solar PV. Agrivoltaics is a relatively new area of agriculture, which began to develop in the 80s of the XX century. It uses solar panels for the purposes of agribusiness – for autonomous water and energy supply, increasing crop yields, irrigating vegetables and fruits, as well as for generating electricity more than the farm needs. Agri-electricity provides opportunities for the dual use of land – for electricity generation and for growing crops. Pilot projects for the installation of photovoltaic modules on farmlands were implemented by the Japanese in 2004," says Kateryna Zviereva, Development Director of the Ukrainian Horticultural Association (UHA), international consultant of the Food and Agriculture Organization of the United Nations (FAO).
For Ukraine, "solar farming" or agrivoltaics is a new direction. While this type of farming is considered very promising, energy efficient, and profitable in the world, Ukrainian farmers ignore the innovation. Many projects were frozen due to the treacherous war unleashed by the Russian Federation in Ukraine. The only farm in Ukraine using the principles of agrivoltaics is located in the Zhytomyr region near the city of Berdychiv.
At the Ukrainian enterprise Teslaagro, there are a solar power plant and an agricultural enterprise where they grow blueberries and raise sheep. This is not only mutually beneficial but also vital.
"Agrivoltaics is very popular in Europe. We saw this idea from the Danes, who are our investors in the construction of the Ghana solar station. Of those who have solar stations in Ukraine, no one is engaged in agrivoltaics. It's costly. You have to invest money, time, and energy. But for me, it was important to find a zest in the place where I work.
When the Teslaenergo company built a solar station, we had to spend a lot of money and time on mowing the grass. After all, according to the European ESG Investment policy, to be a "green" product and a "green" kilowatt, the operating company cannot use any chemicals on the territory. But the grass should not grow and affect the panels – this is a fire hazard. Therefore, all we had to do was to mow the grass at the solar station in summer," Olga Gramotenko, the ideological inspirer and founder of the Teslaagro project, tells SEEDS journalists.
I had to bring unusual helpers for mowing – sheep.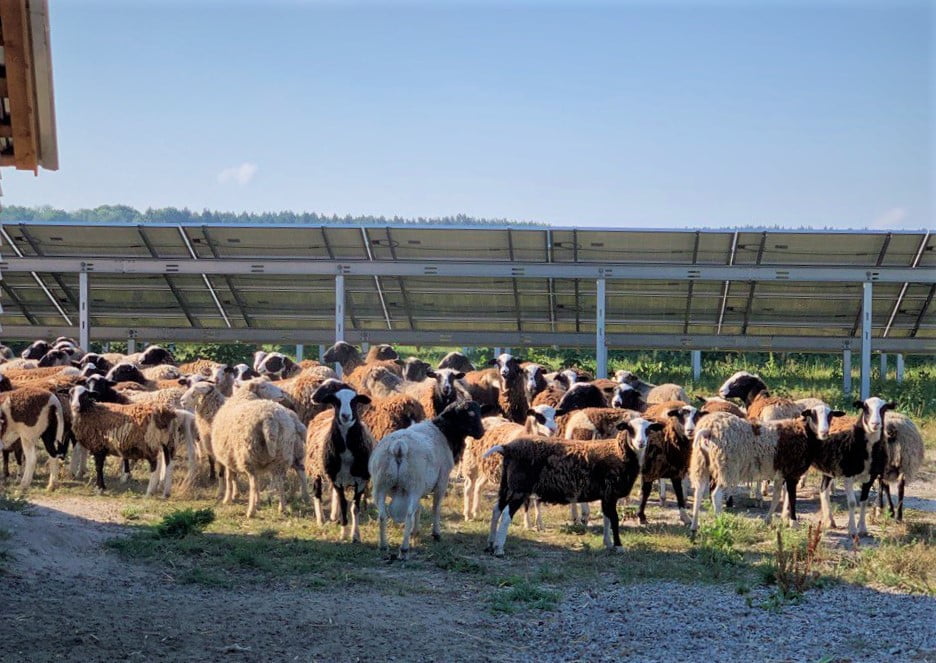 "I was thinking about what animals it could be. They were not supposed to jump, fly, peck – so as not to damage the station. At first, we thought about goats, but goats are jumping, so we chose more obedient ones – sheep. In addition, they are perfect in size – they fit under the panels.
It was a pilot project, which few in our company believed. Therefore, I bought the first 60 lambs with my own money. These were young sheep, and they all gave birth well. Today we have about 160 sheep. However, even the first 60 animals coped well with the grass at the station. Last year, we did not mow the grass – sheep eat it all," Olga notes.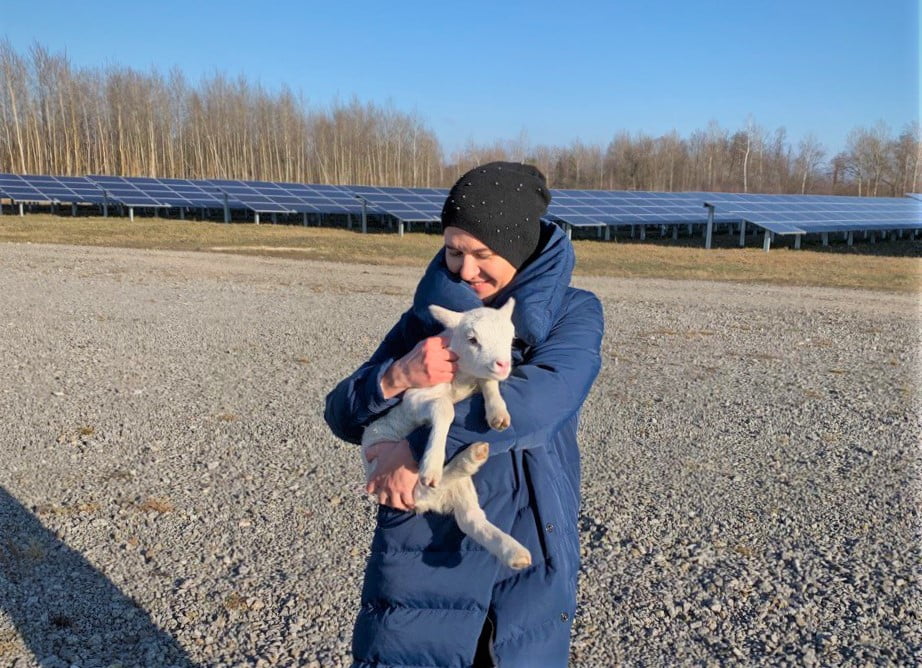 In the summer, they do not even enter the housing built for them – they sleep under the panels. They are unpretentious and do not require much attention. Only one person looks after the animals. Sometimes you have to hire people to help with hay in winter. There is also a veterinarian who deals with vaccinations, adds Olga Gramotenko.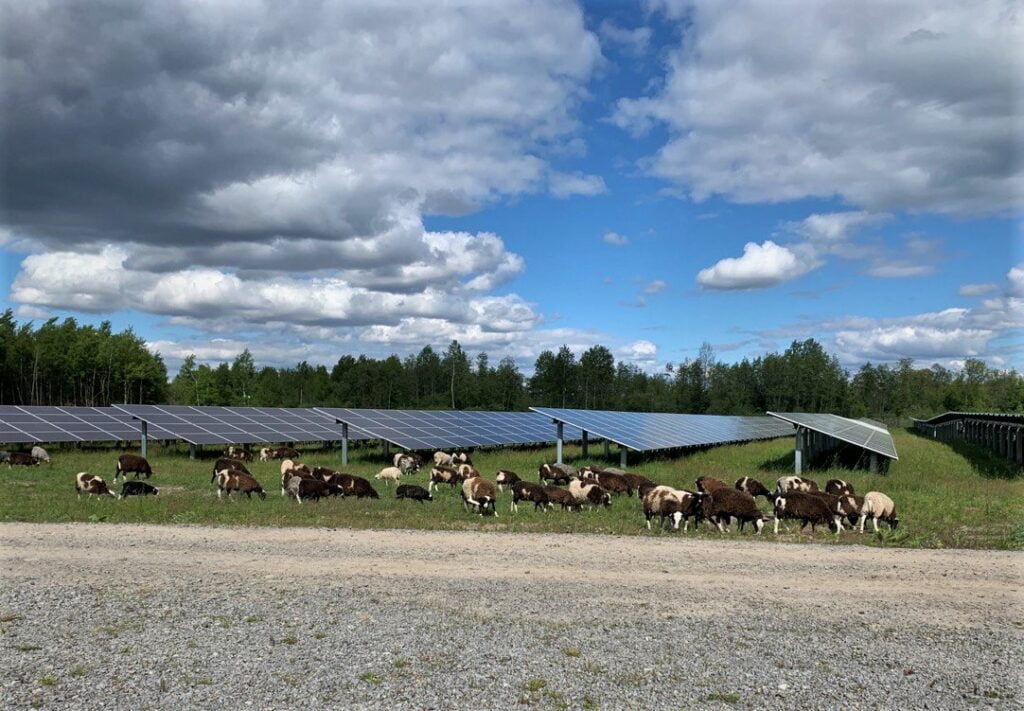 Solar stations in Europe develop horticulture, honey, and livestock farms
"Almost every solar power station in Europe has additional farming projects. Some grow mushrooms, cucumbers, and tomatoes, but mainly livestock. We have sheep, as well as about 0.5 ha of blueberries. This year we added one more pilot project – we planted strawberries.
Before the Russian attack on Ukraine, there were many projects that had to be put on hold. We were forced to suspend the development of the apiary because the beekeepers went to the army.
We had many plans before the war. I was approached by guys who grow edible snails. We were negotiating because the shaded places under the panels are very suitable for breeding snails. But everything stopped. I hope that after the war we will return to all these projects," says the founder of Teslaagro.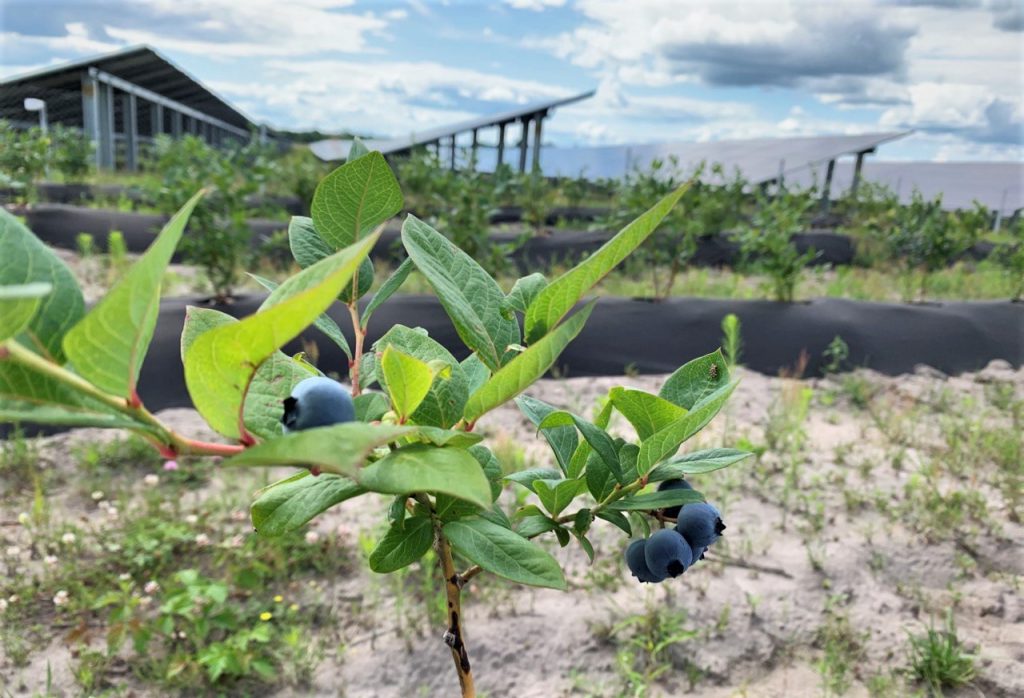 The Teslaagro company is engaged in agricultural projects on the territory of solar stations, and by the beginning of the invasion, there should have been much more of them.
Establishing a blueberry plantation requires a large input
"Many people turned to me for advice, they were the owners of other stations. In Ukraine, there are more such stations in Dnipro, Mykolaiv, and Kherson. Now many of them are under occupation. Unfortunately, we did not have time to do much, although a business plan was already being worked out.
Agrivoltaics is very profitable and promising, but for a long-term period. Establishing a blueberry plantation is expensive. You will start receiving income from it only after 5-7 years. We take electricity for our own needs, for blueberries, from our own solar power plant, but this is less than 1% of what it generates," says Olga Gramotenko.
"People will switch from gas and coal to solar and wind energy"
"This is very promising for Ukraine. The war will end, and you will see people building more of these stations. People will switch from gas and coal to solar and wind energy," Gennady Nesterchuk, director and chief power engineer at Teslaenergoservice, is convinced.
The expert notes that at the farm level, this would be appropriate when there is no electricity, but light is needed. "If the farm is somewhere in the field, you need to install an autonomous solar station. It will work by itself, from the sun. It is enough to put storage elements such as batteries, and the station will work autonomously.
Payback depends on the cost of maintenance. Previously, the station paid off somewhere in 6 years. Now it can be faster – energy prices are increasing," emphasizes Gennady Nesterchuk.
According to him, despite the widespread belief that solar power plants are only good for the south of Ukraine, they work just as well in the north.
"We generate electricity, perhaps a little less than in the southern regions. Our solar power plant was built according to a Danish project, the construction was also invested by a company from Denmark. In Germany, a slightly different type is used. It is worth mentioning that our station was built on a former landfill. It was land not fit for anything. Our company took away and disposed of a lot of garbage. The soil was brought in, grass was sown. A huge amount of money has been invested. The area of the station is approximately 33 ha. It is one of the largest in the Zhytomyr region, but not the largest in Ukraine. The largest one is in Nikopol," Gennady Nesterchuk adds.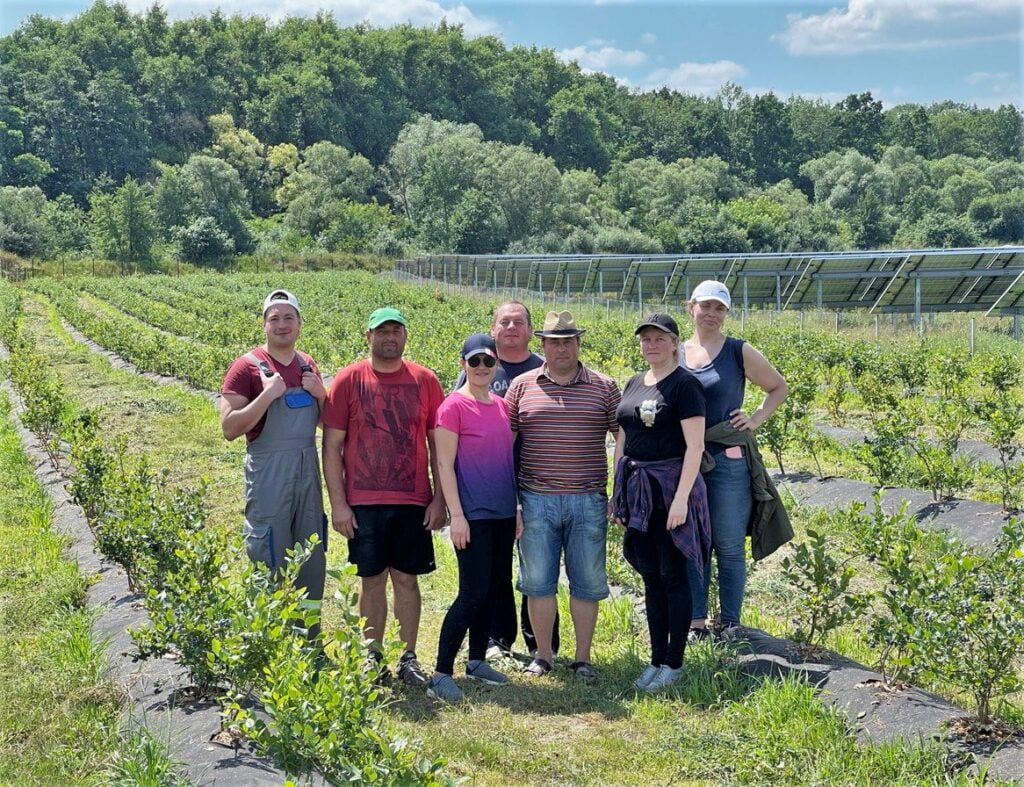 Most vegetables and berries give a much greater yield in partial shade.
According to Kateryna Zviereva, agrivoltaics, which is at the intersection of alternative energy and agronomy, is gaining momentum in Asia, Italy, and Germany.
"While conducting research on the increase in yields on one of the farms in the suburbs of Piacenza, the Italians came to the conclusion that it was caused by the shading of part of the land where the berries were grown. This shadow came from the photovoltaic modules placed there. The National Institute for Agricultural Research in France has also done studies on the subject. The conclusion was the same as that of the Italian scientists. French researchers have chosen a farm in the south of the country as the object of testing. Solar panels were installed at a height of 4 meters. The purpose of the study was to find the best shading from the panels, which contributes to increased yields. As it turned out during the tests, most vegetables and berries give a much greater yield in partial shade. Scientists have also noted that 50% shading produces 15-30% lower ground evaporation," adds FAO international consultant.
Solar energy will become the largest producer of electricity by 2050 – IEA forecast
According to the United Nations, the relationship between water, food, and energy is the key to the sustainable development of society. Demand for all three is increasing due to global population growth, rapid urbanization, changing diets, and economic growth. The UN data also shows that agriculture is now the world's largest consumer of fresh water, and more than a quarter of the world's energy is used to produce and supply food. Despite the EU's goal of producing 30% of its energy from renewable energy sources by 2030, almost every step of food production now depends on gas and oil. In this case, any increase in food production would most certainly mean an increase in the use of fossil fuels and, as a result, greenhouse gas emissions. Agrivoltaics may be the solution. Given that crops need sunlight to grow, farms can use sunlight to power their production.
"By 2050, the share of solar and wind generation in the world will reach 45-69%. The forecasts are published by the International Energy Agency (IEA). The IEA recently published its annual World Energy Outlook 2022 report. The IEA believes that the current severe energy crisis will help accelerate the energy transition to renewable sources and other carbon-neutral technologies.
It is about "a decisive turning point towards a cleaner, more affordable, and more secure energy system." By 2030, global investment in clean energy is expected to exceed $2 trillion a year, 50% more than it is now.
In all IEA scenarios, solar energy will become the largest electricity producer by 2050," notes Kateryna Zviereva.
EastFruit
---
The use of the site materials is free if there is a direct and open for search engines hyperlink to a specific publication of the East-Fruit.com website.