Offers of kiwi seedlings, an exotic fruit for Uzbekistan so far, have become increasingly common in Uzbek Telegram channels and Facebook groups on farming. However, it is still unknown whether there are kiwi orchards at commercial levels in the country.
EastFruit experts asked one of the most experienced kiwi growers, Shukhrat Umarov from Kokand, Fergana region, about his practice of kiwi cultivation in Uzbekistan. Mr. Umarov has been growing kiwi for 15 years and willingly shares the peculiarities of its cultivation technologies in Uzbek climate. Shukhrat Umarov grows kiwi in the open field and considers this culture to be winter-hardy enough for the local conditions.
– Please tell us why did you decide to experiment with growing kiwi in Uzbekistan?
– I like to experiment with cultures that are new to our climate and and territory. In 2006, I heard that a growers from Andijan brought a few kiwi seedlings from Turkey. It interested me, but, unfortunately, I didn't have enough money to buy them. Then I learned that kiwi can be grown from seeds. I bought a Hayward kiwi in a store, took the seeds, planted them in a special soil and began to grow kiwi seedlings. After a year, the seedlings reached about 40 cm and I put them into regular soil outside. In the next 5 years, three out of ten seedlings blossomed, but only one of these three bore fruit.
Observing the differences in flowers and the fruiting process, I realized that kiwi seedlings are of two types – male and female. Accordingly, the male type is pollinating, it blooms, but does not bear fruit, and only the female type bears fruit. They even differ in the color of the flowers.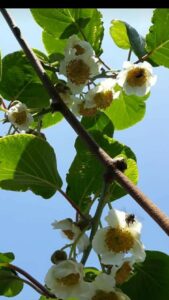 In the photo: female (left) and male (right) types of kiwi plant
I studied and mastered the methods of grafting kiwi seedlings, the optimal ratio of male and female types, the best time of the year for grafting, the peculiarities of caring for this plant, including watering, fertilizing, pruning, etc.
As a result, in 2018, I got about 50 kg of kiwi harvest from each plant for the first time. By my calculations, about 40 tons of kiwis are harvested per hectare, since there are about 800 plants per hectare.
It must be noted that kiwi harvest will increase with each subsequent year from the moment the plant begins to bear fruit. For example, in the first year of fruiting, 5-10 kg per plant are harvested, in the second year – 20-30 kg, and so on up to 50-60 kg.
– Are there any taste differences between your kiwis and imported ones?
– Of course, there are. Kiwis grown in Uzbekistan differ from imported ones in a sweeter and, in my opinion, richer taste. It is difficult for me to describe the taste – you need to try it.
– What are the features of growing kiwi in Uzbekistan based on your experience?
– For this plant, the following conditions should be provided: first, moist and soft soi, and second, maintaining the required level of humidity. In the hot and dry climate of Uzbekistan, it can be provided with drip irrigation or in another ways, but not abundant. The humidity can be achieved by injecting water using sprinkler systems at certain times of the day. Based on my experience, in the conditions of Uzbekistan such sprinkling or spraying of the kiwi plant should be done from May to September inclusive, every day for several hours a day, and even after sunset in summer.
If air humidity is not sufficient, the fruits are smaller than imported ones. In other words, it affects the size of kiwis.
Therefore, there are better conditions for the cultivation of kiwi in Uzbek regions and micro-zones with higher humidity, as well as the air temperature lower than the national average.
In terms of care, the kiwi plant is not very pretentious. Kiwi is resistant to diseases and does not require special protection measures against diseases or pests. Therefore, much less agrotechnical work is needed compared to other crops. As for fertilizers, I can say that the use of, for instance, vermicompost gives very good results.
It is important to know and observe the optimal time for grafting kiwi seedlings in Uzbekistan, to master the methods and techniques of pruning. The yield of kiwi directly is directly dependente. For example, the branches that bore fruit this year will not bear fruit next year, so they need to be pruned.
Hayward kiwi harvest fully ripens in the first ten days of November, but for long-term storage and transportation, you need to start harvesting from about October 25th.
– What about frost resistance and the effect of frost on the crop, which occurs every few years?
– The seedlings I have grown during 15 years have withstood all the winters and colds. In 2008, there was a very cold winter in Uzbekistan. My seedlings were only two years old then, and I thought it was the time my experiments with kiwi ended. To my surprise, in spring I saw that the seedlings survived.
The frosts in late February and mid-March 2021 certainly affected the kiwi harvest. This year, the yield dropped to 25-30 kg per plant – almost 2 times lower than usual. But I still got kiwi harvest from every female plant.
– Do you plan to create industrial kiwi orchard in Uzbekistan?
– I am often asked this question, but I am mainly focused on other crops, and I do not have the land for such orchards. Growing kiwi is my hobby, caused by the desire to cultivate this plant in the conditions of Uzbekistan and see how it turns out.
As a commercial component of my hobby, I established a small business for growing and selling kiwi seedlings, accompanying and advising on its cultivation.
– How do you assess the interest of farmers in kiwi seedlings? Have there been any large orders?
– I did not have large orders for kiwi seedlings. The volume of orders is from a few to twenty seedlings, they are bought mainly for planting in subsidiary or personal plots. Accordingly, this kiwi harvest goes for personal consumption and almost does not enter the market.
According to EastFruit analysts, from 2017 to 2019, the volume of kiwi imports to Uzbekistan increased from 1.2 thousand tons to a record 4.1 thousand tons per year, and in 2020 decreased to 2.1 thousand tons. More than half was supplied from Iran, and the rest from Pakistan and Turkey. Small volumes of kiwi – up to 70 tons per year, are also imported from Chile, China and Russia (re-export). In 2021, Argentina joined the list of kiwi suppliers.
Currently, the average retail price for kiwi in supermarkets in Uzbekistan is 55,000 UZS/kg ($5.1/kg).
Obviously, the cost of growing kiwis in Uzbekistan will be lower than in the largest countries supplying them to the global market due to lower labor costs. Providing high humidity in the farm with sprinklers will also help protect kiwi from frost if necessary, since the sprinklers are the most effective protection system today when the temperature drops below zero in spring.
Given high prices in the domestic market, the commercial cultivation of kiwi in Uzbekistan can be profitable, EastFruit experts conclude. Moreover, thanks to the possibility to harvest kiwis riper, they can be sold more expensive than imported ones, as they will be more delicious. And if the locals try really tasty kiwi and tell their friends, the consumption of these fruits in the country can rise sharply, creating new opportunities for investment in production. Then exports can be considered. For instance, in neighboring Tajikistan, the popularity of kiwi is growing rapidly and it has already become a must-have of the New Year's table.
EastFruit
---
The use of the site materials is free if there is a direct and open for search engines hyperlink to a specific publication of the East-Fruit.com website.