The EastFruit team audited supermarket fruit and vegetable departments in eight cities in five countries on November 24-25, 2020. For the first time ever, kiwi fruit was included in our audit since its consumption is growing very rapidly worldwide. Tajikistan was expected to have the lowest presence of kiwis since the population's income level is the lowest among all countries in the region. Also, it lags behind in the presence of supermarket chains and international trade development. However, we were pleasantly surprised to see kiwis were present on the shelves of almost all supermarket chains in Khujand and Dushanbe.
Kiwis first appeared in Tajikistan quite recently, but it has already gained popularity considering mass consumption of this fruit is associated with the holiday season. Despite the growth in import volumes, they are not yet comparable with the major imports of kiwis from Iran back in 2015-2016. After an unofficial ban on imports from Iran, this fruit began to be imported from Turkey. Imports of kiwi from Pakistan and Chile have also increased. However, this fruit cannot replace the affordable Iranian product in the Tajik market, where the price is the most important indicator.
Kiwi imports and consumption reached 751 tons in 2015, but fell to 138 and 271 tons in 2018 and 2019, respectively. In monetary terms, import volumes are presented in the table below.
Table 1. Imports of kiwi fruit to Tajikistan for 2015-2019, US dollars in thousands
Countries/years
2015
2016
2017
2018
2019
Total Imports
to Tajikistan
950
865
256
191
367
Turkey
25
0
58
141
166
Pakistan
83
35
29
18
110
Chile
65
37
25
3
91
Iran
776
678
30
29
0
Source: ITC calculations based on statistics from the Ministry of Economic Development and Trade of the Republic of Tajikistan
The audit of retail chains showed that kiwis are present in all chains in Khujand, most stores in Dushanbe, and visible in fruit assortments offered at some EVAR chain stores. Kiwis are well known to consumers both in appearance and in taste. In large supermarkets and small self-service stores, kiwis were present in the assortments.
Read also: In Khujand, fruit and vegetable departments of supermarkets are better than in Dushanbe – retail audit of Tajikistan from EastFruit for November 2020
The average retail price for kiwis in Tajikistan is 23.16 somoni ($2.05) per kg. The most expensive kiwis were sold in Auchan supermarkets at 24.90 somonis and the cheapest was sold in Amide supermarkets at 21.57 somoni. The difference between the most and least expensive price tags was no more than 20%.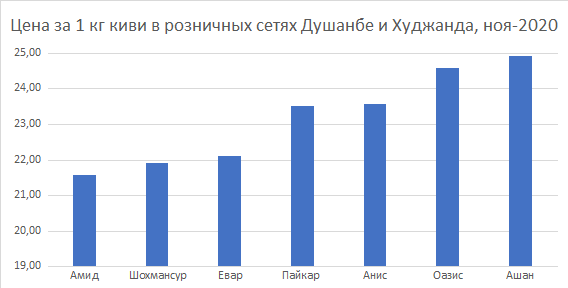 Figure 1. Average price for 1 kg of kiwis in retail chains in Dushanbe and Khujand, November 2020, somonis
Are kiwis considered expensive or cheap for Tajikistan? To answer this question, one must understand the prospect of kiwi consumption in this country. At the end of November, kiwis were not the most expensive or popular fruit available. Consumers in Dushanbe and Khujand had to pay 20-35% more on average for 1 kg of oranges and mandarins. Kiwis cost 40-50% more than table grapes for Tajikistan and less than three times more than the most affordable fruit now which is the apple. Also, prices for kiwis in Tajikistan were only slightly higher than prices in Ukraine and Moldova, but significantly lower than prices in Uzbekistan.
It is obvious that the popularity of kiwis in Tajikistan will continue to grow. Kiwis and table grapes have a lot in common in terms of cultivation technologies and grapes have been grown in Tajikistan for thousands of years. In the near future, local entrepreneurs will be interested in growing this fruit, which could make kiwis one of the most popular fruits both for domestic consumption and for export.
EastFruit
---
The use of the site materials is free if there is a direct and open for search engines hyperlink to a specific publication of the East-Fruit.com website.