Agribots are starting their work to relieve farmers from the monotonous tasks of planting, growing, and harvesting, as well as to solve the issues associated with the labor shortage.
EastFruit has repeatedly drawn attention to the innovations of the horticulture robot market. In Parts I and II of this article, we will consider the main agricultural robots and GPS-based automated self-propelled agricultural machinery, as well as the drivers of the global agricultural robot market.
According to a Kenneth Research report on the global market for agricultural robots, the world's population will grow by 40% to 9.7 billion by 2050 – fruit production will double.
The area of fruit-growing land worldwide will double to 140 million hectares by 2050. Employment in agriculture will halve by 2050, resulting in a shortage of 5 million fruit pickers.
The shortage of pickers is already causing more than 10% of fruits and vegetables worldwide to be left unpicked in fields and orchards. This is equivalent to annual consumption in the EU.
Why do farmers need agribots?
Agricultural robots are autonomous machines used to improve crop quality and efficiency, minimize reliance on manual labor and increase overall productivity. For example, workers on robotic platforms in horticulture and fruit picking are twice as efficient as workers using ladders.
Farming robots, agribots grow and harvest crops. Besides, they perform other tasks complex and monotonous for a man – those related to loading, watering, fertilizing, weeding, data collection, field mapping, soil analysis, environmental monitoring, etc.
Robots or cobots?
For many industries, including agriculture, robots have become "cobots" (collaborative robots that can be trusted to perform tasks on behalf of a man). With the help of IoT solutions, cobots can now perform more precise tasks depending on their use case. Cobots remain the fastest-growing industrial automation segment, with a CAGR of 43.4% from 2021 to 2027.
It is the search for the perfect interaction between a man and a machine in agriculture.
Modern cobots are versatile and flexible, adapting to agriculture. Especially where urban farming is developing. In Singapore, they aim to achieve 30% of local food production through local farms by 2030. The government is encouraging farmers to implement automation and cobots to increase productivity and financial gain. As more cobots are introduced into the agricultural landscape, robotics technology training will become more common than before.
For example, Singapore-based Singrow develops innovative agronomic solutions for fruit and vegetable production and uses cobots in its harvesting and pollination systems. Working with Universal Robots and Augmentus, Singrow is using an integrated AI model to help identify the flowers and fruits of strawberries. As soon as the flowers are identified by the camera on the cobot, the air blower turns on and blows faster for more efficient pollination. Singrow checks strawberries with its database using its camera and infrared scanner and programs the cobot to select ripe strawberries.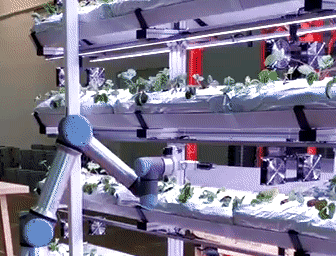 Cobots are a game changer for small and medium businesses. Due to the lack of large space in Singapore, small and medium-sized enterprises are using cobots because they are designed to work close to people and are very easy to operate.
Ericsson, Hitachi and Georgia Tech have created a solution to improve the performance of cobots. Ericsson's core 5G network is configured with a remote-control client application to ensure secure interaction between the robot and human operator, and the robot follows real-time directions. As robots in agriculture and other industries become more widespread, businesses must ensure they are aware of the security risks associated with agricultural technologies. While most cobots may have some built-in security features, they can still be overridden by cybercriminals if sufficient cybersecurity is not in place to avoid production disruptions.
More robots, fewer human errors
Thanks to Internet access, robots can easily forecast weather conditions and work accordingly. Moreover, agricultural robots, such as unmanned tractors and various self-propelled vehicles, work without human intervention at different times of the day, adapting to the characteristics of crop growth and maturation.
The tasks that robotization does in agribusiness:
– monitoring and forecasting;
– reducing the cost of agricultural production;
– improvement of quality indicators;
– reducing the environmental impact of agricultural production;
– increasing the competitiveness of small producers;
– improving the safety of agricultural production;
– solving labor issues;
– reduction of costs associated with shortcomings of employees;
– expanding the possibilities of using agricultural machinery – robots can work in any weather and at any time of the day.
According to Kenneth Research's Global Agricultural Robot Market Report, the global agricultural robot market is expected to develop at a compound annual growth rate (CAGR) of 21.1% until 2024.
The global market of agricultural robots was estimated at $3.2 billion in 2016.
In 2021, the global market for agricultural robots has reached $6.3 billion. According to IMARC Group forecasts, the market is expected to reach $17.8 billion by 2027, demonstrating a CAGR of 18.6% during 2022-2027.
The agribot market will grow steadily
Geographically, the global agricultural robot market is divided into five major regions, including North America, Europe, Asia-Pacific, Latin America, the Middle East and Africa.
The North American region dominates the global agricultural robot market and holds the largest share of all regions.
In terms of the share of production and use of agricultural robots, the European region is the second largest market for innovative agricultural technology and is expected to show significant growth in the next 5 years.
A Kenneth Research report foresees that the agricultural robot market in the Asia Pacific will grow at a compound annual growth rate (CAGR) of 11.2% until 2024. Population growth, shrinking farmland, and growing demand for grains and vegetables are driving the growth of the agricultural robot market in the Asia Pacific. Satisfactory growth is also expected in the Middle East, Africa, and Latin America regions.
Thus, with the growth of the population, the demand for food all over the world is increasing fast. As a result, farmers are switching to modern tools and equipment, such as agricultural robots, to increase their productivity and get more income. In addition, governments around the world are offering subsidies and undertaking initiatives to raise awareness of automated technologies among farmers. For example, the European Union has funded projects such as GRAPE and MARS to replace labor-intensive tasks with the latest automated technologies. Leading companies in the field of agricultural technology are also investing in research and development to introduce an innovative range of agricultural robots.
EastFruit
---
The use of the site materials is free if there is a direct and open for search engines hyperlink to a specific publication of the East-Fruit.com website.