There have been almost no exports of fresh persimmons from Uzbekistan over the past week, apart from single shipments of several tonnes. This means the end of the season for exports of last year's Uzbek persimmons, EastFruit analysts report.
The season for exporting fresh persimmons from Uzbekistan in 2022 started in the third decade of August, i.e. at the usual time. According to preliminary official statistics, from the beginning of August 2022 to the end of the third decade of February 2023, Uzbekistan exported 84 500 tonnes of fresh persimmons worth $51.6 million, which is 8.9% more in physical terms and 45.4% more in export earnings compared to the same period of 2021/2022. However, the exports of fresh persimmons from Uzbekistan this season were 13% less in physical terms than the record figure in the 2020/2021 season.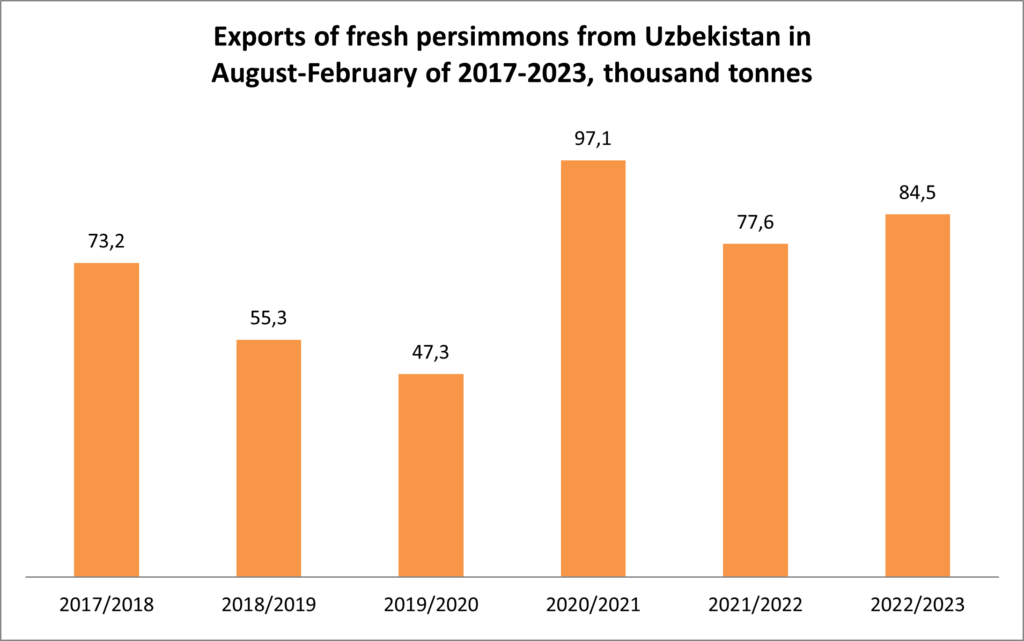 As can be seen from the chart above, after a sharp decline in the 2018/2019 and 2019/2020 seasons, the export volume of fresh Uzbek persimmons has been above 77 000 tonnes for the third season.
As for the geography of exports, over 99% of the total export volume in the 2022/2023 season was shipped to the markets of five countries: Russia – 47 600 tonnes (56.3%), Kazakhstan – 28 700 tonnes (33. 9%), Kyrgyzstan – 3 400 tonnes (4.1%) and Turkmenistan – 3 300 tonnes (3.9%).
In addition, Uzbekistan supplied 62 tonnes of fresh persimmons to Poland, 18-20 tonnes each to the markets of Latvia, Ukraine, and Iraq, and several tonnes were shipped to Mongolia and the United Arab Emirates.
EastFruit
---
The use of the site materials is free if there is a direct and open for search engines hyperlink to a specific publication of the East-Fruit.com website.