Potatoes, onions and carrots are the basis of many dishes in the traditional cuisine of the Central Asian countries, along with meat. The price levels for these products determine the cost of the vegetable component of the meals consumed in everyday life. Therefore, Sputnik Tajikistan included these vegetables in the list of the grocery basket for Central Asian countries, published the day before in the Telegram channel of the online edition.  Turkmenistan was not included in the list.
Since Uzbekistan and Tajikistan are among the EastFruit price monitoring countries for about 60 types of fruit and vegetable products, EastFruit experts have made adjustments for these countries and offer an overview of average retail prices for potatoes, onions and carrots in the capitals of Central Asian countries. Thus, prices for Uzbekistan and Tajikistan are provided by EastFruit, Kazakhstan and Kyrgyzstan – by Sputnik Tajikistan.
The most expensive potatoes turned out to be in Nur-Sultan (Kazakhstan). In other capitals of the region, potato prices differ by a few cents and range from 38 to 41 cents.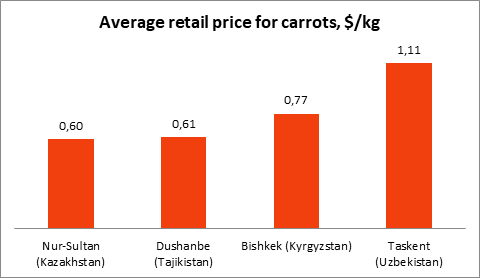 The highest price for carrots is in Tashkent (Uzbekistan), followed by the capital of Kyrgyzstan.
The lowest price for onions is in the capital of Tajikistan, and the most expensive onions are in the capitals of Kazakhstan and Kyrgyzstan.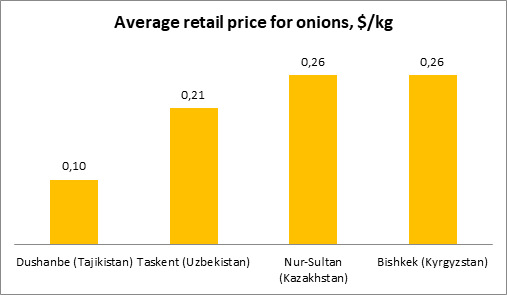 In general, if we consider a grocery basket of these three products, it lowest price is in Dushanbe, the capital of Tajikistan.
EastFruit
---
The use of the site materials is free if there is a direct and open for search engines hyperlink to a specific publication of the East-Fruit.com website.