Tajikistan is unusually rich in unique and precious national products, which would instantly be classified as superfoods and sold at a very high price in the Western world. However, local superfoods are absolutely accessible to all residents of the country, because they are inexpensive. We previously informed our readers about mountain anzur onions, which are very popular in Tajikistan. Today, we will tell you about another, yet no less valuable and useful mountain onion.
In Tajikistan, simultaneously with the beginning of harvesting early onions in the country's southern regions, in the Pamir-Altai mountain system, residents start to collect wild mountain onions called "siyokhalaf".
Siyokhalaf in Tajik means "black grass." It is a very healthy perennial herb rich in iodine. Its scientific name is Rosenbach Allium (Allium Rosenbachianum). Siyokhalaf grows mainly in the south-west of the Pamir-Altai, on fine-earth areas and in the shade of rocks and trees. Siyokhalaf resembles green onions. However, its leaves are broad and almost smooth along the edge.
Harvesting siyokhalaf is possible in spring, in April-May when it ripens. Instead of pulling out the plant with the roots, harvesters cut or break it near the root. The cut point quickly turns yellow-brown-purple, which indicates a high presence of iodine in the plant.
The iodine content is why many people in Tajikistan eat siyokhalaf and cook various dishes with it. There is a soup also called siyokhalaf. To make it, local cooks boil rice and, shortly before it is fully cooked, add a chopped bunch or several bunches of siyokhalaf to the broth. The soup is then allowed to rest, cool down and served with sour milk or kefir added to the dish. It turns out a very light purple soup, healthy and rich in iodine.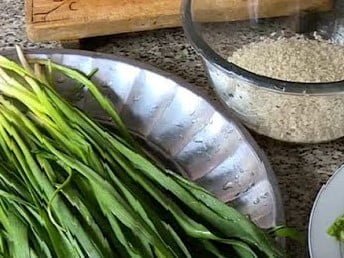 Read also: Dovcha and gura: a mysterious and at the same time well-known early fruit from Central Asia
This dish is served both in cafes and restaurants and is made at home. Also, okroshka or omelette with siyokhalaf is quite popular. 
In addition to iodine, siyokhalaf is rich in many other vitamins and nutrients: mineral salts and iron, manganese, potassium and zinc, essential oils. It also contains antimicrobial agents, sucrose, ascorbic acid, provitamin A, nicotinic acid, and vitamins B1, B2.
Doctors recommend consuming siyokhalaf for treatment and prevention of gastrointestinal diseases, particularly stomach ulcers and gastritis with high acidity. It is also good for people with heart, liver, and thyroid gland disorders. Siyokhalaf is believed to strengthen the immune system, normalize blood pressure, and cope with vitamin deficiency after winter.
Dr. Mullozukhur Tohiri, a well-known expert on herbs medicinal properties in Tajikistan, advises adding siyokhalaf to your spring diet. In his sanatorium in Aininsky district, he serves his visitors with first courses with various herbs such as siyokhalaf, nettle, mint, oregano, clover leaves, beets, early leaves of grapes, apricots, and even cherries.
Residents of mountainous and foothill regions collect and sell siyokhalaf through trade networks on small and large markets. One bundle of siyokhalaf costs from 3-4 somonis ($0.29-0.39). It is affordable for everyone who wants to buy it.
As mentioned above, various soups and salads are made from fresh siyokhalaf. Some residents of Tajikistan even dry the black grass for the winter. Simultaneously, shock freezing is an even more promising way of preserving the beneficial properties of siyokhalaf, but this segment of processing vegetables and fruits in Tajikistan is still underdeveloped.
EastFruit
---
The use of the site materials is free if there is a direct and open for search engines hyperlink to a specific publication of the East-Fruit.com website.