Growers note higher prices for persimmons this year compared to last season. This is due to several reasons. Unfavorable weather conditions including drought in summer, cold and rainy autumn and hail in Kakheti in August significantly reduced the harvest in the region. Another factor is the rise in labor costs. On average, the daily salary of fruit pickers is now 20-30% higher than in the 2020 season.
Solomon Gogelishvili would have harvested 30-40 tons of persimmons from a 2-hectare orchard, but, unfortunately, his village Akura in Telavi municipality was in the epicenter of hail in August that destroyed 100% of his harvest. Moreover, Gogelashvili told EastFruit that hail damaged not only fruits, but also the trees. Now he hopes that some of the trees will recover from the damage, but he will have to cut many of them.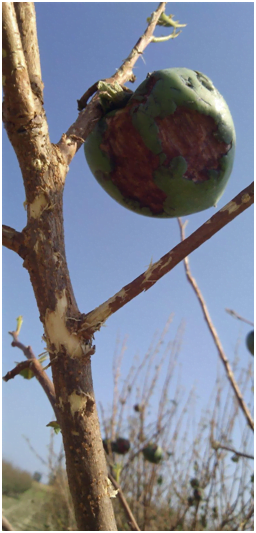 Vasil Germanishvili, a spokesman for the Kakheti regional service of the Georgian Ministry of Environment and Agriculture, told EastFruit that the average persimmon harvest in Kakheti will be 20-30% lower due to damage caused by hail.
Hail was not the only problem for persimmons this season. Summer drought reduced fruit size. Marina Akolashvili owns a cold store in Gurjaani municipality and buys seasonal fruits from farmers for exporters. According to her, the fruits are small this year, which is less attractive for exporters. She hopes that in the fall, before peak harvest, the fruits will have time to gain weight.
Read also: Unusually high exports of potatoes from Georgia
"It all depends on the clients. If we get an order for persimmons, we will start buying. It is too early to talk about prices or the season, as we have received no orders yet," Akolashvili said.
Although it is still early for the peak season, some farmers have already made deals or sold the first batches of persimmons. Roman Chkhenkeli owns 12 hectares of persimmons in the municipality of Lagodekhi, Kakheti. He has already sold the first batches at 1.1 GEL/kg ($0.35), but he believes that the price will further rise. The main reason is the increased cost of labor. Since persimmons are harvested manually, labor is one of the main costs for growers.
Another farmer who has already agreed on a price with exporters, Anzor Mskhiladze, owns 7 hectares of persimmon orchards in the Gori region. He will be paid 0.9 GEL/kg ($0.27), which is 0.2 GEL ($0.06) more than last season. Mskhiladze, speaking with EastFruit, also confirmed the increase in labor costs.
Now, due to rainy weather in the east and west of Georgia, the harvesting is being delayed. The mass harvest will begin in mid-October and last until mid-November. Farmers note colder autumn, which delays harvest but will not affect the quality of the fruit.
Georgian persimmon is traditionally exported to Russia, Ukraine and Armenia. Georgia exported 340 tons of persimmons in September, 62% of which were exported to Armenia. EastFruit will continue to inform our readers about the persimmon season in Georgia in the coming months.
EastFruit
---
The use of the site materials is free if there is a direct and open for search engines hyperlink to a specific publication of the East-Fruit.com website.