Fruit trees are massively blooming in Uzbekistan and the outlines of future ripe and juicy fruits are already visible. In the southern regions of the country, green apricot fruits have already appeared on the trees.
The Ministry of Agriculture of Uzbekistan has published photos of the first fruits of apricot, which were taken in the southernmost administrative-territorial unit of the country – in the Termez district of the Surkhandarya region, EastFruit experts report.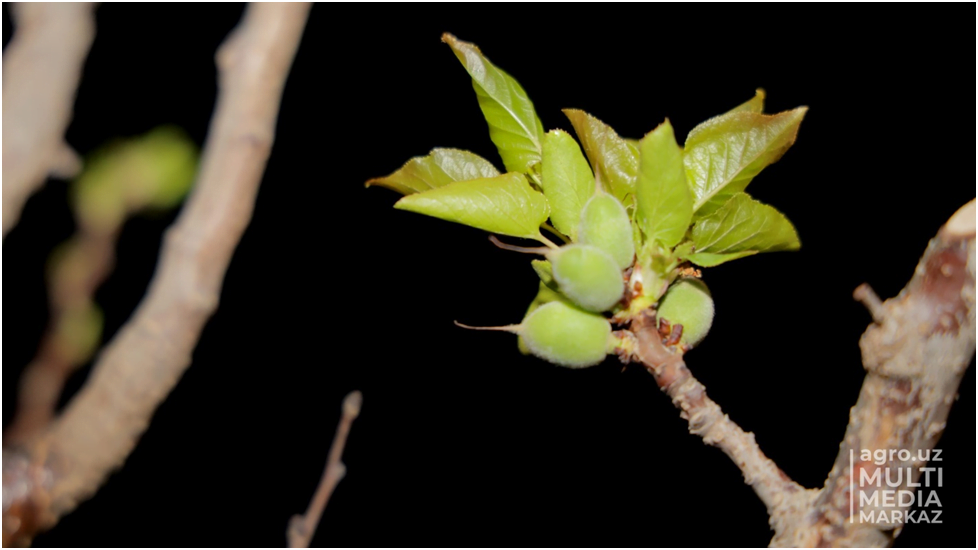 Unripe green apricots called "dovcha" are a favorite snack in the countries of Central Asia and are a very healthy product. In neighboring Tajikistan, they are called "gura".
EastFruit wrote about the first dovcha in retail sales in the capital of Uzbekistan on March 10, 2023. Then it was offered only in one store of the Korzinka supermarket chain and at a price of 99 990 UZS ($8.78) per 100 grams, which corresponds to 999 900 UZS ($87.8) per 1 kg.
However, in only 3-4 days, this novelty of the season was offered in three stores in the same supermarket chain at a price 10 times lower than the original one – at 9 990 UZS ($0.88) per 100 grams or at 99 900 UZS/kg ($8.77).
According to EastFruit specialists, the number of stores in the capital of Uzbekistan, where dovcha is offered, has significantly increased over the past week. Dovcha has also become available in supermarket chains Makro, Green Apple, and Andalus.
Currently, retail prices for the novelty of the season in the capital's supermarkets range from 9 990 to 24 000 UZS (from $0.88 to $2.11) per 100 grams, that is, 99 900 to 240 000 UZS (from $8.77 to $21.07) per 1 kg.
EastFruit
---
The use of the site materials is free if there is a direct and open for search engines hyperlink to a specific publication of the East-Fruit.com website.