Highlights of the analytical report:
Turkey bypassing Ecuador to become #1 exporter of fresh produce to Russia;
Growing importance of Iran, which became #3 exporter of fruits & vegetables to Russia;
Consumption of fruits & vegetables in Russia in 2020 increased sharply despite declining consumers' incomes;
China continues to be banned from the Russian market in the category of stone fruits, apples and pears;
Serbia is finding better fruit export options beyond Russia;
Offseason consumption of fruits and berries in Russia is on rise;
Imports of apples and oranges dropped
Imports of peaches, apricots, mangoes, table grapes, avocadoes and blueberries rose fastest;
Longer term import growth leaders are blueberries;
Kiwi imports to Russia are declining;
Frozen wild-growing berries remain the main item of fruit export from Russia and it is growing fast;
Re-exports of bananas by Russia to Central Asia suffered from border closure due to COVID-19 pandemic in 2020;
Pine nuts is becoming an important export category of Russian produce business;
Russia is increasing exports of fresh watermelons to Belarus and Baltic States.
 According to EastFruit analysts, fruit imports to Russia in 2020 were the highest in the last six years. And although the growth was relatively insignificant – only 2% in relation to 2019, the increase came as a surprise considering the coronavirus pandemic, distortions in the supply chains, increase in the costs of logistics and a sharp decline in the income level Russian population.
Why are Russian fruit imports growing?
"It is obvious that the consumption of fruits in Russia in 2020 increased, despite the economic situation in the country. Domestic fruit production continued to grow, which did not prevent the increase in imports. It seems that the fear of the coronavirus made many Russian consumers switch to healthier diets, trying to strengthen the immune system. Similar trend was observed in many other countries around the world. Since fresh fruits are considered healthy, demand for them remained high throughout the year, stimulating imports", says Andriy Yarmak, an economist at the Investment Centre of the Food and Agriculture Organization of the United Nations (FAO).
EastFruit experts made a detailed analysis of the structure, geography, and dynamics of fruit imports to Russia over the past year, and analysed fruit import trends over the past five years presented below.
Where are the fruits imported to Russia from?
In 2020, the volume of fruit imports to Russia reached $ 5.2 billion – the highest figure since 2015. Turkey, Ecuador, South Africa, Azerbaijan (Iran) and Egypt were the top 5 supplying countries in 2020. It should be noted that Turkey for the first time bypassed Ecuador in terms of fruit supplies to Russia thanks to a wide range of fruits supplied, and Uzbekistan was only a step away from getting into the top-5.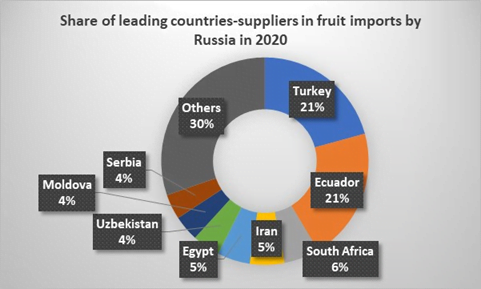 Among the top 20 suppliers, fastest increase in fruit exports to Russia showed the following countries: Turkey (+ 32%), Uzbekistan (exports doubled), Peru (+ 39%), Georgia (+ 79%) and Brazil (+ 37%).  Fruit exports to Russia were significantly reduced by Morocco (-25%), China (-58%), Pakistan  (-17%) and Vietnam (-16%).
Which countries are increasing fruit exports to Russia the fastest?
When analysing the long-term trends, we discovered some very interesting aspects in the geography of fruit imports to Russia. Firs of all, there is a sharp decline in fruit exports to Russia by China and Serbia.
As regards China, the situation is clear – for about two years now China has been banned from exporting to Russia apples, pears, and stone fruits. Prior to the ban, China was the second largest supplier of apples to Russia.
Serbia, according to EastFruit analysts, reduced exports to Russia due to three major reasons:
Firstly, it is a decrease in the volumes of re-exports of apples and other fruits from the EU to Russia via Serbia due to tighter control over re-exports by the Russian Federation.
The second reason for the decline in supplies from Serbia is a deliberate course towards diversification of fruit exports and the possibility of obtaining a higher price for premium quality fruits in the more demanding markets such as the UK, EU countries, the Middle East and Southeast Asia.
The third reason is the rapid increase of domestic fruit production in the Russian Federation and increased competition on the Russian fruit market from Turkey, Moldova, Iran, Uzbekistan, and other Central Asian countries.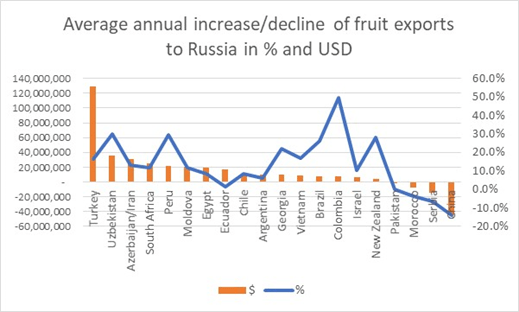 It is important to highlight that due to the reduction of VAT rate on fruits in the Russian Federation, Uzbekistan began to supply them directly to Russia. In the past Uzbekistan was supplying significant share of fruits to Russia via Kyrgyzstan and Kazakhstan. These fruits were reported by Russian stats as imports from Kyrgyzstan and Kazakhstan instead of imports from Uzbekistan.
We also showed Iran and Azerbaijan together because it is difficult to differentiate the origin of fruits coming from Azerbaijan from these coming from Iran. Azerbaijan has traditionally been the main transhipper of fruits and vegetables from Iran to Russia. One thing is beyond doubt – Iran is one of the key players in the Russian fruit market and continues to increase its presence there both directly and through intermediaries from Azerbaijan. We estimate that Iran is now the third largest supplier of fresh produce to Russia after Turkey and Ecuador.
Another feature of fruit imports to Russia is the increase in the variety of fruits consumed. For this reason, countries such as Brazil and Colombia were among the fastest growing suppliers.
Moldova has increased fruit exports to Russia by $ 21 million per year in the recent five years. It is among the top six fastest growing supplying countries, despite the decline in fruit production in 2019 and 2020 due to drought.
Georgia, thanks to a real breakthrough in fruit exports to the Russian Federation in 2020, took 11th place in terms of supply growth rates over the past 5 years. The average annual increase in Georgia's revenue from fruit exports to Russia reaches $ 10 million.
What are the most popular imported fruits in Russia?
In 2020, the top 5 imported fruits to Russia were: bananas, apples, tangerines, table grapes, and oranges. The import value of almost all fruits increased in 2020, while the import value of banana remained at the 2019 level thanks to the decline in banana prices. At the same time, the volume of banana imports increased slightly – less than by 1%.
In the top of the fastest growing exporters are the countries of the Southern Hemisphere: South Africa, Peru, Chile, and Argentina. This, according to EastFruit, is evidence of a decrease in seasonality in the consumption of fruits and berries in Russia. Russians increasingly buy table grapes, fresh cherries, blueberries, and other berries in the winter and spring, and citrus fruits and apples in the summer months, when products in the Northern Hemisphere are not yet harvested.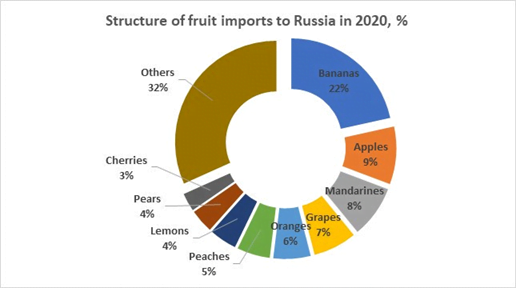 Prices for most other imported fruits in 2020 mainly increased due to increased demand globally, as well as increased costs of logistics. Therefore, we will analyse the trends of fruit imports to Russia in 2020 in physical terms.
The drop in apple imports by 8.5% and of an orange – by 4.5% immediately is the most noteworthy trend. At the same time, imports of peaches and nectarines increased very sharply, by 24%. The other fruits where imports increase included fresh apricot – by 29%, mango – by 24%, avocado – by 33%, blueberries – by 18%, persimmons and table grapes – by 16%, and fresh cherries – by 15%.
What fruit imports are on rise in a longer term?
Of all the types of fruits that are imported into Russia for at least $ 1 million or more per year, the import of fresh peaches is growing the fastest. The average annual increase in peach imports reaches $ 31 million, or 13%. Imports of fresh table grapes (plus $ 28 million) and avocado (plus $ 25 million) are also growing at a fast pace. Moreover, the growth rate of avocados is very high in percentage terms – by 28% per year. It is interesting that the imports of banana continue to grow dynamically in value terms.
Imports of exotic fruits such as tamarind, lychee, jackfruit, sapodillo, passionfruit, carambola, and pitahaya to Russia are also growing rather fast. For this category of fruit imports, the annual growth reaches 16% or $ 20 million per year.
Other fruit exotics are not lagging much behind: the annual growth of mango imports reaches 28% or $ 19 million. However, the highest relative growth rates are shown by blueberries – imports of blueberries and cranberries grow by a one third every year, or by $ 12.8mn annually.
Despite the increase in domestic apple production, the growth in imports of these fruits reaches $ 20 million or 4% per year. However, it is obvious that the growth rate of apple imports to Russia has already begun to slow down and imports dropped in 2020. EastFruit expects that imports of apples will continue to decline in 2021-2025 specifically in the inexpensive apples' category.
In terms of the rate of decline in imports to Russia, among all fruits, kiwi is in the lead. On average, kiwi imports fall by $ 5.5 million or 8% per year. Also, the import of raisins (dried grapes) is decreasing – by $ 4.5 million or 13% per year and imports of dates – by 7% or one and a half million dollars per year.
Export of fruits from Russia
Russia exports relatively small amounts of fruit, but exports tend to grow. Frozen wild-growing berries remain the main item of fruit export from Russia. Moreover, there are high rates of growth in export deliveries, which reached $ 40 million in 2020.
Also, Russia makes good money on the re-exports of bananas to neighbouring countries that do not have direct access to the sea. Bananas from Russia are exported, as a rule, after ripening. However, due to the coronavirus pandemic, border closures and declining consumption of bananas in many countries, exports have plummeted.
Another interesting and important export item is wild nuts. Russia exports pine nuts, and earns more than $ 18 million from this.
Export shipments of fresh watermelon remain a large in volume, but not very large in terms of revenue item of fruit export in Russia. Russia has almost completely ousted Ukraine from the Belarusian watermelon market and continues to increase supplies of watermelons to Lithuania, Latvia, Estonia and even Mongolia.
EastFruit
---
The use of the site materials is free if there is a direct and open for search engines hyperlink to a specific publication of the East-Fruit.com website.