The cultivation and harvesting of saffron, safflower petals and other medicinal herbs and spices in Tajikistan for exports to EU countries are considered amongst the most promising investment niches in the horticulture sector of Tajikistan. During last week's national online conference "Horticulture of Tajikistan – the best investment niches," FAO international consultant Bakhtiyor Abduvohidov presented the prospects for growing and drying herbs and spices for exports to EU countries using the example of the production of saffron, safflower petals, and other medicinal plants.
The conference was organized by the EastFruit project with the support of the Food and Agriculture Organization of the United Nations (FAO) and the European Bank for Reconstruction and Development (EBRD). The partner of the event was the agro-media agency Sapienza.
Bakhtiyor Abduvohidov stated that neighbouring Uzbekistan began to develop this niche 4 years ago in 2017. The establishment of saffron plantations on 7 hectares began within the framework of a national project to organize plantations of medicinal plants on the lands of forest resources and farms from 2017-2019. This project provided plans to grow saffron in 23 regions of Uzbekistan on an area of ​​more than 50 hectares with the subsequent sale of such products in two directions: as raw materials for the local pharmaceutical industry and for exports in the form of spices to foreign markets.
Read also: Uzbek-Italian joint venture to create one of the world's largest saffron plantations
Spice worth its weight in gold
There are no commercial saffron plantations in Tajikistan yet, but there is a keen interest in growing this plant according to expert Bakhtiyor Abduvokhidov. The dried stigmas of saffron are used as a spice, colourant, and raw material for the pharmaceutical industry. This product is also called "red gold" because it is the most expensive spice in the world. Only the red stigmas are needed, not yellow ones. Wholesale prices for saffron range from $1,800 to $10,000 per kg, and even up to $40,000/kg in retail. The main saffron producers in the world are Iran, Spain, Afghanistan, and Pakistan.
Saffron plantations are established in 4-5 years. An average of 4 kilograms of valuable raw materials is produced from each hectare in the first year. By the second year, the yield of saffron reaches 7-8 kg and in subsequent years 15-16 kg/hectare. To get 1 kg of spice, you need to grow, collect and process 150,000-200,000 flowers. The quality of the spice depends on the maturity of the flowers; higher grades of these products are obtained from the stigma of the newest saffron flowers.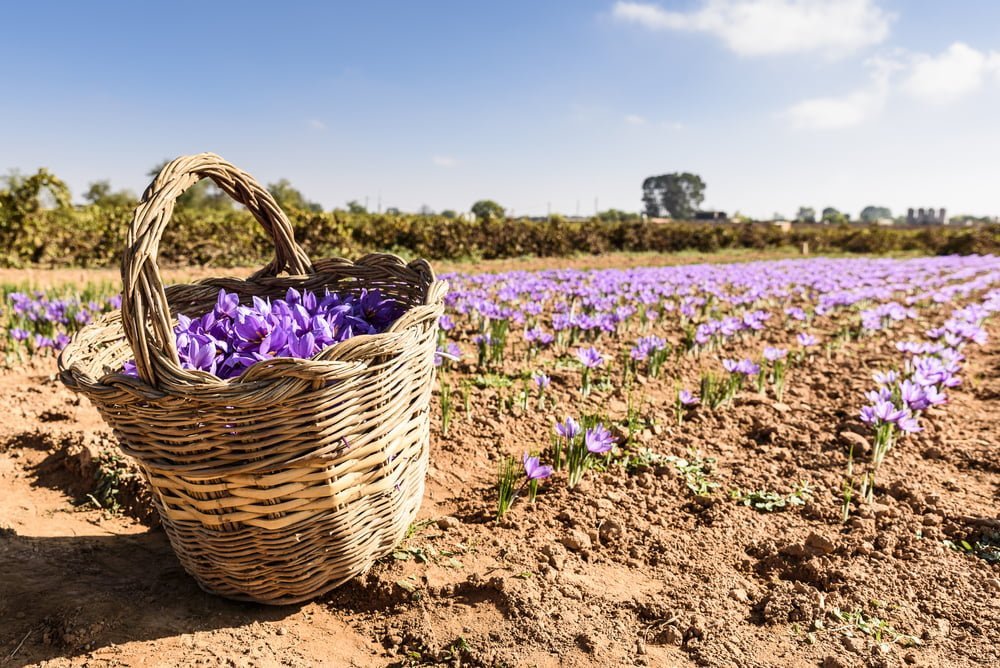 The volume of world saffron exports in 2018 amounted to 1,123 tons for a total of $471.5 million (at wholesale prices), of which Iran accounts for 327 tons (29% of the total) and Spain at 287 tons (26%). During the period from 2016 to 2019, the volume of exports from Iran increased by 64% from 200 to 327 tons.
The care of the plant and the entire process of harvesting the stigma of saffron flowers is done by hand (i.e., in a non-mechanized way). Therefore, production is a very laborious process involving a large number of workers both during plant care and harvesting. The production of 1 kg of saffron requires labour resources in the amount of 250-350 man-hours. This means that in Tajikistan where there is an excess of labour resources and labour costs are relatively low, there is a certain advantage over, for example, Spain.
In addition, the organization of the production of saffron requires a lot of investment. Most of the money needs to be spent on the purchase of planting material – about $5.4 per kg. Roughly 0.6 kg of bulbs are planted per 1 square metre; 6 tons of bulbs are obtained per hectare. This means an investment of $32,400 per hectare for seed only. In addition, you need to invest in technology, labour, and other production cycles, including pre-sales training and logistics. In general, the estimated return on investment in saffron production is 2.5 years.
Safflower petals – a less expensive alternative to saffron
Mr Abduvokhidov continued that safflower is an equally promising product from the point of view of investment niches in the horticulture sector of Tajikistan and an inexpensive alternative to saffron. It is an oilseed crop, the main product of which is seeds used for processing into oil. It is grown in arid zones and yields around 3 tons per hectare. Wholesale selling prices are approximately $300 per ton. The amount of investment in safflower production is approximately $500 per hectare while the return on investment is about $900 per hectare. There are already commercial safflower plantations in Kyrgyzstan and its area reaches 3500 hectares!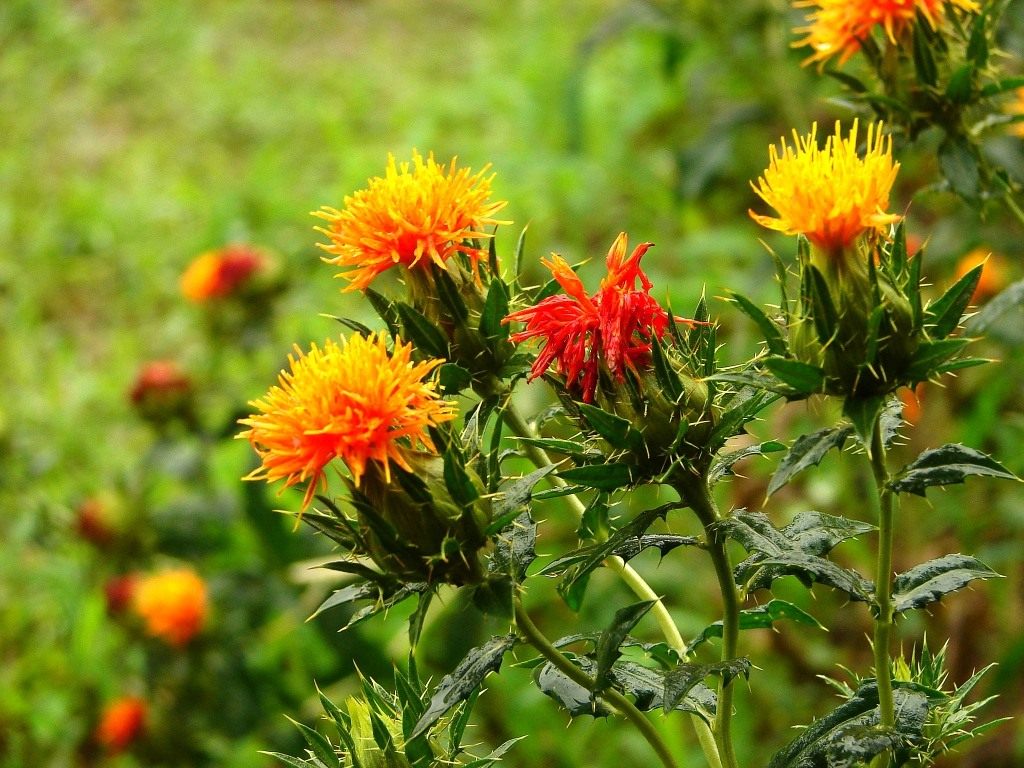 In turn, an alternative to safflower seeds is to grow safflower for its petals. Safflower petals are also called American saffron, wild saffron, or dye thistle. This product is used as a component for flower teas, natural dyes, and used in medicines as a laxative, diuretic, and choleretic. In addition, it is a cheap substitute for saffron in North Africa, Turkey, Iran, and the Caucasus. Wholesale prices for safflower petals start from $7000 per ton, which is 300-1500 times cheaper than saffron.
Safflower petals are in great demand in EU countries. Harvesting safflower petals will increase income from 1 hectare to 300%. If the profitability of safflower production is as a raw material for safflower oil it reaches an impressive 200% and the profitability of safflower production for petals is 300%.
In addition to saffron and safflower, expert Bakhtiyor Abduvokhidov spoke about the prospects for growing other medicinal herbs, spices, and food components in Tajikistan that are in demand in the EU countries. Among them are capers, Rhodiola rosea (or golden root), petals from sunflowers, thyme, peppermint and fragrant mint leaves, mountain lavender, etc.
Below is a video of the full version of Bakhtiyor Abduvokhidov's presentation:
EastFruit
---
The use of the site materials is free if there is a direct and open for search engines hyperlink to a specific publication of the East-Fruit.com website.