According to EastFruit analysts , Ukrainian watermelon growers are in distress – prices are hitting record lows every week, and the prospects for price reductions have not yet been exhausted.
At the moment, the average wholesale price for a quality watermelon in the production regions of Ukraine does not exceed 0.8 UAH/kg, which corresponds to only three US cents! This is three times less than on the same date in 2020 and is the lowest price for this crop in the last four seasons.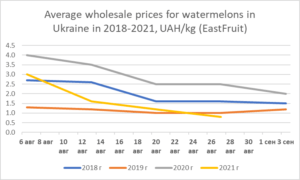 Given that this year's watermelon season began two weeks compared to a multiyear average, its starting prices were significantly higher than usual. On July 16, 2021, watermelon was sold in bulk at 12 UAH/kg ($0.45 per kg). However, since the beginning of the season, i.e. In just six weeks, the wholesale price for watermelon in Ukraine has collapsed 15 times!
According to growers, there has never been such a decrease in prices for watermelon. This is confirmed by the analysts of APK-Inform: vegetables and fruits , who have been conducting weekly monitoring of wholesale prices for fruits and vegetables in Ukraine for 18 years. They say that wholesale prices in local currency fell, of course, below 0.8 UAH per kg, but that was with other exchange rate realities. However, there has never been such a sharp decline in prices from the beginning of the season to its peak.
Taking into account the later than usual start of the season, the supply of watermelon on the market may continue to grow for at least two more weeks, which may have an even more detrimental effect on prices. Growers fear that it will be simply unprofitable to harvest it.
More systematic exports of watermelon could support prices. Indeed, at the moment in Poland, which is traditionally the largest market for Ukrainian watermelon, prices reach 0.35 USD per kg i.e. 13 times higher than in Ukraine. However, here, too, the price fell by 30% compared to last year, while the cost of export logistics increased.
"Last year, Ukraine returned to the list of the 25 largest world exporters of watermelon, supplying a record 33.9 thousand tons of watermelon to foreign markets. However, 2020 was special – this year, exporting is more expensive and watermelon prices are lower in Europe, which makes exports less attractive, "explains Andriy Yarmak, an economist at the Investment Centre of the UN Food and Agriculture Organization (FAO) .
"Another problem in the development of the exports of watermelon from Ukraine is the limited cultivation of those hybrids that are in high demand in the EU markets, namely, small seedless watermelons. Therefore, Ukrainian exporters continue to supply watermelon mainly to those countries where consumers are accustomed to it: Poland, Lithuania, Latvia, Estonia, Moldova, Belarus and Romania. But deliveries to Sweden, Germany and Great Britain, which we would be a promising markets with an attractive price, remain very limited," notes Andriy Yarmak.
Should be also considered that is the supply of watermelon from Ukraine, according to EastFruit analysts, that has already had a negative impact on the prices of watermelon in Poland, where wholesale prices began to rise last week, and this week they have dropped quite significantly.
EastFruit
---
The use of the site materials is free if there is a direct and open for search engines hyperlink to a specific publication of the East-Fruit.com website.