EastFruit experts note that a new country located far from Uzbekistan joined the countries importing Uzbek melons – the United States.
The Embassy of the Republic of Uzbekistan in the United States and Canada announced the arrival of first Torpedo melons from Uzbekistan to the United States on their Facebook page.
In the past few years, the geography of Uzbek melon exports has expanded significantly. According to EastFruit experts, until 2018, Uzbekistan exported melons to no more than 11 countries, excluding export volumes of less than 18 tons. In 2019, the number of countries that imported melons of at least 18 tons from Uzbekistan increased to 14, and in 2020 – to 17. The volume supplied to the US market is not reported. Apparently, this will become known at the end of the 2021 season.
In the third decade of June, EastFruit wrote about the start of the exports of melons from Uzbekistan. At that time, this was evidenced by two factors – a decrease in wholesale prices in the domestic market by 10 times from the end of May to 17 June and a noticeable intensification of export of melons.
Currently, the exports of Uzbek melons is in active phase, facilitated by low wholesale prices in the domestic market of Uzbekistan. As of July 29, 2021, Uzbekistan has the lowest wholesale prices among countries where EastFruit monitors them for more than 60 types of fruit and vegetable products weekly. According to participants in the logistics services market, melon ranks first in numbers of requests for vehicles for fruit and vegetable exports from Uzbekistan.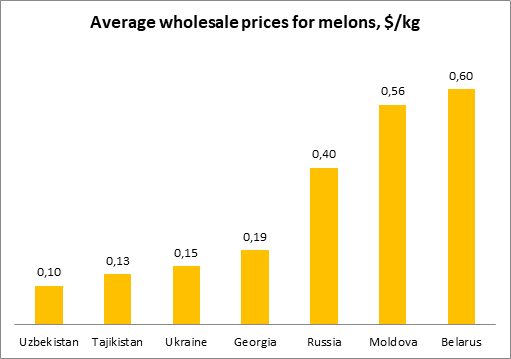 EastFruit
---
The use of the site materials is free if there is a direct and open for search engines hyperlink to a specific publication of the East-Fruit.com website.