In 2022, the volume of the global trade in fruits and nuts, which has been growing steadily every year for many years, has fallen for the first time, according to the EastFruit analytics group. We looked at the reasons for this extraordinary event and its potential impact on the countries of Eastern Europe and Central Asia.
If we analyze the trade of the 25 largest fruit exporting countries globally, which account for about 80% of all global exports, the volume of exports from these countries decreased by $4.05 billion in 2022, or 3.5% compared to 2021. Prior to this, global trade was growing dynamically, and its average annual growth in 2018-2021 was 6.3% or $6.6 billion per year.
It is interesting to note that out of the Top-25 countries, only 6 countries showed an increase in exports or less than a quarter of the countries. And this speaks of grave problems in this industry or in consumption.
If we look at who exactly increased exports and who reduced them, the answer to the question about the causes of the fruit trade crisis becomes more obvious. Exports of fruits and nuts were increased by Chile, Peru, Costa Rica, Egypt, Morocco, and Guatemala – countries that took advantage of the possibility of off-season deliveries, combined with such an important element of the horticultural business as cheap labor. But all the EU countries, without exception, as well as the USA, that is, countries with the highest income levels and high labor costs, have significantly reduced their exports of fruits and nuts.
Why did the global trade in fruits and nuts plummet in 2022?
"Fruits and nuts, for the most part, are not essential foods. In 2022, the world experienced an economic and energy shock provoked by Russia's military aggression against Ukraine. This led to a sharp increase in energy costs for producers, a sharp increase in the cost of logistics, and an increase in costs for basic foodstuffs, with little or no growth in consumer incomes in Europe and the United States. Consequently, the demand for fruits and nuts has noticeably weakened. Another reason was the problems caused by climate change and various weather anomalies, which lead to growing losses in fruit crops," says Andriy Yarmak, economist at the Investment Center of the Food and Agriculture Organization of the United Nations (FAO).
He adds that the factor of "deglobalization" or the decrease in the openness of various countries to import and export products also played an important role.
Besides, it should be taken into account that the drop in trade is estimated in terms of value in US dollars, and dollar inflation in 2022 exceeded a record 8% for recent years, which indicates a very sharp real decline in global exports of fruits and nuts.
How have global fruit exports changed in the leading countries?
The United States, the world's leading nut and fruit exporter with about $15 billion in revenue, derives most of its revenue from exports of almonds, pistachios, walnuts, fresh apples, and table grapes. For all these positions, except for walnuts, a noticeable decrease in export earnings was recorded.
Spain sharply reduced exports in all five main categories of fruit exports: citrus fruits, berries, stone fruits, gourds, and nuts. Spain's export earnings also fell in the dates and table grapes categories.
Mexico, although it reduced exports, remained third in the global ranking of exporters. At the same time, the main export category, avocados, continued to grow dynamically. But the export of berries from Mexico in 2022 fell by almost half! The export of nuts also decreased, but the exports of citrus fruits and melons continued to grow.
The Netherlands, the world's largest re-exporter of fruits, is an indicator of the state of the industry. In the Netherlands, revenue from the export of exotic fruits and avocados, berries, citrus fruits, apples, nuts, and grapes decreased, but revenue from the re-export of bananas increased.
Chile is the only country in the Top-5 that increased its exports, sharply, almost three times, increasing its revenue from the export of table grapes, which became the main source of the country's revenue, overtaking cherries. By the way, Chilean cherries export revenue also increased quite significantly in 2022 and reached a record $2.1 billion. Kiwi export revenue more than doubled, while Chilean blueberry and Chilean fresh apple export revenue decreased.
How have fruit exports from the countries of our region changed?
Turkey, the largest exporter of fruits and nuts in our region, was eighth in the global ranking of exporters. However, exports from Turkey in 2022 decreased by 8% or $424 million. Exports from Turkey decreased almost to all the EU countries and Ukraine. Exports to the USA and Russia increased.
Turkey's export earnings fell mainly due to a decrease in exports of hazelnuts, the main export category. Apples, figs, lemons, cherries, and grapes were also exported less. Revenue in the segment of fresh mandarins, apricots, peaches, pistachios, and almonds increased.
Poland receives the main export earnings from exports of frozen raspberries. This category recorded growth to record levels in 2022, as did the frozen fruit category. But the exports of frozen strawberries from Poland fell. The revenue from the exports of Polish apples and blueberries also decreased.
Uzbekistan increased export earnings from fruits and nuts in 2022 by 21% or $107 million. At the same time, strong growth in revenue for four main export commodities was recorded: table grapes, raisins, peaches, and persimmons. The exports of cherries from Uzbekistan fell almost three times to an anti-record in recent years, which was caused by weather anomalies. We also note the growth of Uzbekistan's export earnings for prunes, fresh plums, pomegranates, melons, watermelons, and frozen fruits.
Ukraine, which was treacherously invaded by Russian troops in 2022, destroying or damaging orchards in various regions of the country, reduced fruit and nut exports by 15% or $55 million. The decrease was noted in three main categories: frozen raspberries and other frozen fruits, as well as walnuts. At the same time, revenue from the exports of Ukrainian fresh apples, blueberries, and frozen strawberries increased.
Moldova, which has been ranked below Ukraine among exporters of fruits and nuts for several years, increased exports by 6% or $15 million in 2022, despite multiple difficulties arising from the Russian invasion of Ukraine. At the same time, revenue for the main export commodities, apples, and walnuts, remained almost unchanged compared to 2021. As for fresh grapes, cherries, apricots, prunes, and frozen raspberries, there was a noticeable increase in revenue. At the same time, Moldova's export earnings for fresh plums dropped sharply.
Georgia reduced its export earnings by 6% or $13 million. The main decrease was in the main export category for Georgia – hazelnuts. Georgia's export earnings from mandarins, apples, and persimmons also decreased. On the other hand, it was possible to increase export volumes in such export categories as blueberries, peaches, pomegranates, plums, dried fruits, lemons, almonds, and even table grapes.
Unfortunately, there were no final data on the export of fruits and nuts from Tajikistan at this moment.
How will the global fruit and nut trade crisis affect the countries of the region, and how long will the crisis last?
A decrease in demand is always the worst thing that can happen to any of the markets. Fruit and nuts are no exception. When demand decreases, prices usually go down. Given the fact that production costs remain close to record highs, this has a negative impact on the economy of all enterprises in the fruit and vegetable sector – from farmers to processors and wholesalers, and retailers.
This is what is happening in the global food market right now.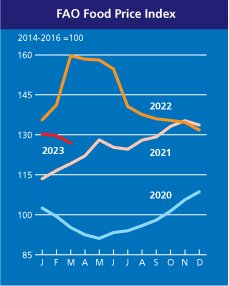 As we can see from the FAO Food Price Index, food basket prices continue to decline for many months in a row and are approaching 2021 levels.
At the same time, in order to revive demand, the world needs to revive the growth indicators of the global economy. However, so far there are no signs of the resumption of global economic growth.
On the other hand, the countries of the region still have an advantage in labor costs, which is very important for success in the fruit market. And here, provided that investments are made in improving the quality of products, the global trade crisis can open up new opportunities for countries such as Uzbekistan, Moldova, Georgia, Tajikistan, and Ukraine. After all, importers from developed and wealthy countries are looking for opportunities to revive demand for fruits and nuts, at least by lowering prices for high-quality products. And it is this category of fruit exports that can become the most important point of growth for the countries of the region.
EastFruit
---
The use of the site materials is free if there is a direct and open for search engines hyperlink to a specific publication of the East-Fruit.com website.