Analysts at EastFruit bring to our attention Georgia's trade in fruits, nuts, and vegetables (HS07-08). Imports in December 2022 were at their highest level in at least the last nine years. It is known that Georgia is not a large market, but the neighboring countries should still look for export opportunities there, especially during the winter.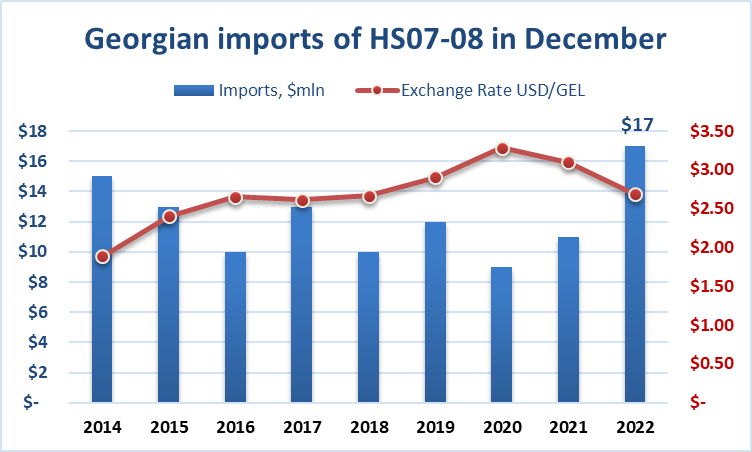 Data source: Ministry of Finance of Georgia
The country has imported horticulture produce worth $17 million, which is $6 million more than in December 2021 and the December average of the previous eight years. The Georgian currency has gotten much stronger since 2020, but the import prices in USD have increased. Out of the import growth of $6 million compared to December 2021, $5.6 million (93%) came to the TOP-10 products with the highest increase in value.
Import statistics for TOP-10 horticulture products with the highest import growth, December 2022 vs December 2021
Data sources: Ministry of Finance of Georgia (Imports), National Bank of Georgia (Exchange rates)
Import (CIF) prices, including product cost, insurance, and transportation to Georgia, have increased for most products in USD. However, they have mostly stayed the same over the year in GEL. Still, it has to be said that there were some significant deviations in the case of bananas (+26% in GEL), walnut kernels (-9%), and dried leguminous vegetables (-21%). Regardless of the direction of the price change, the changes in volume are strongly positive for all the product leaders in Georgia's fruit, nut, and vegetable imports.
Read also: Georgia: Horticulture highlights of 2022
Why does Georgia need more imports? – important factors that contribute to the rise in Georgian demand are assumed to be:
The influx of Russian citizens in the country amidst Russia's invasion of Ukraine and military drafting
Development of the Georgian retail sector, which is focused on having a vast assortment and full shelves
Poor harvest of some crops in Georgia – for example, potatoes
Georgian imports of edible fruits, nuts, and vegetables (HS07-08) in 2022 amounted to $114 million, a repeat of the record set in 2014.
For informational purposes, we present import values and average prices for the TOP-20 products imported by Georgia in December 2022. They are helpful if you are considering exporting to Georgia.
Data source: Ministry of Finance of Georgia
EastFruit
---
The use of the site materials is free if there is a direct and open for search engines hyperlink to a specific publication of the East-Fruit.com website.