EastFruit experts note a sharp rise in cucumber prices in Uzbekistan. Over the past week, the average wholesale prices for smooth short cucumbers in the capital of the republic have grown by 75-80%. The average wholesale prices increased from 2,500 sums/kg ($ 0.24) to 4,500 sums/kg ($ 0.42) from July 29 to August 5.
Since the beginning of the 2021 season, the lowest prices for smooth short cucumbers were recorded in early July, but current prices are in line with the levels of May 20-27, 2021.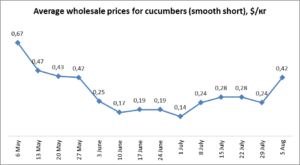 If compared to previous years, the current average wholesale prices for cucumbers are about 2 times higher than on the same date in 2019.
As of August 5, 2021, retail prices for smooth short cucumbers in supermarkets in Tashkent ranged from 7,000 sums/kg ($ 0.66) to 11,000 sums/kg ($ 1.03), depending on the variety and quality.
It is noteworthy that from July 23 to July 30, 2021, a similar sharp increase in prices for greenhouse cucumbers was observed in other countries, where EastFruit monitors wholesale prices for fruits and vegetables on a weekly basis. For example, the average wholesale prices for greenhouse cucumbers in Ukraine have doubled during the specified period, and in Georgia – increased one and a half times. In other countries, on the contrary, there was a decrease in prices: in Belarus by 37%, Tajikistan – 23%, Moldova – 20%.
EastFruit
---
The use of the site materials is free if there is a direct and open for search engines hyperlink to a specific publication of the East-Fruit.com website.