Kiwifruits, with their unique flavor, have been rapidly gaining popularity among Moroccans, and Morocco continues to increase kiwifruit imports, as reported by EastFruit. As a result, nowadays kiwifruits are among the top five fruits imported by Morocco.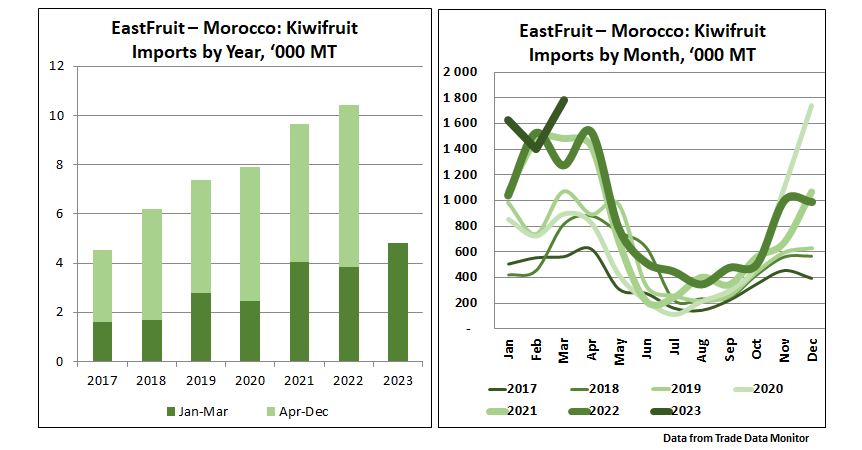 Morocco has a rich agricultural sector, and local farmers are engaged in production of many fruits and vegetables, inclusive of kiwifruits. Thanks to their climate adaptability, kiwifruits are successfully grown in Morocco and even exported. However, their exports are rather low: they totaled just 196 tonnes in 2022 and 43 tonnes in the first quarter of 2023. Such volumes are nothing compared to kiwifruit imports, which have also been growing year by year.
Five years ago, Morocco imported just 4,500 tonnes of kiwifruits. However, by 2022 their volumes have grown to 10,400 tonnes. Thus, the volumes have increased 2.2 times and exceeded $9 mln in the value terms in 2022.
In 2023, kiwifruit imports continued to grow in Morocco. In the first quarter of 2023, they reached 4,800 tonnes. Certainly, here the seasonality of imports should be taken into account, as they usually peak in February-April. Nevertheless, imports in January-March 2023 were on their at least seven-year high!
Read also: Moroccan bell pepper exports to EU and UK rapidly growing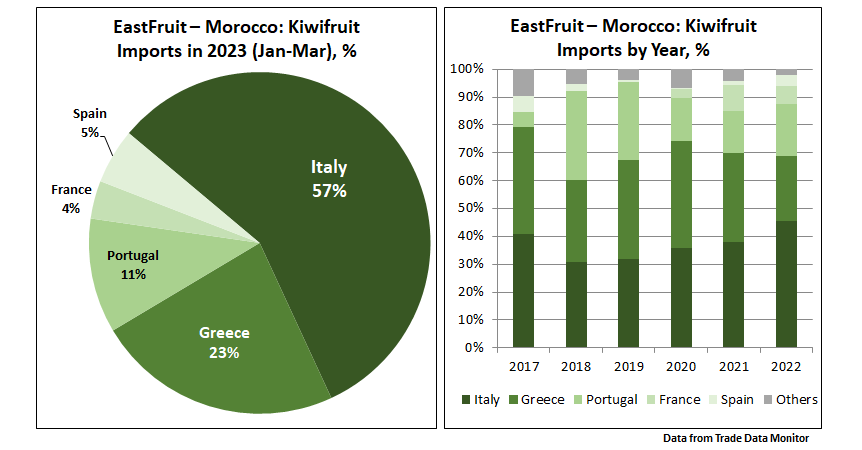 Morocco imports kiwifruits from Italy, Greece, Portugal, France, Spain, Chile and even New Zealand, which is their leading exporter globally.
In 2017, Italy and Greece were the biggest suppliers of kiwifruits to Morocco, and five years later they were joined by Italy. Taking into account the share of 57% in Morocco's total kiwifruit imports in January-March, Italy has every chance to keep its lead in the whole 2023.
EastFruit
---
The use of the site materials is free if there is a direct and open for search engines hyperlink to a specific publication of the East-Fruit.com website.