The export volume of Chilean cherries to Russia at the beginning of February 2022 exceeded the volume exported in the previous season and reached 176 tonnes. Exports to the Russian market are planned to continue until the beginning of March, including holiday deliveries for St. Valentine's Day. The marketing support program by the Chilean Cherry Committee was launched in the 2021/22 season in Russia for the first time.
During the marketing campaign in Russia, a webinar was held for participants of the Russian fruit market, advertising banners were installed on FoodCity, and negotiations were held with leading retailers. An SMM campaign was also launched with lifestyle influencers to draw attention to the product and boost sales.
Despite the logistical crisis caused by the pandemic and the decrease in purchasing power, fresh cherries in winter attract the attention of suppliers and are demanded by buyers. During the 2021/22 season, Chilean cherries were sold in Azbuka Vkusa, METRO C&C, VkusVill, Fruit Lavka supermarkets, at the central farmers' markets in Moscow and St. Petersburg and in online stores.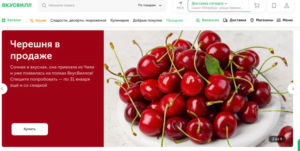 "The first year of the promotion of cherries from Chile in Russia coincided with the difficult times of the pandemic, which significantly affected the logistics and speed of deliveries. Despite difficulties, the season was a success. This year, Chilean suppliers organized maritime deliveries of cherries to Russian retail," comments Sharif Carvajal, Marketing Director for Europe, Asia and the Middle East of the Chilean Association of Fruit Exporters (ASOEX).
The main slogan of the advertising campaign was ​​"Enjoy a wonderful moment." Cherries from Chile can be an unusual and healthy gift for winter holidays, such as New Year's Eve, Christmas, or Valentine's Day. For people leading a healthy lifestyle, cherries can replace candies or cakes on their weekly shopping list.
You can find a list of suppliers of Chilean cherries at comitedecerezas.cl.
EastFruit
---
The use of the site materials is free if there is a direct and open for search engines hyperlink to a specific publication of the East-Fruit.com website.