In January 2023 Georgia has imported the highest volume of onions for January at least since 2014. Wholesale prices have gone up – which was expected. Key suppliers of onions were Georgia's immediate neighbors. EastFruit's analysts have researched both the statistical data and stakeholders' opinions.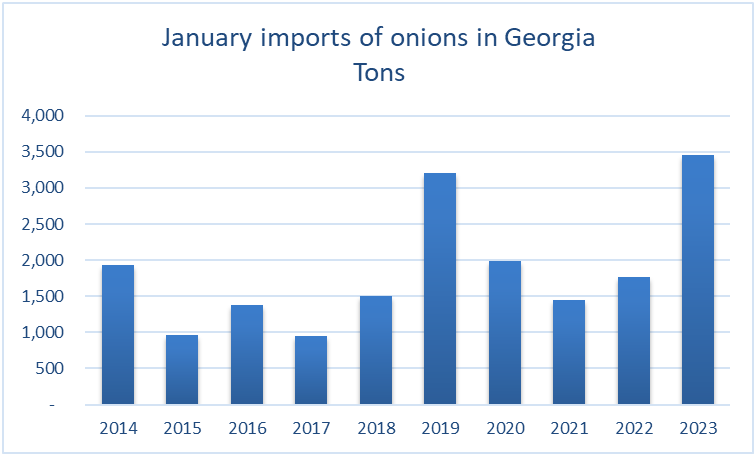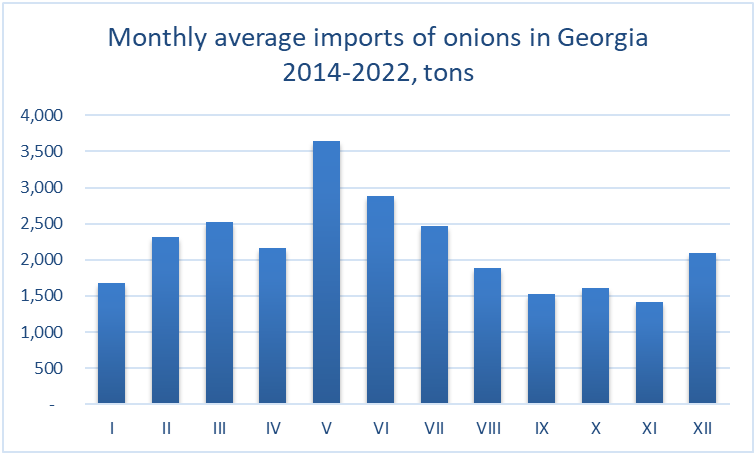 Data source: Ministry of Finance of Georgia
Georgia imported 3,500 tons of onions in the first month of 2023. Usually, imports are about two times lower during this period of the month. On average, monthly imports go up to 3,500 tons in May – not in January. May is the end of the onion season in Georgia and a period of meager stocks among Georgian suppliers. The increase in the import volume in January 2023 compared to December 2022 amounts to 35%.
Compared to the previous month, the import prices from the official trade data have gone up slightly in January. However, the exchange rate changes nullify this effect. Meantime, local wholesale prices for onions have increased significantly.
EastFruit's price monitoring tool shows that the wholesale prices of onions are at record-high levels in Georgia. A kilogram is sold for 2.3 GEL ($0.87) on average. Similarly to the import volume, such price is more appropriate for the end of the season.
The spikes in imports and the prices are explained by low stocks of onions in Georgia. Increased demand due to the influx of russian citizens should be no surprise. In addition, buying in advance should also be a significant factor here as there are pressures for the prices to rise globally and countries in the neighborhood are already acting cautiously.  Kyrgyzstan, Tajikistan, Uzbekistan, and Kazakhstan have all either banned or limited onion exports or are considering doing so.
Georgia has imported onions from three neighbors in January 2023.
Data source: Ministry of Finance of Georgia
The main suppliers were Azerbaijan and Russia. Imports from Turkey, which usually is a top exporter to Georgia, held only 13% of January's onion imports. Monthly average import CIF (cost, insurance, freight) prices were the same for the exporting countries.
It is alarming that in a survey held by EastFruit in the final week of January, some stakeholders were concerned that the onion imports from Azerbaijan, which was a top supplier for Georgia, have stopped. Georgian importers may have to look for onions elsewhere. This will put further pressure on the prices.
EastFruit
---
The use of the site materials is free if there is a direct and open for search engines hyperlink to a specific publication of the East-Fruit.com website.