Uzbekistan imported 4 400 tonnes of kiwi in 2021, which is twice more than in 2020. However, if we take into account that the volume of kiwi imports decreased by 46% in the "pandemic" 2020, it turns out that the imports in 2021 increased by 7% compared to the "pre-pandemic" 2019, EastFruit analysts note.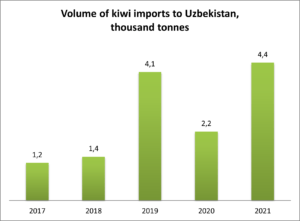 According to the State Statistics Committee, about 95% of kiwis imported to Uzbekistan in 2021 were supplied by three countries – Iran (77.3%), Pakistan (8.9%) and Turkey (8.4%). At the same time, all three main kiwi suppliers managed to significantly increase their exports to Uzbekistan in 2021:
– The volume of kiwi supplies from Iran to Uzbekistan in physical terms amounted to 3 400 tonnes, an increase by 120% compared to 2020, and of 7% compared to 2019.
– Kiwi imports from Pakistan in 2021 amounted to 392 tonnes in volume, an increase of 32% compared to 2020 and 5% compared to 2019.
– Turkey delivered 368 tonnes of kiwi to Uzbekistan, which is 25% more than in 2020 and 9% more than in 2019.
It is worth noting that EastFruit analysts have repeatedly pointed out that kiwi can be quite successfully grown not only for domestic consumption in Uzbekistan, but also for export.
We remind you that the decision of the government of Uzbekistan to exempt the import of a number of fruits, including kiwi, from customs duties was announced on October 21, 2021. Obviously, the decision is one of the factors contributing to the increase in import volumes of these fruits, including kiwi.
EastFruit
---
The use of the site materials is free if there is a direct and open for search engines hyperlink to a specific publication of the East-Fruit.com website.