On December 12-16, 2022, a delegation from Uzbekistan visited the Republic of Moldova to exchange experience and knowledge in the development, coordination, and implementation of state policy in agriculture. The group included representatives of the Ministry of Agriculture of the Republic of Uzbekistan and the International Strategic Center for Agri-Food Development (ISCAD).
Meetings were held at the official level with representatives of the public sector responsible for the implementation of agricultural policy, as well as with the leadership of the Association of Fruit Producers and Exporters "Moldova Fruct" during the visit.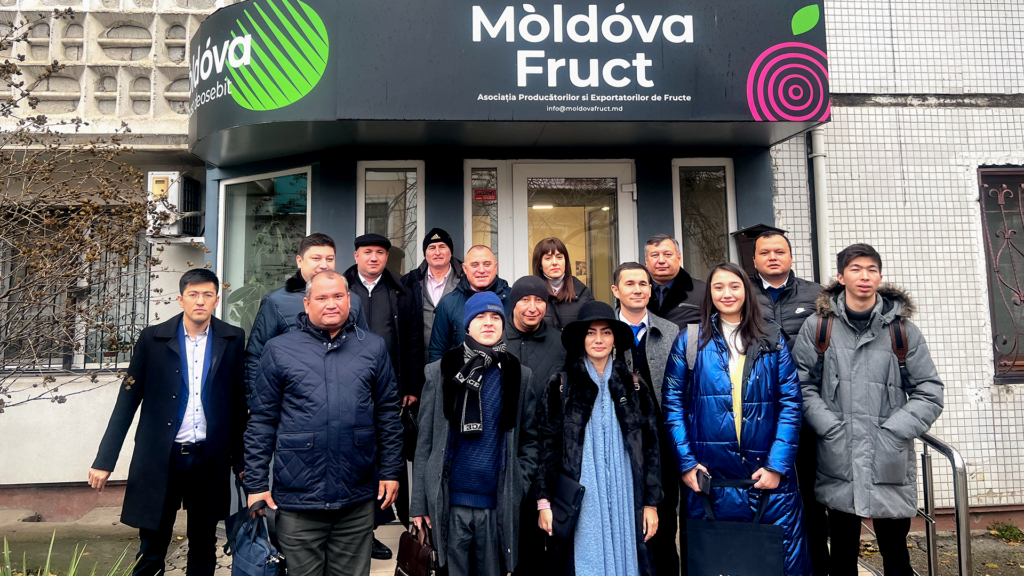 The priorities of the government, the integration of agricultural policy and rural development policy in the framework of national strategic planning were studied at the meeting with the Deputy Secretary General of the Government of Moldova, Svetlana Turcan. The members of the working group also got acquainted with the activities of the Secretariat of the Economic Council under the Prime Minister, aimed at facilitating communication between representatives of the business community, the donor community, and the state. Representatives of the Ministry of Economy shared their experience on the stages of accession and membership in the World Trade Organization, in which Moldova has 21 years of experience.
Read also: Petr Mikhov: "It is better to get a few high-quality grapes than a lot of low-quality ones" (video)
In addition, a meeting was held with the Minister of Agriculture and Food Industry of Moldova, Vladimir Bolea, where they discussed the role of the ministry in developing state policy in the field of agriculture, sectoral strategic planning, monitoring and evaluation, and interaction with donor organizations.
A working group from Uzbekistan visited AIPA (Agency for Interventions and Payments in Agriculture) and studied AIPA's experience in managing financial resources to support agricultural producers, subsidy programs, monitoring the distribution of funds, and qualitatively assessing the impact of government support measures for farmers.
There was also a visit to the National Agency for Food Safety (ANSA). ANSA is the key institution for the implementation of food safety standards in Moldova. There is a territorial representation of the Agency in each commune, allowing it to operate promptly to ensure food safety.
In addition, a delegation from Uzbekistan visited and explored the activities of the National Bureau of Statistics (NBS); the Consolidated Agricultural Projects' Management Unit (CAPMU); the Agricultural Development and Modernization Agency (ADMA); the Association of Fruit Producers and Exporters "Moldova Fruct"; National Bureau of Grapes and Wine.
As a result, about 15 introductory business meetings were held during the visit.
The visit allowed the specialists to comprehensively learn the best practices of the Republic of Moldova in the development, coordination, and implementation of state policy, strategic planning, agricultural subsidies, and food safety.
EastFruit
---
The use of the site materials is free if there is a direct and open for search engines hyperlink to a specific publication of the East-Fruit.com website.