Exports of early beetroot and daikon radish of a new crop from the southern regions of Uzbekistan started about two weeks ago, EastFruit experts report.
Early beetroot became available on the shelves of supermarkets in the capital of Uzbekistan in the first half of March. However, the volumes available for export – large batches – could only be formed in the end of March. The export season of beetroot of the new crop from the southernmost region of the country, Surkhandarya region, started in the first days of April 2022. According to local farmers, the initial prices at the fields were 5 500-6 000 UZS/kg ($0.48-0.53), excluding the cost of loading, but by mid-April, they dropped to 3 500-4 000 UZS/kg ($0.31-0.35). Early beets of the 2022 harvest are exported to the markets of the EAEU countries.
At the same time, exports of a new crop of Daikon radish from the Surkhandarya region of Uzbekistan started in the first days of April 2022. Daikon is a type of radish known as white radish or as Japanese radish, translated from Japanese "Daikon" means "big root". According to the producers, the price of Daikon radish at the fields is about 4 000 UZS/kg ($0.35) without taking into account the cost of loading. As in the case of early beets, almost the entire export volume of daikon radish from Uzbekistan is shipped to the EAEU countries.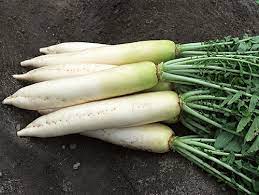 According to official data, in total, Uzbekistan exported 10 100 tonnes of daikon radish in 2021, which is 19% more than in 2020.
The volume of table beet exports from Uzbekistan in 2021 amounted to 13 200 tonnes, which is 16% less than in 2020.
EastFruit
---
The use of the site materials is free if there is a direct and open for search engines hyperlink to a specific publication of the East-Fruit.com website.