Since 2014, the damage to apricot harvests by spring frosts in the south of Ukraine reaches almost 100% every year. Therefore, farms engaged in the production of fruit and berries are currently looking for solutions to this problem.
This was reported by the head of the farm "Vityaz" (Zaporizhzhia region, Ukraine) Olena Berezina during the online conference "Farmer – climate: how not to lose this battle." The event was organized by the Ukrainian Horticultural Business Development Project (UHBDP).
Hard discovery: since 2004, the soil surface temperature in the south of Ukraine can reach +68 degrees Celsius
As Olena Berezina notes, her farm began to plant apricot trees in 2007. According to the farmer, this is a perfect fruit crop for the south of Ukraine, giving a good harvest.
"But later, nature challenged us – since 2014, the damage to apricots by spring frosts has been almost 100%. Therefore, our enterprise began to search for ways to solve this problem. We found them easily: when pruning trees, we are left with brushwood that we started to burn during frosts in the orchard. We understand that this is not an entirely eco-friendly measure, but in this way, we solve the frost problem by 80-90%," Olena Berezina notes.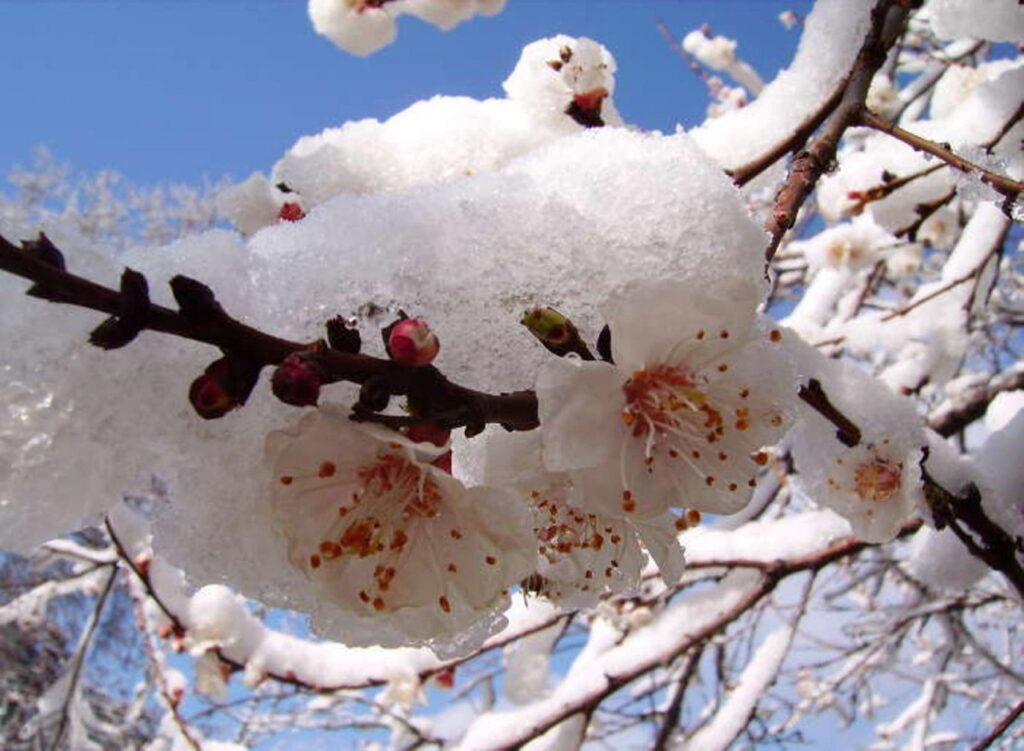 According to the head of the farm, they noticed an increase in temperature on the soil surface up to +68 degrees Celsius since 2004. "It was a tough discovery for us, and we still did not understand that measures to shade the soil in order to avoid its overheating were needed – for example, the creation of windbreaks to protect against wind droughts. To understand and act, we had to go through several rather difficult seasons." Olena Berezina says.
This year, farmers of the Mykolaiv region have lost 80% of the harvest of strawberries due to heavy rainfall
In turn, Serhiy Melnyk, head of the Mir Vam farm (Mykolaiv region) producing berries and vegetables, notes that his farm has faced a serious problem associated with climate change in the past two years – heavy rainfall in spring and early summer.
"Rains are accompanied by sharp fluctuations in temperature, which leads to a shift in the season – it starts and, therefore, ends a little later. Thus, the cycles of our crops are reduced. We are trying to fight climate change in our activities: we grow cucumbers on a trellis, use a shading net, but as practice has shown this year, this does not help during sharp temperature fluctuations," Serhiy Melnyk says.
The farm "Mir Vam" grows strawberries on an area of ​​about 2 hectares. This year, 80% of the berry harvest has been lost here due to heavy rainfall. "All our attempts to cover the berry plantation with a "big umbrella" were unsuccessful. Today we are trying to adapt our business to climate change, but, unfortunately, no one can say what the weather will be like next season. Even 5 years ago, we knew for sure that winter will come in December. Now is the middle of December and there have been about 300 m3 of precipitation recently in our field," the farmer says.
During the online conference, answering the question of the Development Director of the Ukrainian Horticultural Association (UHA) Kateryna Zvereva on spring and autumn frost issues in the cultivation of fruit and berries and ways to combat frost, Serhiy Melnyk noted that the issue is relevant for farmers.
"For example, we cover strawberries with agrofibre in February and do not remove it until crop starts blooming. However, last year, frosts occurred on our plantation on May 11. Thus, the difficulty of countering frosts lies in the impossibility of forecasting them," Serhiy Melnyk explained.
Farmers do not know how to protect grapes from spring frosts and berries from summer rainfalls
Vira Popaz, head of the agricultural cooperative ResourceCompanyKubey (Odesa region), noted that heavy rains after the heat wave led to cracking of grapes and a loss of 85% of the harvest this year.
"We used to have snowy winters followed by a calm spring. We were sure that we received moisture, and expected the gradual development of the crops grown. Frosts were rare. We used to harvest 16 tonnes of grapes and good yields of other fruits. Over the past 10 years, our winters are usually snowless, the temperature can drop to -30°C. Springs are unstable, there are frosts in late April – early May almost every year," Vira Popaz said.
Olexandr Britvin, head of the Limansk farm (Kherson region), notes that in recent years in southern Ukraine, spring comes in February, but then winter returns again in April. Summer, in turn, is accompanied by heavy rains.
"Today, on the eve of new year, buds appear on our trees, despite the forecasted drop in temperature to -12°C in a week. Thus, it is difficult to say what will happen to the peach and apricot orchards next year. But we can say for sure that buds will freeze,"- Olexandr Britvin says.
As for the protection of vineyards, today the head of the Limansk farm does not know how to protect grape buds from spring frosts. "We also don't know how to protect berries from June and July rains," Olexandr Britvin adds.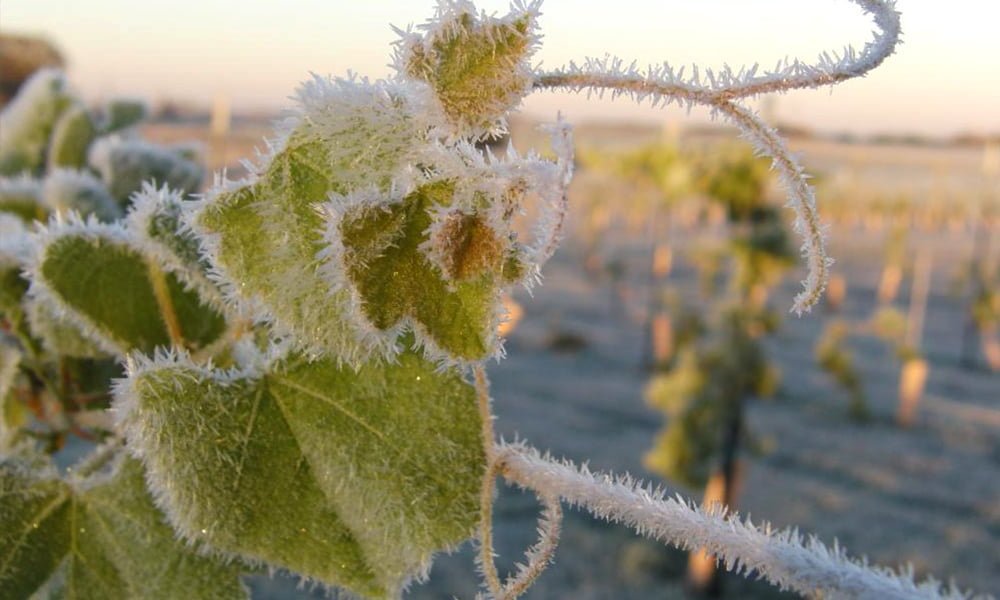 Another negative point, according to Olexandr Britvin, is the development of fungal diseases as a result of warm winters. "They develop today, destroying the harvest that has not yet been formed. At the same time, the effectiveness of antifungal drugs at temperatures below +5°C is extremely low. By the way, it is the same as at temperatures above +25°C," the farmer notes.
As EastFruit previously reported, in combatting spring and autumn frosts, farmers have resorted to various methods: thermal guns, film, lighting fires.
But the most effective way is to use wind machines, says Denis Moskalyov, development director of the FROSTLEE frost protection systems for agricultural crops. According to Denis Moskalyov, one machine is capable of frost protection of a field of 3-7.5 hectares at temperatures down to -6°C.
The expert notes that wind machines transfer heat by the method of forced convection, taking warm air from the upper layers of the atmosphere and mixing it with cooler air in the field area. In this regard, the air temperature rises and all conditions are created to preserve the harvest.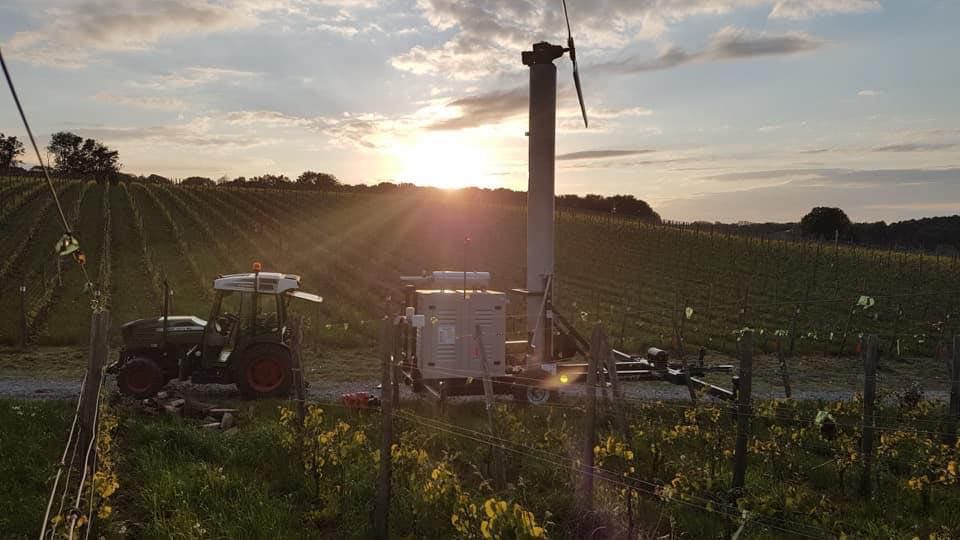 According to Denis Moskalyov, frosts cause not only direct damage to the volume of the harvest, but also affect its quality.
"Indeed, under improper conditions for the formation of the fruit, defects appear. In this connection, the grower will not be able to sell fruit on the fresh market. An investment in frost protection systems is an opportunity to sell a high-quality harvest at a high price in the future." sums up the FROSTLEE Development Director.
EastFruit
---
The use of the site materials is free if there is a direct and open for search engines hyperlink to a specific publication of the East-Fruit.com website.