EastFruit experts draw attention to very interesting information recently released in the United States concerning the consumption trends of various fruits and berries in this country over the past decade.
Why is knowing US consumption trends important for fruit and berry growers in Eastern Europe and Central Asia? Our experience and practice show that trends originating in the US often become global in the future. Of course, one should not think that the US trends will be followed directly, because each region has its own specifics and traditions, but it is definitely worth taking a closer look at them.
By the way, this information is official as it has been provided by the US Department of Agriculture (USDA) and is calculated as local market availability of various fruits in 2021 compared to 2011 per US resident. This information was shared by The Packer.
Let's start with the product that stands out the most in the below chart – raspberries. Indeed, no other fruit has grown nearly as fast in US in the last 10 years as this berry crop. A consumption growth of 192% over 10 years is a very serious indicator!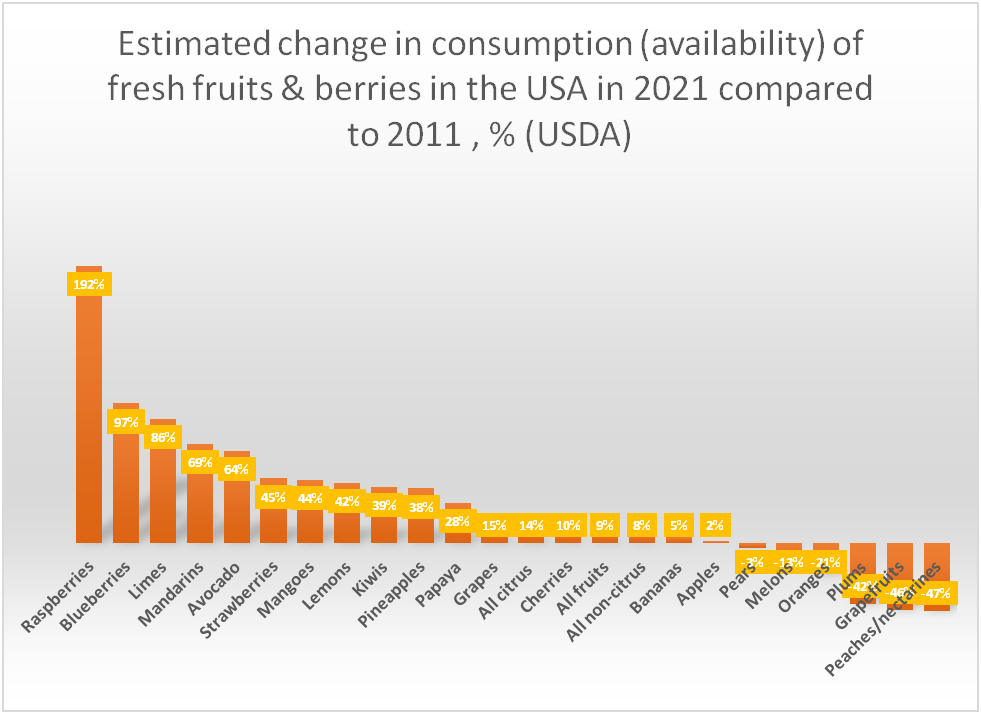 It should be noted that Ukraine might be one of the reasons for rapid increase in the US raspberry consumption. It was Ukraine that flooded the world market with very inexpensive frozen raspberries back in 2017-2019, which allowed more consumers to try this berry in various recipes. The same factor led to price decline for fresh raspberries and generated more interest for this tasty and nutritious berry. Nowadays, areas of raspberries are being expanded worldwide, even in the countries of Central Asia, such as Kyrgyzstan, Uzbekistan, and Tajikistan, where raspberries were not previously grown in commercial volumes.
"Interestingly, another berry crop, blueberry, was in second place in terms of consumption growth in the United States over the recent 10 years. US blueberry consumption has doubled from 2011 to 2021! Considering that the United States 10 years ago and now was far ahead of all other countries in terms of average per capita consumption of blueberries, such an impressive growth for this berry is a very interesting indicator and shows good prospects for blueberries in other countries of the region. In this regard, I am always surprised by the almost complete absence of blueberry plantations in Uzbekistan, Tajikistan, Kyrgyzstan and other countries of Central Asia, where they could harvest blueberries in a very attractive market window and earn good money from their exports. Moreover, in the domestic market of Uzbekistan, prices for blueberries are almost the highest in the world, reaching US $40 in retail, which means that there is potential inside the country as well," says Andriy Yarmak, an economist at the Investment Centre of the Food and Agriculture Organization of the United Nations (FAO).
"Very rapid rate of fresh berry consumption increase in the United States should be a good clue for the fresh produce business participants in our region. For example, Ukraine exports exclusively frozen raspberries, although the fresh segment should not be ignored either, because it is growing rapidly, and prices for raspberries on the fresh market are much higher than in the frozen segment. In Morocco, for example, the emphasis is on more expensive, fresh berries, and freezing has become an addition to this dynamic segment of the fruit and berry business," explains the FAO expert.
Strawberries are noticeably also among the fastest growing consumption segments as well and they are already consumed in large volumes in the United States. However, average per capita consumption of strawberries has grown by 45% over 10 years. Also, among the leaders of popularity were the following fruits: lime, tangerine, avocado, mango, lemon, kiwi, pineapple and papaya.
However, the consumption apples – the most common fruit, has stagnated. In 10 years per capita apple consumption in the US has grown only by 2%, which was within the statistical error. However, the fact that consumption has not decreased is already a good achievement.
Among the fruits for which U.S. per capita consumption has declined over the past decade are the following: peaches, grapefruits, and plums, with declines of more than 40% for each. There was also a noticeable decrease in the consumption of melons and oranges, which, obviously, is losing popularity against the backdrop of an increase in the availability and popularity of tangerines.
EastFruit
---
The use of the site materials is free if there is a direct and open for search engines hyperlink to a specific publication of the East-Fruit.com website.