In the coming years, it is possible to increase the production of lemons in Tajikistan at least twice and bring its volume to 30,000 tons per year. Member of the National Academy of Sciences of Tajikistan Dr Saidali Gulov and member of the Academy of Agricultural Sciences of Tajikistan Dr Tursunboy Akhmedov are convinced of this. Thus, scientists propose to develop and adopt a state program for the development of lemon growing in Tajikistan.
Within the framework of the "State Program for the Development of Horticulture and Viticulture for 2016-2020", which ended a month ago, new lemon trees were created on ​​more than 207 hectares. Now in Tajikistan, this citrus fruit is grown on 600 hectares in total.
Read also: Meyer lemon prices tripled in a year in Tajikistan due to COVID-19
Tajikistan's farmers annually produce 12,000 to 15,000 tons of lemons. Tajik lemons are distinguished by their bright colour, thin skin, pleasant aroma, and excellent taste. This is why they are in high demand not only in the domestic but also in the foreign markets. They are supplied to Russia, Kazakhstan, Europe, and now consumers from China are interested in them.
"In all regions of Tajikistan, lemons are grown in lemon farms, or lemonariums, where there is additional heating. However, in our opinion, lemons in certain regions and, in particular, in the Vakhsh and Gissar valleys, can be grown in lemonariums without additional heating," said Dr Saidali Gulov. "The climatic conditions of these valleys make it possible to grow lemons by the trench method in foothill and hilly areas using drip irrigation and film coating on light metal structures. The warm climate in this case will make it possible to produce high-quality lemons in such structures without the use of additional heating."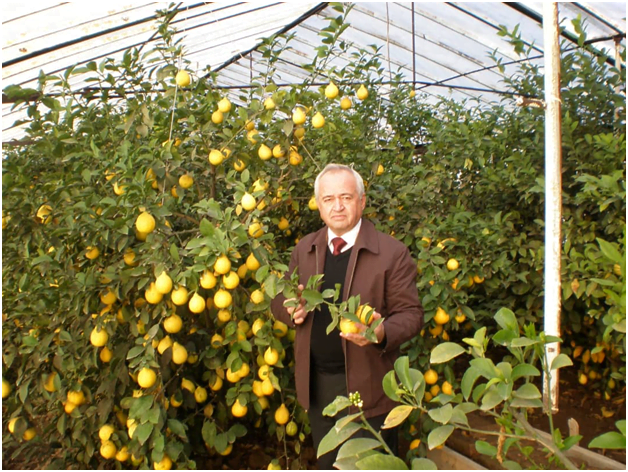 According to calculations by Tajik specialists, there are about 6,000-7,000 hectares of foothill lands in the Republic where lemons can be grown this way. Using the trench method of growing lemons in the Vakhsh and Gissar valleys, in some areas of the Sughd region, and in the Dangara region of the Khatlon region, you can get anywhere from 27 to 30 tons of crops per hectare. In addition, if using the relief features of the localities, planting lemon trees in 2-3 tiers at a width of 5-8 meters in the foothill areas, then you can get 40-45 tons of citrus fruits from 1 hectare.
Since the implementation of this innovative step requires significant financial and labour efforts, according to scientists it is necessary for Tajikistan to adopt a state program for the development of lemon growing for the next 10-15 years. They are convinced that this step will allow to significantly increase the production of lemons in the future, will contribute to the development of previously fallow lands, and the creation of thousands of new jobs.
To achieve this, significant efforts are needed not only by farmers, but also by state support, the use of domestic and foreign investments, and assistance and active participation of the Republic's development partners.
Drs Gulov and Akhmedov believe that in this way it will be possible to create new lemonariums on an average of 100 hectares annually. With an increase in the yield of citrus fruits to 27-30 tons per hectare, it will be possible to significantly increase production volumes. By implementing the proposed state program to expand the areas allotted for lemonariums and at the same time increase the yield, Tajikistan can produce at least 18,000-20,000 tons of lemons per year. The sale on the domestic market and exports will bring an average of 350-400 million somonis ($30.97-35.9 million) in economic profit.
EastFruit
---
The use of the site materials is free if there is a direct and open for search engines hyperlink to a specific publication of the East-Fruit.com website.