Despite the low temperatures in April, the early strawberry harvest has already ripened in the Kakheti region. The local supply will reach its peak in the second half of May. The wholesale prices are 5-7 GEL/kg ($1,64-$2,3) now but, are expected to fall in a few weeks, at the peak of the season.
Source: EastFruit
Usually, May starts with higher prices on strawberries but the fall at the end of the month is imminent because of the increased supply. According to EastFruit data, from 2019 to 2021, every open-field season started with a lower price in USD. May 2022 started with the average price of 6 GEL ($1.97), which is slightly higher than the 2021 season-opening price – $1.78.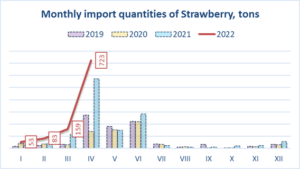 Source: Ministry of Finance of Georgia
With the start of the local season, an increased supply of Turkish strawberries can be observed in the wholesale markets. According to official data, Georgia imported 723 tons of strawberries in April, which is 26% greater compared to April 2021. Notable, that locally produced strawberry is 30% more expensive than imported one, as it is considered more tasty and healthy despite of moderate visual appearance.
Turkish strawberries are sold on the wholesale market for 5-6 GEL/kg ($1,64-$1,97).
Local farmers fear that increased cheap imports might turn local production unprofitable. Sopho Makhatlishvili together with partners owns a 2.5 ha strawberry field in the Kakheti region. This May they will focus on selling seedlings rather than strawberries. Makhatlishvili explained that they plan to switch to strawberry sales only in June as prices might fall sharply in May due to excess supply on the market.
EastFruit
---
The use of the site materials is free if there is a direct and open for search engines hyperlink to a specific publication of the East-Fruit.com website.