Onion prices in Georgia doubled last week, compared to previous week, reaching 5 GEL/kg ($2.01) in the wholesale market. The reason is the supply shock, which was felt in the market already in March. EastFruit systematically published an analysis of the local onion markets in project countries, as well as a global market analysis in 2023. It was foreseeable that prices were to skyrocket in Spring before the season of early onions gained strength in producing countries. EastFruit published an article last month where we spoke about the deficit for onions in Georgia. The reasons for this hide behind the changes in the global market in the 2022-2023 season and are less determined by local factors.

Source: EastFruit
Starting from May first, the prices have stabilized at 2 GEL/kg ($0.8) in the wholesale market. The wholesale prices will be updated on EastFruit on May 5.
What has changed in the global market in 2022 that pushed onion prices up?
EastFruit experts pointed out dramatic changes in some major countries for the onion market, due to war and climate that has switched the market state in the 2022-2023 season. Among countries with unexpected turns are Ukraine, Pakistan, Central Asia countries, and Turkey. In each of the listed countries, except for Turkey, onion production was cut down drastically, resulting in increased prices in the end.
What is happening now in other countries of the region?
Turkey – prices are still high, although harvesting of early onions has already started in Adana and Hatay regions. In mid-April, according to Turkish online sources, average retail prices were $1.03-$1.54 (20-30 TL). An official announcement made by the Turkish Ministry of Agriculture and Forestry in early April states that Turkey has been producing on average 2,100,000 tons of onions annually for the past ten years and consumes 2,087,000 tons. Pointing out that local production is more than enough for local consumption and there will be no supply problems in 2023. The 2022 harvest was 2,350,000 tons. As for the early harvest of 2023, according to official estimates, the first harvest in Adana and Hatay will harvest 284,000 tons, compared to 272,000 tons in 2022.
Central Asia – in Uzbekistan and Tajikistan, onion prices are falling with the early harvest. According to the EastFruit price monitoring, the wholesale price of a kilogram of early onions in Uzbekistan was $0.75 in the first week of April, but prices halved in two weeks to $0.35 on April 21. In Tajikistan, the price drop happened even faster and reached $0.27 as of April 21.
Azerbaijan – harvesting early onions started in neighboring Azerbaijan too, where the harvesting peak was in mid-April.
What is happening in the Georgian market?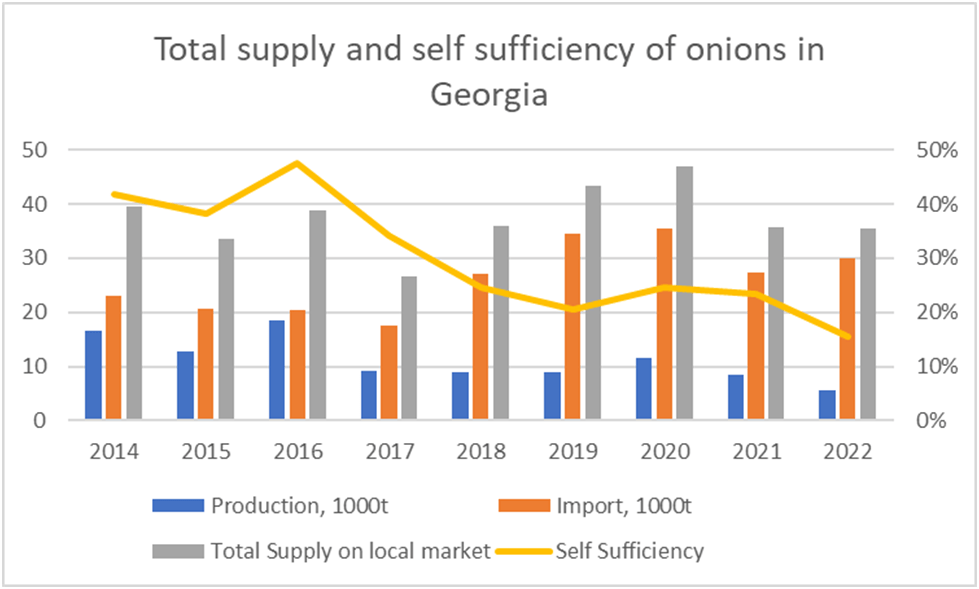 Data source: Ministry of Finance of Georgia
Georgia is a net importer of onions and since self-sufficiency in this product is only 15% (2022), the local market is subject to external factors. Historical data reveals that local production of onions has been decreasing year by year, together with the rate of self-sufficiency. In 2022, Georgia produces 5.5 thousand tons of onions, and imported 29.992 thousand tons.
Harvesting early onions will begin at the end of June in Georgia, the season will start in the Kvemo Kartli region, then in Shida Kartli. Based on conversations with local market players with EastFruit, for the 2023-2024 season, compared to the previous season, farmers have sowed more hectares under onions, due to high prices, although there are no official statistics published yet on hectares sowed in 2022.
Imports in April 2023 by countries
Data source: Ministry of Finance of Georgia
In April 2023, 2,500 tons of onions were imported to Georgia, which is almost the same as the same period of the previous year. Russia (67%) and Azerbaijan (17%) were the leading suppliers. Even though Turkey has already started harvesting the early onions, the import of Turkish onions to Georgia is actually not carried out at this stage. The first reason named by the local market players is the high price of Turkish onions compared to other countries, although there are also bureaucratic obstacles from the Turkish side, connected with the issuance of the necessary documents for exporting onions.
Data source: Ministry of Finance of Georgia
In contrast to April, Georgia imported a record low number of onions in March, compared to the same period of the previous years. In March 2023, 784 tons of onions were imported, which is 3.5 times less than the data of March 2022. This can be attributed to the decreased supply of onions globally in March, as the new harvesting season has started only in April, in most producing countries. It should be assumed that the low stocks in March affected the prices at the end of April.
What's in the future?
After the short-term peak, the prices are already decreasing and because of the larger stocks made by importers in April it is expected to decrease even more. Part of these stocks are already on the local market, and more is expected to be sold in May. It should also be considered that the early onion can't be stored for a long period of time, and probably importers will have to sell the existing stocks at a lower price to avoid losses.
Although this is only a short-term effect, in the long run, the prices will again be affected by global market tendencies. EastFruit is already publishing materials about an increase in the onion harvest in some countries, including Egypt and Netherlands in 2023. It is logical that onion prices in the global market in 2022 have given producers an incentive to produce more onions in the new season, although if the supply will be excessive farmers should not count on high prices.
EastFruit
---
The use of the site materials is free if there is a direct and open for search engines hyperlink to a specific publication of the East-Fruit.com website.