The business of quick freezing of fruits and vegetables which seems attractive at first glance may turn out to be difficult and low-margin, said Bakhtiyor Abduvokhidov, FAO international consultant, the head of the Tajik company Kharif, at the online conference "Quick freezing of berries, fruits, and vegetables in 2023: a market overview, investments, prospects". A video recording of the online conference is available here.
In his speech "The bitter experience of a novice freezer", Bakhtiyor Abduvokhidov, who has 18 years of experience in agribusiness, summed up the results of the first year of operation of the enterprise for quick freezing of the Kharif company.
"Initially, I was ready to face the fact that the first year would be unprofitable. But with the beginning of the second year, it remains unclear in which direction to work. In my opinion, the margins in the quick freezing business are very low. You can make money only on volumes here and provided you have real buyers," said the head of Kharif.
According to Bakhtiyor Abduvokhidov, his company has been operating in agribusiness since 2011. In 2022, a decision was made to expand the activities and the first quick freezing enterprise in Tajikistan was opened. The arguments in favor of this decision were the growing global market for quick freezing, the absence of competing enterprises in the country, affordable and cheap (as it turned out, only at first glance) local raw materials, affordable labor, cheap electricity, many years of experience in the agricultural sector, contacts with specialists in quick freezing and business partners. We also had experience and a work site, including a medium-temperature refrigerator for 300 tonnes.
As a result, a new enterprise designed to process 15 tonnes of raw materials daily was equipped. The quick freezing complex currently allows one-time freezing (up to minus 36 degrees) of 6 tonnes of products and storage of 500 tonnes of chilled and frozen products. The company has its own laboratory.
As Bakhtiyor Abduvokhidov says, when selecting building materials and equipment, it was necessary to take into account not only the specifics of production, but also the weather conditions in Tajikistan (in summer the temperature outside reaches +70 degrees under direct sunlight on the panel, while inside it is -30, and this means a temperature difference of up to about 100 degrees).
Then it was necessary to figure out which vegetables and fruits to freeze the company should focus on. This depends on the availability of suitable raw materials for freezing, as well as specific equipment. It turned out, for example, that of the three varieties of strawberries growing in Tajikistan, only two are suitable for freezing. And competitive extra-class frozen products cannot be produced from raspberry varieties grown in the country.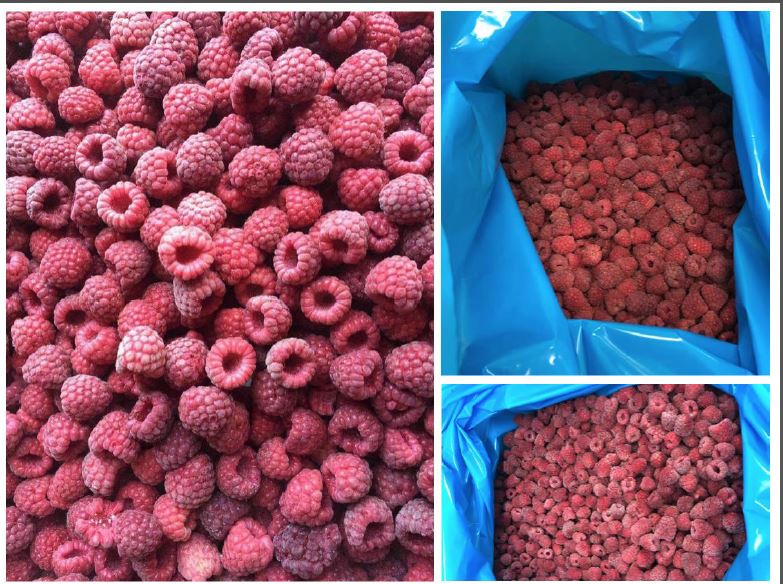 Since small-sized production is more common in Tajikistan, the company had to negotiate with many sellers to make purchases. There were cases when the purchase of fruit and vegetables was agreed upon, but they were supplied to the fresh market, where there was a good demand for them. Moreover, it turned out that even relatively cheap berries and fruits on the fresh market were not always cheap enough for freezing. For instance, for frozen strawberries from Tajikistan to be competitive on the Russian market (70% of which is frozen strawberries from Egypt), raw materials must be purchased at no more than $0.5/kg, while the price of fresh strawberries in the peak season was more than $1.1-$1.2/kg.
"Prices for raw materials and for finished products changed dynamically in the global market. For example, the price of raspberries has been falling for a year from 5 to 2.5 EUR, and, unfortunately, there is no instrument to track current global prices, and their dynamics depending on quality," said Bakhtiyor Abduvokhidov.
According to him, when trading frozen products, one must constantly be aware of the current prices for logistics, taxes, and duties in each of the export markets.
Read also: The global market for frozen fruits, berries and vegetables – trends and the largest players

In addition, when a newcomer competes in the export markets with companies that already have experience, a reputation, and established sales channels, everyone expects him to offer discounted products, he remarked.
"I didn't have all that. To date, considerable experience has been acquired through work, time, and financial resources. Work is underway, but there is still no answer to the question of what to plan to produce for the next year," said Bakhtiyor Abduvokhidov.
Along with this, the necessity of more active work with buyers is clear to him.
"Preliminary requests from buyers vary, but the desire of a buyer is one thing, and the willingness to take financial responsibility for products not yet produced is another. Each buyer must be negotiated separately. At the same time, it should be taken into account that additional equipment may be required to fulfill requests," he said.
According to Bakhtiyor Abduvokhidov, the launch of raw materials production for further processing is considered a separate direction in the company.
During the discussion of the current state of affairs of Kharif, Andriy Yarmak, economist at FAO Investment Center, advised abandoning the idea of ​​​​producing its own raw materials for quick freezing. In this regard, he noted that "if freezing is a risky business, the production of agricultural products is the riskiest business in the world". Besides, not a single system processing can provide itself with its own raw materials, he added.
According to Andriy Yarmak, a more balanced option would be to invest in raw material zones and establish partnerships.
"To protect yourself from a shortage of raw materials as a result of their sales to the fresh market, you need to choose categories that farmers produce in large volumes with limited demand. You can also choose product categories in which you can systematically work with farmers. These are, for example, broccoli, cauliflower, sweet corn, or strawberries. By the way, they are on the top lines of the global trade in frozen products," Andriy Yarmak said.
Watch the speech of Bakhtiyor Abduvokhidov here (in Russian):
EastFruit
---
The use of the site materials is free if there is a direct and open for search engines hyperlink to a specific publication of the East-Fruit.com website.