In September 2021 Georgia exported more table grapes than in the previous seven years combined, which is a major and long-expected breakthrough.
Georgia has long-lasting traditions of growing grapes for winemaking, but it has not grown enough table grapes to satisfy its domestic consumption despite perfect climatic conditions. Consequently, Georgia usually imported table grapes from Turkey.
FAO and EBRD through their Regional Horticultural project have promoted the production of table grapes in Georgia via the EastFruit platform, conferences, study tours, and seminars as an import substation opportunity, which would eventually become an export opportunity. Now we see table grape exports surge as a result of the increased popularity within growers. According to analysts of the EastFruit team, we are likely to witness rapidly rising Georgian table grape production and exports in the coming years.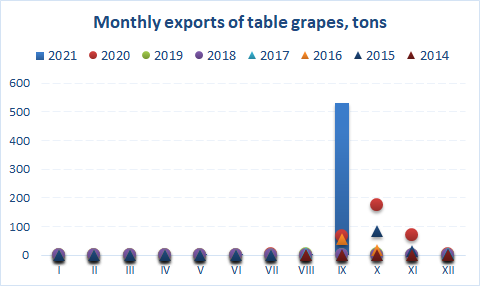 Data source: Ministry of Finance of Georgia
In total, 530 tons of table grapes have been exported in September 2021, with the export revenues reaching USD $403 thousand.
There were only two destinations for Georgian exports. Traditionally Russia was the key buyer accounting for 98% of all table grapes exported. The remaining 2% went to Qatar. According to the foreign trade data, the average price per tonne was USD $760 (FOB). Interestingly, Russian buyers paid USD $740 per ton, while the average price of grapes sent to Qatar reached an impressive USD $2,000 per tonne.
Local growers who have not looked considered growing table grapes should really consider this alternative as table grapes bring 1.5-3.0 times more revenue per kilogram than wine grapes. This ratio increases even further if we count the prices one could get when exporting to countries like Qatar.
EastFruit
---
The use of the site materials is free if there is a direct and open for search engines hyperlink to a specific publication of the East-Fruit.com website.