Table grapes have become quite popular in Georgia in the last two years. The major window for both local sales and imports is the last quarter of the year. It usually accounts for 50% of the total annual imports. Despite 2022 being a hard year for the local table grape producers, imports of foreign grapes have reduced compared to 2021. EastFruit dove into the Georgian table grape market to find a possible cause.
Georgia's imports of table grapes in the fourth quarter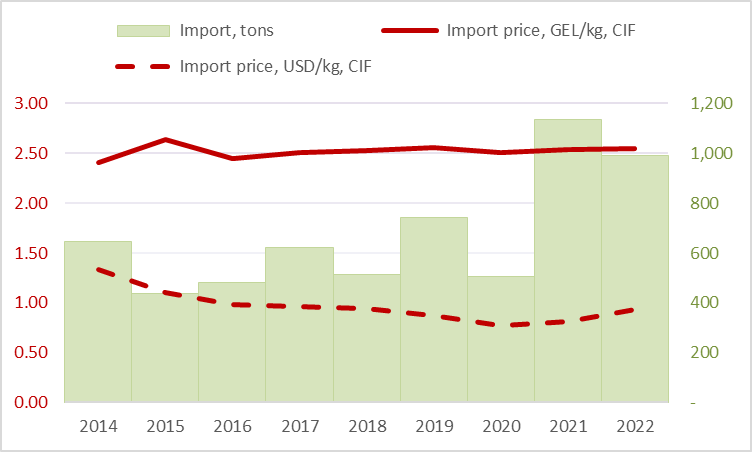 Data sources: Ministry of Finance of Georgia (Trade data), National Bank of Georgia (Exchange rates)
According to the latest data, Georgia imported 990 tonnes of table grapes in the fourth quarter of 2022, down from 1 135 tonnes in 2021. Noteworthy, import prices in Georgian currency have remained very stable over the years. Thus, the prices of table grapes did not cause a reduction in imports.
Did the local demand decrease? – a leading Georgian producer of table grapes does not agree with this.
As a representative of Sartichala Vineyard Management explained to EastFruit, the company's production has increased from 80 tonnes in 2021 to 350 tonnes in 2022. Despite such a large growth, they did not feel a reduction in demand in the new season. On the contrary, Georgian demand for local table grapes has grown, especially in the supermarkets.
It must be said that the 2022 season was not good for Georgian table grape producers. Many suppliers had issues due to rainy weather and hail. At the start of the season, it seemed that the local supply volume would suffer much. Consequently, table grape prices broke records in September, but they quickly fell lower than the prices in October 2021.
You can view weekly average wholesale prices for Georgian table grapes in the price monitoring tool at EastFruit.
It looks like the fast growth of local production outpaces the growth in local demand despite the gloomy start of the 2022 season. Hence, the import volumes have dropped from the record-high level of 2021. Nonetheless, the volume in the fourth quarter of 2022 is much higher than in the same period of any other year except for 2021.
Dependency on imports may continue to reduce in 2023 due to the further increase in the local supply. Sartichala Vineyard Management alone expects to produce 500-600 tonnes of table grapes in the next season. The company has been certified with GlobalG.A.P. and will try to export part of its products and increase the supply to the local market.
EastFruit
---
The use of the site materials is free if there is a direct and open for search engines hyperlink to a specific publication of the East-Fruit.com website.