EastFruit analysts emphasize that Georgia had to buy more cucumbers and tomatoes from abroad compared to the previous off-season. Import volumes in October-April are the highest for the observed period of 2014-2022 for cucumbers and the second largest for tomatoes. Turkey remains the main supplier of both cucumbers and tomatoes.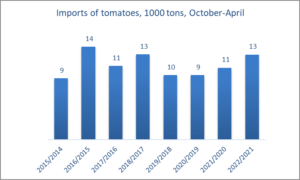 Official trade data show that imports of cucumbers and tomatoes rose significantly in the latest period from October to April – a period that makes up almost the entire off-season. May is also a very important month for off-season imports of cucumbers and tomatoes.
Imports of cucumbers in the months under review amounted to 8 700 tonnes, while the volume of imported tomatoes reached 13 000 tones after growing for 3 consecutive periods. Imports of tomatoes increase by about 2 000 tonnes each season; cucumbers do not show such stable dynamics.
Increasing dependence on imports is mainly due to the lack of local supplies during the off-season, which, in turn, partly results from fierce price competition with imports.
Trade Data Source: Ministry of Finance of Georgia
EastFruit
---
The use of the site materials is free if there is a direct and open for search engines hyperlink to a specific publication of the East-Fruit.com website.