The monthly exports of Georgian persimmon in October 2021 reached record volumes over the past 8 years.
According to the Georgian Ministry of Finance, the country exported 5,800 tonnes of persimmons worth $3 million. This is 2 times more than the average for October 2014-2020 both in value and volume.
The main export destinations of Georgian persimmons are Russia, Ukraine and Armenia – they account for 97% of exported persimmons in October 2021. At the same time, there is a significant difference in prices in export markets. The price of persimmons on the Russian market is 41% higher than the average export price of Georgian persimmons, which is $510 per tonne.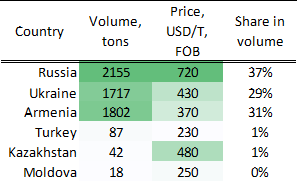 This is explained by the fact that a large volume of persimmons of different caliber and quality were sold this time. Almost all types of persimmons are in great demand in the export markets. Different types of persimmons fall under the same code (position) in trade data. Thus, a large difference in export prices does not mean that the same product is sold at different prices.
As of today, the harvest of persimmons in Georgia is almost complete. Farmers sold almost all of the persimmons, even those affected by the hail. Non-exported persimmons are stored – the volume in storages is quite large. Given the very high external demand and accumulated volumes, some key market players believe that exports in November 2021 will be even higher. In general, Georgian growers are satisfied with the demand and note that prices have improved compared to 2020. The demand in the domestic market remains weak and therefore growers are mainly focused on exports.
EastFruit
---
The use of the site materials is free if there is a direct and open for search engines hyperlink to a specific publication of the East-Fruit.com website.